What Your Zodiac Sign Says About Your Money: June 2017 Edition
mbg Contributor
By Bess Matassa, Ph.D.
mbg Contributor
Bess Matassa has a Ph.D. in urban studies and is now a New York-based astrologer and tarot reader who has been featured in Teen Vogue and Apartment Therapy.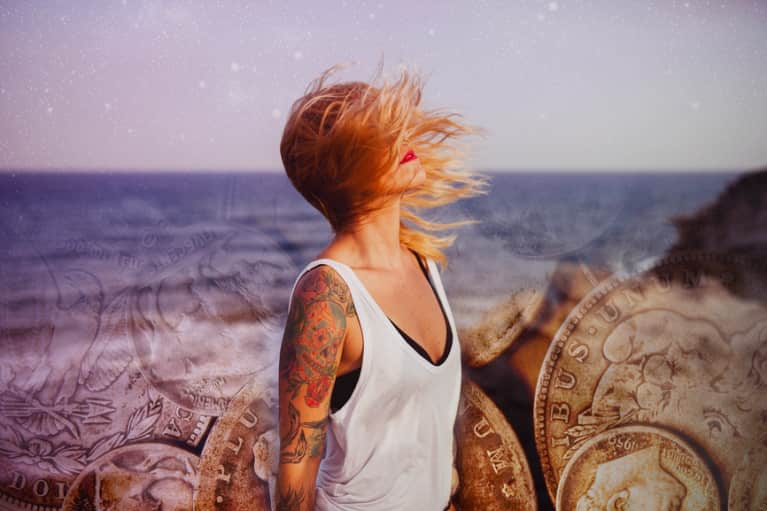 June 2017: Monthly Money Horoscope
Welcome to Gemini season! The zodiac's consummate rainbow butterfly, Gemini's winged energy invites us all to head out into the shifting, curious world, sample the wares, and simply let the magic unfold. With Mercury joining the Sun on the 6th, and Jupiter stationing directly in Libra on the 9th, it's an airy month that's all about socializing, rewiring our circuitry, changing up our perceptions, and discovering buried treasures in unexpected places…
Money Mantra of the Month: "I use my street smart hustle to finally let it flow."
Aries (Mar. 21 - Apr. 19)
Let this month's infusion of air signs help fan your flames and give you some much-needed perspective on a critical project. Mid-month, let a new creative partnership offer up a brand-new solution.
Power Color: Feel into perspective and partnership with fresh combos like raspberry and emerald or navy and orange.
Taurus (Apr. 20 - May 20)
While you often feel more comfortable locking it all down, this month asks you to mix up your approach and take some gambles. Make a pitch with an open mind and see how your ideas collide with the world.
Power Color: Let it come undone with turquoise ombré and iridescence.
Gemini (May 21 - Jun. 20)
Happy birthday, twin beam! With Mercury entering your sign this month, it's time to hone your skills and focus on developing one area of expertise. Trust that you can narrow your lens just a little bit without losing any of your penchant for possibilities, and up your earning potential as a result.
Power Color: Get back to basics with black-and-white cool.
Cancer (Jun. 21 - Jul. 22)
With Mars entering your sign this month, it's time to come out and play, little crabby! Lunch, brunch, and happy hour your way toward alliances that feel good emotionally and let your EQ (emotional quotient, which is a fancy way of saying emotional intelligence) lead you to lucrative results.
Power Color: Take it public in Barbie Dreamhouse pinks.
Though you always want to lead with your juicy, pumping heart, this month it's about mental analysis and sacrificing some of your ego for the good of the team.
Power Color: Celebrate clarity with razor-sharp silver and slate gray.
Virgo (Aug. 23 - Sept. 22)
With your ruler, Mercury, running the show this month, you could start to feel mentally exhausted from trying to juggle too many projects. Streamline your work routine, do some much-needed schedule clearing, and find time for checking out.
Power Color: Soothe your raw nerves with mint greens.
Libra (Sept. 23 - Oct. 22)
With Jupiter stationing directly in your sign, this month is all about opening yourself wide and receiving the treasures. While they may not always appear in the forms you expect, take time to generously accept whatever lands in your lap.
Power Color: Trust in the riches with solid-gold accents.
Scorpio (Oct. 23 - Nov. 21)
Sometimes you tend to bury all your resources underground, but this month, you're being asked to deal head-on with your more hidden motivations and release some of your privacy to get financial help from others.
Power Color: Deck yourself out in classic cream that's got nothing to hide.
Sagittarius (Nov. 22 - Dec. 21)
With a full moon in your sign this month, it's time to honor your accomplishments with a big old feast. Let the sumptuous celebration prime you for your next dream scheme.
Power Color: Dream big with sun-baked corals and aquatic blues.
Capricorn (Dec. 22 - Jan. 19)
Let Gemini's youthful glow help soothe your old soul this month, Cappy. Pure play will lead you deeper into the serious work you're here to do. Return to the passions that lit you up from the inside out once upon a time.
Power Color: Return to innocence with playground primaries that pop.
Aquarius (Jan. 20 - Feb. 18)
Delight in all of the possible solutions to a money challenge this month without having to develop a linear plan of attack—start some new side gigs and just watch how they unfold.
Power Color: Spice it up with paprikas and bold prints.
Pisces (Feb. 19 - Mar. 20)
Neptune stations retrograde in your sign this month, and it's time to examine some of the assumptions and illusions about your earning power. Practice getting real and developing a clear, future-driven plan of attack without feeling like you're sacrificing your dreamy, mystical side.
Power Color: Feel into the future with vibrant neons.
Want more astrology? Find out what breakfast you should eat and what workout to do for your zodiac sign.