Your Weekly Horoscope Is Here: What's In The Stars For You?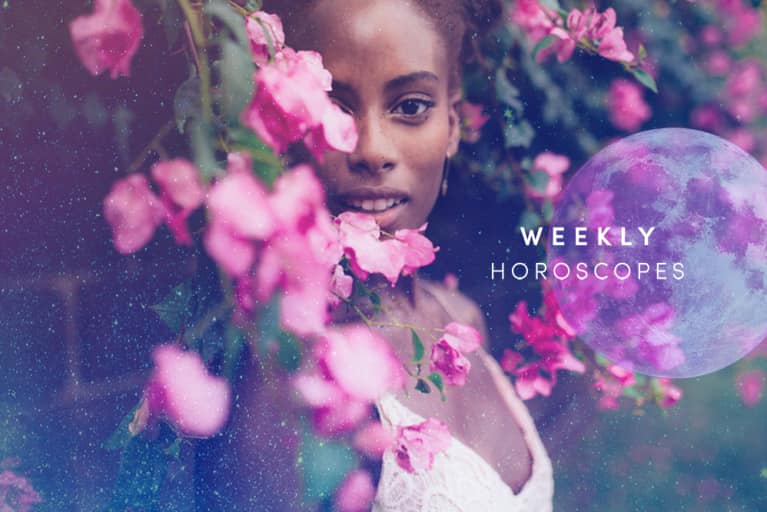 Bring it in, bring it in. This week is like an extended group hug with our innermost circles. On Wednesday, June 21 (or super late on Tuesday the 20th in the Western United States), the summer solstice begins as the Sun floats into Cancer for four weeks. The very same day, messenger Mercury also flows into Cancer's sentimental waters until July 5, upping the ante on the heartwarming vibes.
For the past month, Gemini's solar flares have given us all a case of astrological ADD. Focusing deeply on anyone' much less remembering what events we promised we'd show up at, has been challenging, to say the least. But now, the friends-and-family reunions begin. With Cancer's solar flares shooting through the skies, we'll crave nothing more than cozy nights in with the people we adore. And sure, some treks to the family beach house or a seaside Airbnb, as well—especially if there's a kitchen for whipping up home-cooked meals!
Nesting instincts are at their strongest point of the year when domestic Cancer rules the skies. Make sure your home is a haven and that your workspace feels like enough of a sacred oasis for productivity to flow. Add pillows, plants, and pictures of your favorite people to personalize every space.
With Wednesday being the longest, lightest day of the year, this is a powerful moment of personal illumination. Tender emotions that have been buried beneath our shells are ready to be examined—with journals, supportive friends, a therapist, and a box of tissues. Creative bursts could give birth to transcendent works of art. Plant yourself somewhere that inspires you, and be a vessel for the muse.
Another family-style serving arrives on Friday, June 23, as the annual new moon in Cancer delivers more warm-fuzzy beams.
Shower loved ones with appreciation, especially the supportive ladies in your family (real and extended) since Cancer is the zodiac's feminine sign. Communing with Wonder Woman types might even lead to a promising sister act—one that could pay dividends by the corresponding full moon in Cancer on New Year's Day 2018. With our nesting instincts activated by la luna, spending time at home base helps us feel more centered. In the market for a home sweet home? This domestic new moon may reveal a dream listing or inspire a remodel or decorating spree.
But there's always the chance that familiarity CAN breed contempt—especially if we don't give ourselves enough personal space in between all the heartfelt huddles.
Skip Sunday dinner with la famiglia and give yourself a day off from your go-to squad. With feisty Mars, also part of the Cancer planetary posse, clashing with indie-spirited Jupiter in Libra, rebalancing the "me" and the "we" is a must. One relationship, likely a romantic one, may be wilting from a bit of neglect as we've tended to family and close friends. Don't cancel a romantic plan (or ignore your buzzing dating app) to go dry a sister's tears. That's just a recipe for resentment. Send an empowering "GIRL, you've got this" text, then follow Cupid's arrows…or whatever Jupiter's weekend whim may be.
Want more astrological insight? Check out your June horoscope, then learn what your rising sign is (and what it says about you).