Your Weekly Horoscope Is Here: What's In The Stars For You?
mbg Contributors
By The AstroTwins
mbg Contributors
Ophira and Tali Edut, known as the AstroTwins, are professional astrologers based out of New York and Seattle. Their work has been featured in The New York Times, Elle Magazine, Vogue and Good Morning America and they are the authors AstroStyle, Love Zodiac, Shoestrology, and Momstrology.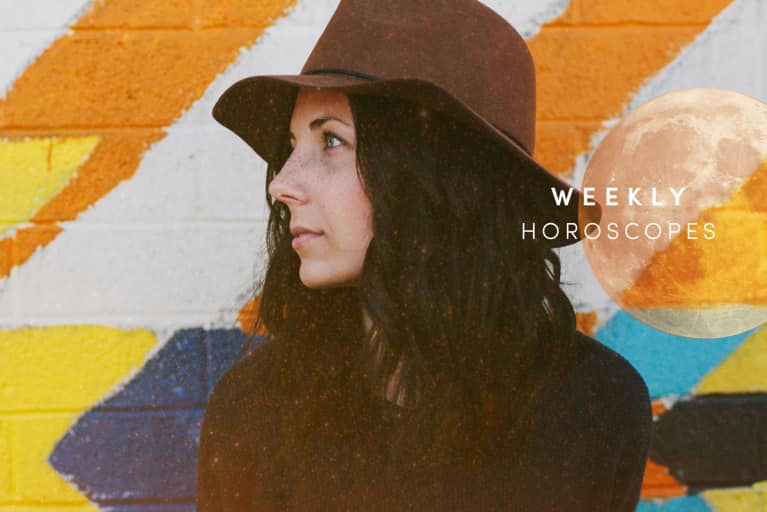 With Gemini Season in full swing, it's been easy to get swept up in the moment, enjoying the diversions of the present and blowing with the wind. But this week, that spontaneous groove needs the balance of structure—before we divert too far from our intended paths. Pull over for a pit stop, especially near Thursday, June 15, when play-by-the-rules Saturn in visionary Sagittarius will directly oppose the freewheeling Gemini Sun. Don't worry: You won't be stuck in park forever. Just check your internal GPS and strategize carefully before you make your next big leap.
Ask yourself this: Am I taking a calculated risk or a foolish gamble?
If you're leaning more toward the latter, then use the Gemini Sun's masterful researching powers to go on a fact-finding mission. Armed with the right data and intel, you'll know whether to keep motoring ahead or make a hard left in a new direction. Examine your motives before putting yourself in the public eye. The Sun-Saturn opposition can deliver some tough ego checks. While the Sun can promote showmanship, Saturn gives rewards based on merit. Better to say nothing than to speak prematurely and look like a charlatan. But if you can bring the sizzle AND the steak, you will hit the right mark!
This transit prompts an important moment of reflection for the world.
It also marks the final six months of Saturn's three-year-long tour through Sagittarius. Since December 23, 2014, the tough teacher planet has had Sagittarius, the sign of higher truths, education, publishing, and international affairs, under his thumb. What is fact and what is fake news? How do we mitigate the growing tensions across cultures and religious beliefs? Nationalism, globalism—or a balance of both? This has NOT been easy to navigate. On December 19, 2017, Saturn will come home to Capricorn, the sign it governs, for three years.
This will be a much easier fit than restrictive Saturn's paradoxical tour of expansive Sagittarius. But until then, we must contend with the push-pull of this awkward dance and find ways to grow, despite some of the archaic principles limiting us. Before 2017 is through, we may stretch in Sagittarian ways, such as travel and education. Sign up for those global conferences and special trainings. Just remember that stern Saturn wants us to follow protocol—or at least master the rules before breaking them!
On Friday, June 16, soothsayer Neptune makes its annual U-turn, retrograding through its ruling sign of Pisces until November 22. This meditative five-month cycle can be a profound blessing, giving us space for deep internal reflection. During this transit, we have an opportunity to heal some core wounds, deal with our addictions (from liquor to love to limiting beliefs). Awareness is the key to evolution—and with fog-machine Neptune in the timeout chair, we can cut through illusions more easily…IF we are willing to look. Use this period to explore the shadows. By owning up to our unhealthy patterns we can learn to break them.
With nocturnal Neptune in dreamy Pisces, some of our best ideas will come to us while we're sleeping, meditating, or just staring at the clouds.
And the retrograde allows us to go even deeper with our creative explorations. We'll have to keep our psychic shields up, though. Neptune's backspin through empathic Pisces can make us more sensitive to esoteric energies. Like sponges, we can absorb the mood of a room or get thrown off emotionally by a stranger's bad vibes. If we find ourselves grouchy or spacey for "no apparent reason," we may need to clear our energetic fields.
Follow the signal and slip into an Epsom salt bath, wave the sage wand, and book a session with a Neptunian healer like a therapist or shaman. Neptune is the god of the seas, so flushing out our systems with pure H2O can help purge toxic influences during the retrograde. Examine personal boundaries—has generosity turned into sacrifice, or are we being too rigid? Perhaps we need to be more firm…or to soften, so others can actually reach us.
Sunday is Father's Day, and this one may require some censorship! Mouthy Mercury in Gemini will directly oppose heavyweight Saturn, a reminder to think carefully before we speak. Steer clear of tricky topics: religion, politics, family gossip, and the like. Not only will this be a mood killer but it could wind up provoking an argument with the father figure you're trying to celebrate. Keep plans simpler, despite the FOMO that Mercury in Gemini can provide. Otherwise, organizing the soiree can turn into a logistical nightmare. For best results, choose one location, set a start (and end) time, and give everyone clear directions for what to wear and bring to the party.
Want more astrological insight? Check out your June horoscope, then learn what your rising sign is (and what it says about you).