This Body-Energizing HIIT Workout Is Exactly What You Need To Have Your Best July Fourth Ever
Certified Personal Trainer
By Krista Stryker, NSCA-CPT
Certified Personal Trainer
Krista Stryker, NSCA-CPT is the author of The 12-Minute Athlete: Get Fitter, Faster, and Stronger Using HIIT and Your Bodyweight and a leading expert on HIIT and bodyweight fitness. She lives in Venice, California, and is a certified personal trainer through the National Strength and Conditioning Association.
Now that the weather is finally getting nicer for most of us (we were dealing with serious June gloom here in LA)., it's the perfect time to take advantage of the warmer temperatures and take our workouts outside.
While July Fourth is all about fireworks, barbecues, and celebrating with friends and family, taking a few minutes to do this high-energy HIIT workout will make you feel like celebrating even more. HIIT workouts are perfect for outdoor training since they often require little or no equipment. This sequence works your entire body and shouldn't take more than a few minutes to complete. So grab a friend and get going!
All you need for this workout is a little bit of space and a timer. You'll go through the following sequence four times as fast as you possibly can:
100-yard sprint
5 burpee tuck jumps
20 snowboarder jumps
10 pushup plank jumps
10 candlestick leg lifts
And here's how to do each one:
Run as fast as you can for about 100 yards (about the length of a football field). Focus on leaning forward and extending your stride as you run.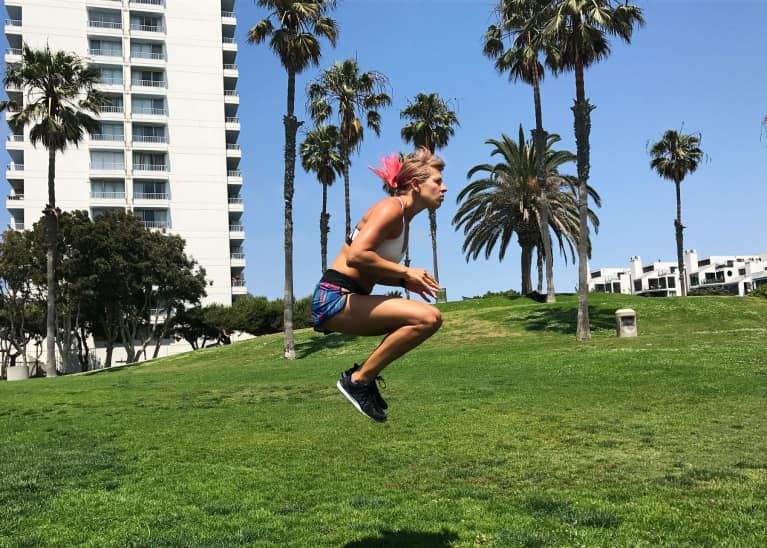 From standing, drop down into a pushup position. Lower your chest toward the ground into a pushup, then immediately jump up and tuck your knees toward your chest. Land, then repeat. For an easier version, land in a plank rather than doing a full pushup in order to make this exercise easier.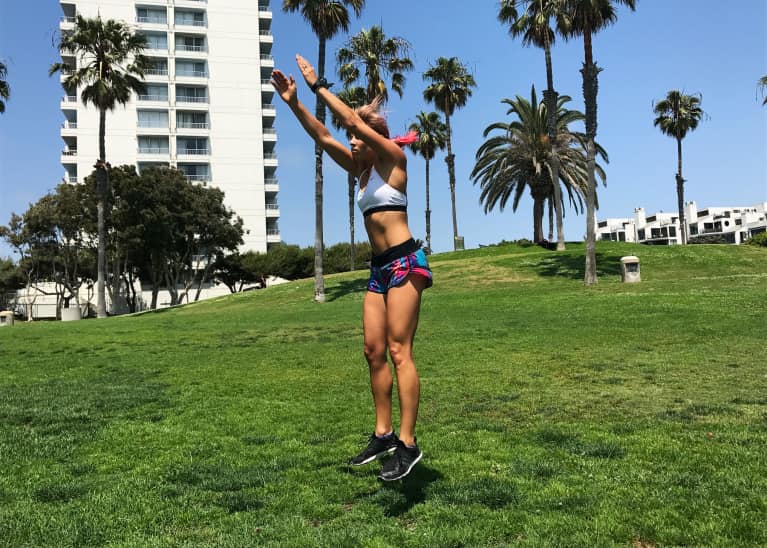 Start in a squat position with one hand touching the ground. Jump up as high as you can, rotating 180 degrees in midair. Land back in a squat position on the opposite side, touching the ground with your other hand. That's one rep.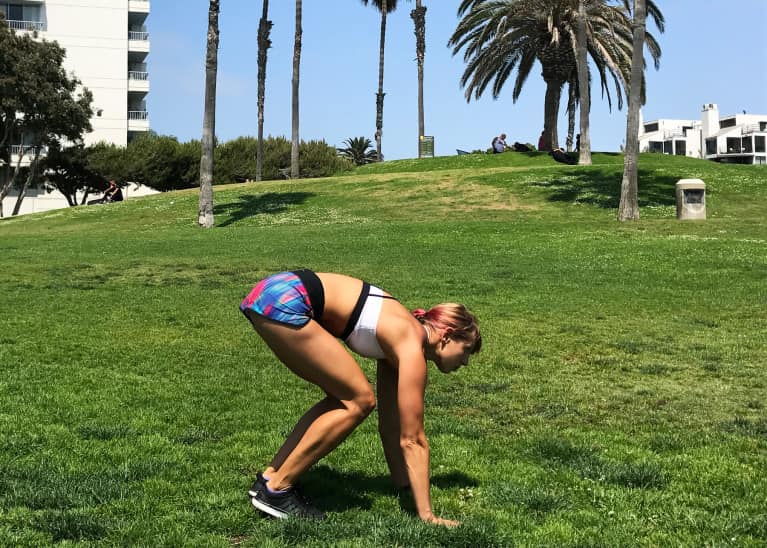 Start in a pushup position with your shoulders directly over your hands. Tighten your abs, glutes, and thighs. Lower yourself so that your chest touches the floor, push back up, then immediately jump your feet toward your hands. Jump back to the starting pushup position and repeat.
For an easier version of this, place your hands on an elevated surface such as a bench or handrail to make this exercise less intense.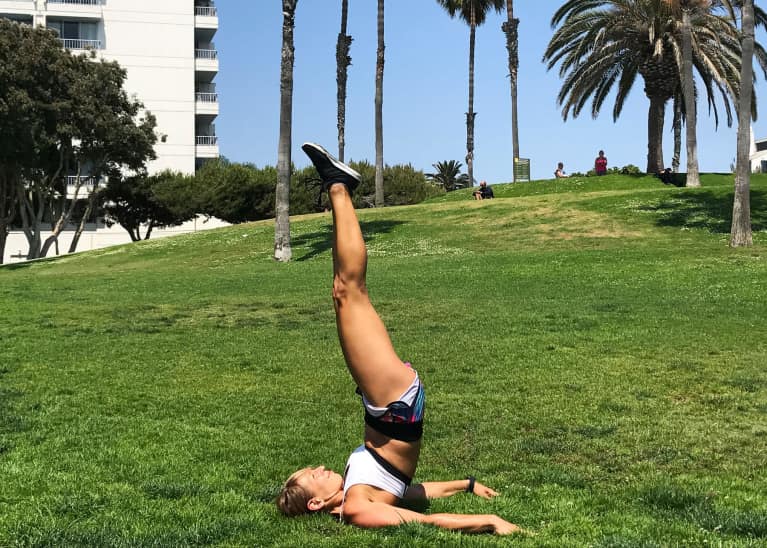 Lie down on your back with your legs straight. Place each hand palm-down, keeping them slightly wider than shoulder-width apart, or under each glute. Keeping your core tight, lift your legs off the floor while keeping your knees as straight as possible, and keep your toes pointed.
Just before your legs reach vertical, extend your torso to lift your lower back off the floor into a candlestick position. Lower back down with control, and repeat.
For an easier version of this, perform leg raises without the candlestick lift or while bending your knees on the way down.
For more HIIT workouts, check out this 12-minute HIIT workout you can do anywhere, and if you feel like keeping it indoors, this workout is perfect.