Your Weekly Horoscope Is Here: What's In The Stars For You?
Astrologers & Best-Selling Authors
By The AstroTwins
Astrologers & Best-Selling Authors
Ophira and Tali Edut, known as the AstroTwins, are professional astrologers based out of New York and Seattle. Their work has been featured in The New York Times, Elle Magazine, Vogue and Good Morning America and they are the authors AstroStyle, Love Zodiac, Shoestrology, and Momstrology.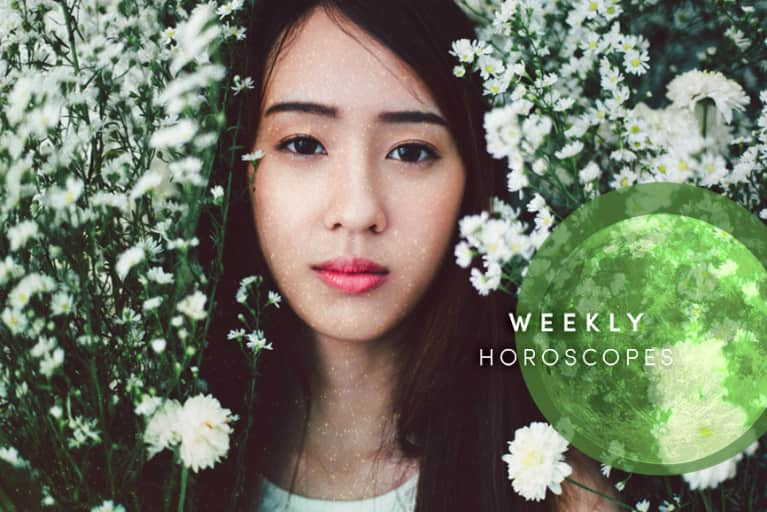 Heart-centered connections, here we come! This Monday, July 31, amorous Venus switches gears, downshifting from flirty, mercurial Gemini into soft and sentimental Cancer until August 26. Variety was certainly spicy in July! But starting this week, "comfortable" and "predictable" are no longer dirty words—well, maybe they ARE in a nudge-wink kinda way. While Venus is in Cancer, you can seduce with words of security. Try, "Wanna move in together?" or "Hey, I cleared out a drawer just for you," or "My mom can't wait to meet you!" for starters. We're not even kidding.
Speaking of your mama (and sisters), let them play matchmaker for you.
Their suggestions might just hit the mark this time. Under these sentimental skies you might reconnect with a childhood sweetheart via Facebook or linger in conversation with the cutie-next-door. Whether single or spoken for, it is officially nesting season. Cancer rules the domestic realm, and Venus is the astro-aesthete. Get the Pinterest board going, and if you're looking to attract love into your life, try a little feng shui.
Locate your love corner with a Ba Gua map and fill it with romantic talismans.
Make sure your bed is accessible from both sides, and place pairs of objects around your home as a symbol of partnership. Even if you're not looking for something serious, Netflix and chill by the A/C will be gooood. Attached? Get the cohabitation station feathered to cuddle-worthy code. Spending time at home is sexy, whether lounging, gardening, slow-cooking gourmet meals, or getting creative on a shared reno project.
Head's up: Mercury will be retrograde from August 12 to September 5, so pick your paint colors and sign off on the architectural drawings BEFORE then.
On Thursday, radical Uranus—the planet that governs mass society, technology, and science—slips into his annual retrograde until January 2, 2018. This could either sound the call for greater activism or lull people to sleep. (So, uh, where DID you stow that pussy hat?) From 2011 to 2019, Uranus is grooving through fierce, fiery Aries bringing worldwide revolution—for better and for worse.
Under this spell, we've seen quite the mélange of rapid progress and shocking backlash.
To wit, on March 11, 2011—the very first day Uranus moved from sea-ruling Pisces into combustible Aries—tsunamis swept through Japan, bringing devastating floods and nuclear (uranium!) explosions. From the birth of ISIS and the "alt-right" to election cyber-hackers, fringe groups have risen up during this Uranus phase. Underserved groups have mobilized simultaneously: Black Lives Matter, the 2016 Women's March, and the U.S. federal legalization of same-sex marriage.
There have been rapid developments in technology as our smartphones become integrated into every aspect of our lives—and artificial intelligence looms as a replacement for a larger swath of the workforce. No, the world is not going to show signs of slowing down. But maybe it can progress with a little less combativeness? Communal Uranus has a 1960s vibe...it can also unite people in a "one love" kind of way. (Cue the anthem penned by Uranus-ruled Aquarius Bob Marley.) Space Age Uranus is the planet of technology and innovation.
As the line between "virtual" and "reality" blurs, this retrograde also reminds us of the power of a good old-fashioned analog bond. "Safe sex" CAN still include genuine skin-to-skin contact, not just Snapchatting photos of naughty bits or having a virtual hookup with someone you'll never meet IRL. Though we're not judging anyone's preferences, this retrograde beckons the over-technologized humans away from their screens and into warm, communal spaces again.
Since retrogrades rule the past, we might reconnect to groups and humanitarian missions (also Uranus' wheelhouse) that fulfilled us once before. But don't go sacrificing individuality for "group think." The herd mentality could lead us astray now, and it's important to maintain our critical thinking skills in the face of peer pressure.
Want more insights on how to level up your life? Check out your love horoscope, then find out why holding on to past relationships is the worst thing you can do for yourself.