Will Joshua Tree National Park Exist In 50 Years? Scientists Say Maybe Not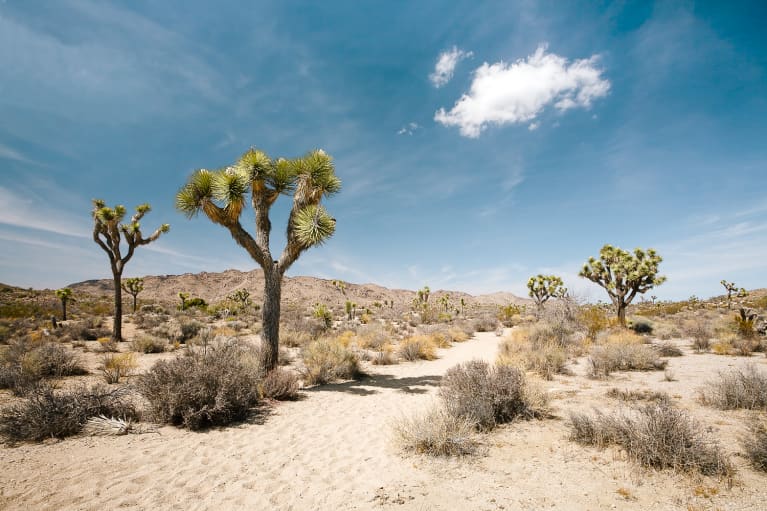 Joshua Tree National Park's dramatic sunsets, unique plants, and otherworldly terrains entice around 3 million visitors a year—though one of the main attractions, its namesake Joshua tree, could be severely threatened by climate change.
Scientists from University of California Riverside recently teamed up with a group of volunteers to study how 4,000 trees were reacting to droughts and wildfires exacerbated by climate change. Their report, published in the journal Ecosphere, forecasts that, without a reduction in global carbon emissions, only 0.02% of the park's tree habitat will be left by 2070. If carbon emissions do decrease, though, 20% or more of the iconic trees could be protected.
Joshua trees are an ancient species that, though they don't possess your typical growth rings, are thought to live 150 years on average and up to 300. It seems, according to this new research, that their recent movement to higher elevations and canyons that capture water are the direct result of climate change. Adult trees in the hot, dry areas of the park are no longer producing as many offspring as the ones in cooler, wetter areas of the highlands. That's because the species—though it can withstand periods of dry weather—relies on some moisture and well-timed rains to survive. It also crumbles in extreme weather events, and fewer than 10% of trees survive wildfires.
The Joshua tree is a keystone species, meaning many other plants and animals in the ecosystem depend on it for food and shelter. This makes the trees' shrinking habitat a real threat to the future of this famous California landscape.
What's being done to help keep Joshua Tree wild?
The national park is already responding to this research with action, according to plant ecologist and project lead Lynn Sweet.
"The park now has maps of the priority areas that may support Joshua trees into the future, which they are using to focus efforts to prevent wildfire," she tells me. "To my knowledge, this is one of the only parks to do this: Translate research on climate vulnerability directly into management action."
Joshua Tree isn't the only park threatened by climate change, and Sweet says that similar research is happening across the country—and everyday people can help move it along.
"Volunteers came out and helped us count thousands of trees, some just for a day, along with UCR staff and Park Service biologists," she recalls of her time in the field. "We walked the plots and counted Joshua trees, assigning each a location and description, to tally things like demographics and age for each population across the Park."
Sweet says that the involvement of community volunteers, or "citizen scientists," in her research was "incredible" and urges anyone interested in protecting local landscapes to look for similar programs in their area using Volunteers in Parks, a National Park Service program.
"Even if someone can't participate in these venues, taking steps toward learning about your local environment by visiting and volunteering for local parks helps support conservation of species as well," she adds. "Or, managing your carbon footprint and encouraging others to do the same will help make the difference between nearly no habitat in Joshua Tree at end of century or keeping 20% or more."