This Desert Oasis Is The Most Famous Home On Instagram. Let's Take A Tour
Today on Holistic Home Tours, we're taking a road trip to Joshua Tree, California, to check out (read: fangirl over) a crisp, clean, desert-inspired home that begs to be lived in, loved, and, yes, Instagrammed.
Looking at photos of the Joshua Tree House, it's easy to place yourself within the frame and imagine cozying up next to the tumbled stone fireplace, swinging on the macramé hammock, and perching on the balcony with a good book. That welcoming vibe is exactly what owners Sara and Rich Combs were after when they opened their 1949 vacation house to Airbnb dwellers as a place for weary travelers to slow down, take a long sip of coffee, and unwind amid the gorgeous backdrop of the Mojave Desert.
I spoke to the couple about how they landed in the desert, what they look for in a wall hanging, and what home means to them.
How often do you stay in the Joshua Tree House yourselves?
It began as a part-time retreat for us, and we rented it on Airbnb during the times we were away. We quickly found that others loved the experience as much as we did, and we started to find it difficult to find open times on the calendar to go ourselves.
When we found and fell in love with a second property, the Joshua Tree Hacienda, we decided to move full-time and open up the house as a full-time rental.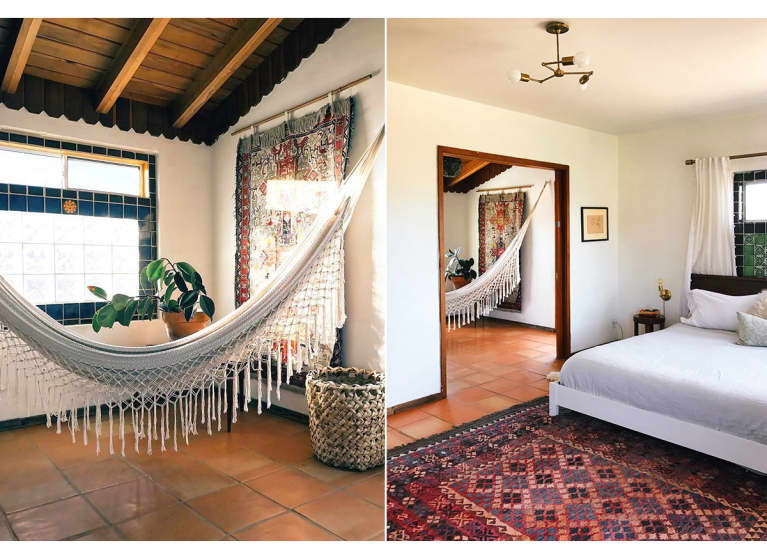 What are three words that describe your design philosophy at the house?
Slow, intentional, anecdotal.
What made you decide to settle in the desert?
We fell in love with the house via a Craigslist ad back in the spring of 2015 and bought the house in May of that year. As our dread of leaving this special place increased with every trip, the idea of moving here full-time became a frequent thought. Joshua Tree has a certain magnetic force, and it pulled us in quickly.
Favorite place to buy furniture for it? Accessories?
The dry climate of the desert preserves most things, leaving so many special treasures to be discovered at local vintage shops. We definitely prefer to buy furniture and accessories locally, though when we can't find a particular item, we love browsing eBay or Etsy to find our treasure.
What's the oldest thing in your home? Newest?
The oldest thing may very well be the house itself or one of the many vintage desert books we've collected. The newest things are probably our mattresses (comfy beds are super important).
Favorite season in your home?
Since moving to the desert, spring has quickly become our favorite season. The surrounding cactuses begin to bloom, and as the days grow longer we get to spend more time in our favorite outdoor spots. At the house, we love to watch the sunrise from the front porch.
Coziest spot in your home?
There's something incredibly playful and cozy about hanging furniture. At the house, we have two hanging chairs and an indoor hammock, all of which are very cozy (especially with a vintage blanket).
What noises can be heard in your home? What smells?
Though the desert is quite silent at times, there's still a lot to be heard. Usually it's birds chirping outside, coyotes howling at night, or our record player spinning.
One of our favorite desert smells is the way the creosote smells after it rains. We've started bringing a fresh branch into the bathroom to enjoy that same scent after a shower. We're also often burning incense in our home.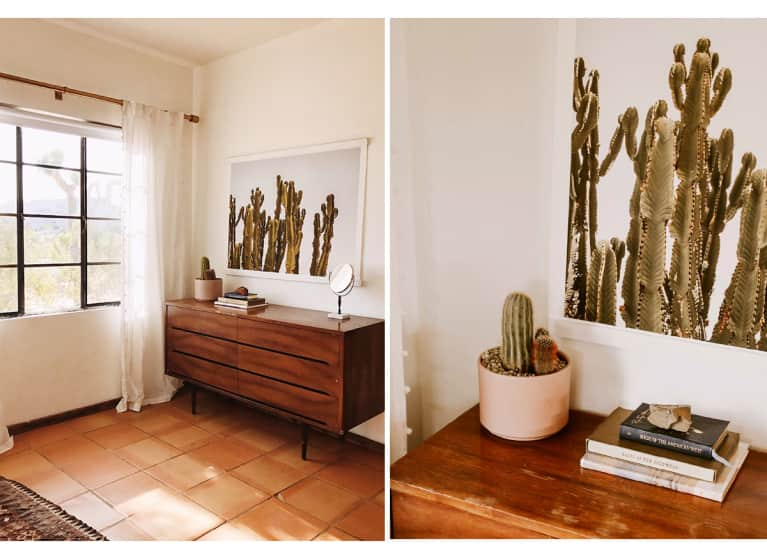 What's the most sentimental thing hanging on your walls, and what's the story behind it?
Artwork created by friends is incredibly special to us, such as the paintings by Heather Day and the wood pieces by Aleksandra Zee. They are both influenced and inspired by the desert as well, and we love having their perspectives hanging on our walls.
What's your favorite room in the house, and how do you use it?
At the house, our favorite room is the living room. It's such a special gathering place to warm by the fire in the winter, gather for meals, listen to records, and swing in the hanging chairs.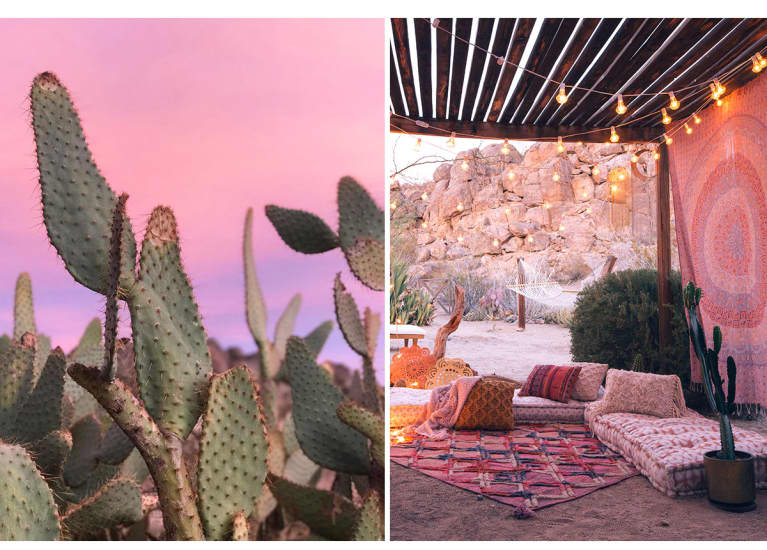 How does the Joshua Tree House relax you? How does it motivate you?
It keeps us relaxed with the connection to outdoor space. Even when working there, it's difficult not to feel calmed by the happy birds outside or from watching a lizard scurry by. It motivates us to start each day merely from the pure beauty that we see outside. You can watch the from the master bed at the house, and seeing such an intense sight like that from the very first moment of the day usually propels us out of bed with excitement.
What's the best compliment you've ever received on your space from someone who has stayed there?
We've had a few people tell us that the house was their favorite place in the world! With so many spectacular places to visit, we definitely felt honored that people felt that way.
Here's a primer on how to bring some of Sara and Rich's Joshua Tree style into your own space, wherever it may be.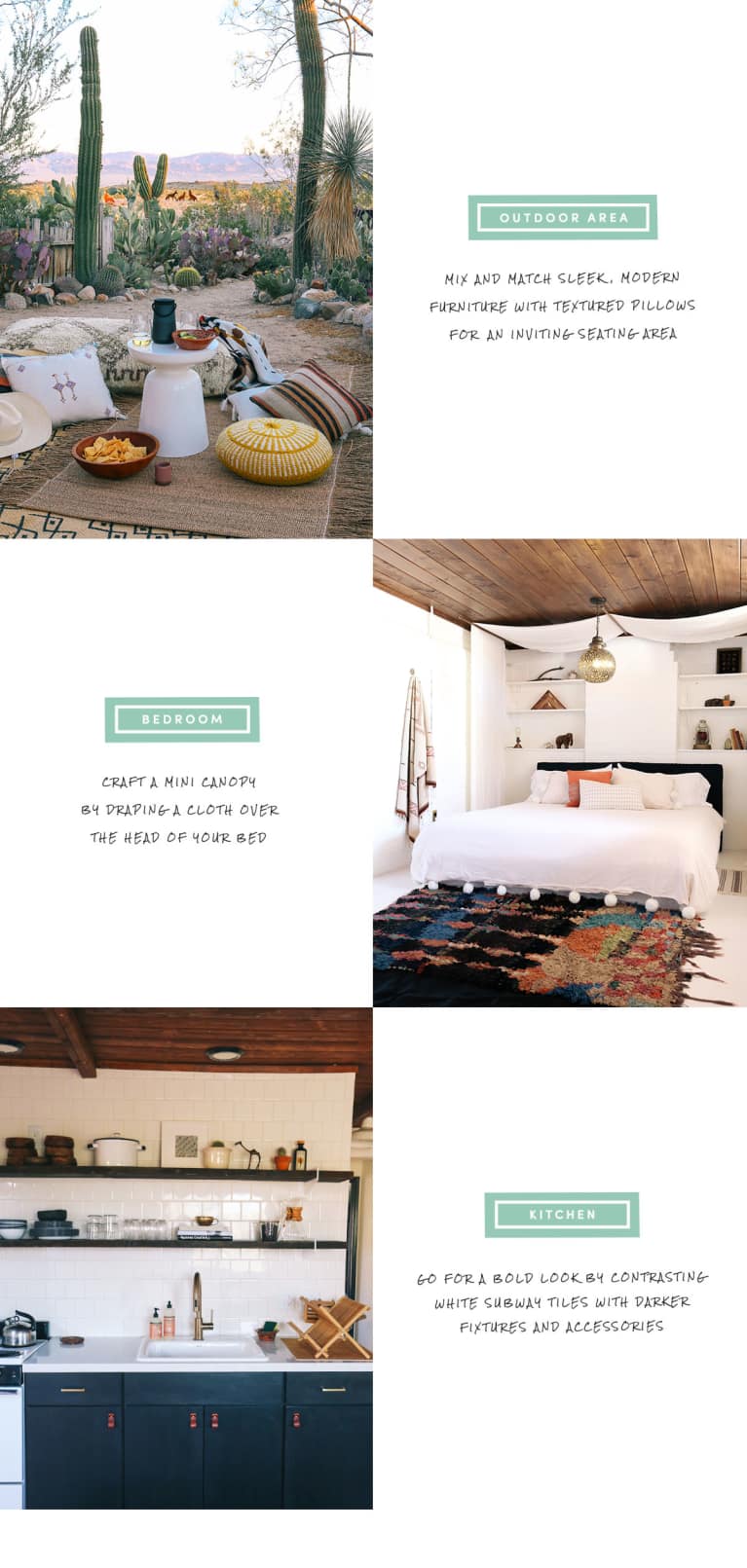 To peek inside more feel-good sanctuaries around the world, check out the rest of our Holistic Home Tours.