Jocelyn Ramirez On Making Healthy Food More Accessible
Post production supervisor
By Adaeze Elechi
Post production supervisor
Adaeze Elechi is the post production supervisor at mindbodygreen. She is also a filmmaker, a Logan Nonfiction Fellow, and the author of Harmattan (a collection of poems and short stories that explore loss, healing, and infinite love).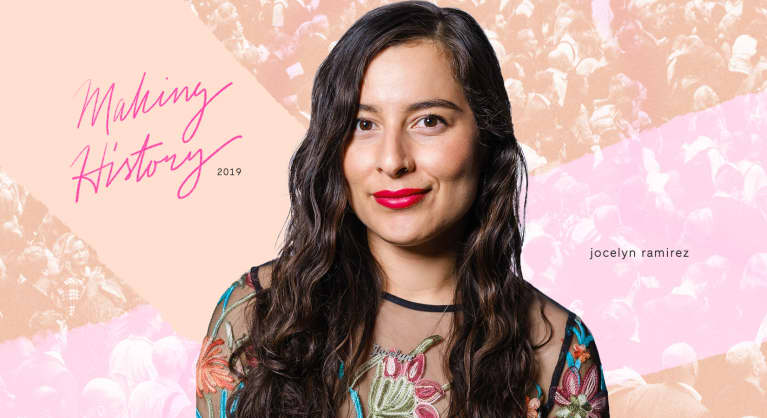 In our series,
Making History
, we're talking to people who are leading the charge to bring much-needed diversity to wellness. They're sharing with us the work that they do, highlighting the voices that need to be heard, and telling us what we as a wellness community aren't talking about—but should be. This week, we spoke with
Jocelyn Ramirez
, the founder of
Todo Verde
, a healthy food community specializing in plant-based food options on the East Side of Los Angeles. Todo Verde was born after Ramirez noticed the lack of healthy food options on the East Side, where she grew up. Now Todo Verde offers catering with a full menu of Mexican and South American–inspired foods and workshops that inspire healthy cooking at home. Ramirez believes a significant part of making wellness more accessible is having more people of color in positions to make decisions that affect things like food policy in the city. She shares how Todo Verde empowers the local community and beyond.
I'd love to know more about you and how you started Todo Verde...
Well, I am born and raised in Los Angeles, grew up in a southeast suburb called South Gate, which, growing up, was considered a food desert. I had within a mile radius a McDonald's, a Jack in the Box, a Tacos Mexico, a liquor store, that were kind of staples as a kid growing up, places we would go and eat. My parents were both working full time, and that meant that my mom would come home tired a lot and wouldn't always prepare the traditional meals that she grew up eating from her mom's side. So our healthy alternatives were at Pollo Loco, Subway, things like that. When she wasn't too tired, she would prepare things like–she's from Zacatecas, Mexico—so she would prepare things that are known as guisados. So like chicken or pork or beef stews and lots of veggies or nopales and potatoes and things like that.
It wasn't until I was in my 20s that I started to really see the health implications of the things that we were eating. What triggered me to start to look at my diet was when I was diagnosed with a thyroid issue. The doctors wanted to remove my thyroid and have me start taking hormone pills, and I didn't want to do that.
So I turned to vegetarianism to try to see if I could find ways to cure the things that I was dealing with. During that time, my mom was diagnosed with high blood pressure and my dad has had diabetes since I was a teenager. So diabetes was something that we were all kind of fearful of.
It wasn't really until my dad got diagnosed with cancer, not once but twice, that my whole family realized, "Wow, what's going on?" We didn't really make too many dietary changes in the family until round two, when he was diagnosed with cancer in the same area of his body. He had throat cancer.
My dad saw that I was getting healthier with the type of food that I was eating. He said, "All right, I'm willing to do whatever it takes."
He changed up his diet, mostly doing superfood smoothies. I cleaned out their whole fridge and their cupboards and took them to farmers markets, Whole Foods [Market], and Trader Joe's. We had a month leading up to surgery, and all his doctors said, "Wow, what are you doing?" They were shocked that he was getting better and that the cancer wasn't advancing as much as it was before.
What made you think of turning to vegetarianism when you were dealing with your own health issues?
Honestly, there's a number of reasons. Part of it was growing up as a kid, I wanted to be a veterinarian. So there was always a little part of me that thought, "I feel bad for the animals, or I know it's bad for the planet, or I know that I eat an excessive amount of meat," because at that time, I did.
I looked into a few articles that were about thyroid glands, and I looked up bringing kelp into my diet, bringing in iodized salt, cutting out as much meat as possible, and trying to bring in less fat. The way I was practicing wellness with my body was almost nonexistent at the time, so I really flipped the script and tried to change things. I decided I wasn't going to purchase any meat.
It wasn't until I attended an indigenous veganism workshop led by my now friend and mentor Claudia Serrato, who's based here in Los Angeles, that I decided to go vegan. That was about a year after going vegetarian or so.
How did you go from healing yourself and helping your dad to feeding other people and changing how they approach food through Todo Verde?
I was really trying to create the same dishes that my grandmother had been making for our family for a lot of years, much of it plant-based. She is from a ranch in Mexico, where you mostly ate from the land. You ate meat here and there, and when you did, it was very special. So really thinking about, "How could we work together to create variations of this recipe [that usually has meat] to make them vegetarian or vegan?"
I would get my family together for meals, and every time we would eat these meals that were now vegetarian or vegan, they just said, "Wow, this actually is really good. You should open a restaurant."
I thought, "If I were to leave my full-time career in higher education, maybe I'll just start with superfood smoothies, the way I started out with my dad and see where that takes me. Then I'll start working at a restaurant shortly after that, or maybe I'll expand the business."
You've exceeded your Indiegogo goals to fund Todo Verde's new plant-based café. How does it feel to be opening people's minds to the possibility of delicious food connected to a culture that's also plant-based?
Everybody thinks that the area that I'm looking at, like the east Los Angeles area, is risky. It's too risky to open a restaurant in this area because people don't want it and don't have the money. That crowdfunding campaign showed me that people do want this, that they're ready for something like this in their neighborhood, and they can financially make it happen. They might not have hundreds of dollars to contribute toward the campaign like the one that I led, but they may have $5, $10. The average campaign has about 90 backers, and the campaign that we led had over 700. That showed me that people really are excited about this.
Can you talk about why you chose East LA?
If you go over to the West Side, you can probably find dozens of plant-based places to eat, different types of restaurants that we just don't have here on the East Side.
What you see a lot more of are liquor stores and fast food chains sprinkled in with places that sell what we call bionicos or licuados, so smoothies.
I feel like we deserve something like this on the East Side. Just like the name itself, Todo Verde, it's this new generation of Chicanos and Latinos across Los Angeles that are born and raised here from immigrant parents who came to this area and who are still coming back because they want to create some sort of an impact there. I feel like it's really time for us to have more things that are for us.
Who did you want to reach with Todo Verde?
When I first started Todo Verde and was building our social media accounts, I thought, "I want to be really intentional about showing people of color across our page." Most health and wellness accounts that you see are geared toward white folks, which is great, but we're not represented in those spaces at all.
My target demographic from the beginning has been this Latina woman from age 24 to 35. In all the efforts that we have, I tried to speak to her. What does she do for a living? Does she work a 9-to-5 job? What does she like to see on social media? It's really trying to bring that power back into the hands of women.
Can you talk a little more about the idea of "decolonizing your diet" and how it applies to what you're doing?
When a lot of people think about a vegan diet, they tend to think, "Oh, you're going to be eating kale salads and green smoothies and juice." A decolonized diet is really thinking about what did our ancestors eat for generations prior to colonization. How did they survive for as many generations as they did in a healthy state, without things that are now common in Latino communities like diabetes, cancer, high blood pressure?
So it's trying to find the in-between of what we were and how that's still ingrained in literally our being, in our flesh, and how do we integrate that into what's available to us here in a major city.
You have a vision for the café also being a community center. Can you talk more about that?
I want to create a type of space that is empowering rather than just giving somebody a plate of food and saying, "Here you go." There's that old saying, "You can give someone a fish or you can teach someone to fish."
So, really thinking about this space being a hub where there could be skill shares happening on everything from how to prepare jackfruit or make cashew-based cream or nut cheese rather than eating the typical cheeses that you find around. Also things like meditation, yoga, or workshops like the one that I went to on indigenous veganism.
As a Latina woman working in the healthy food industry, what do you think needs to change in overall wellness to make it more accessible to everyone?
I think that it needs to come from a more organizational level, where there are people sitting at the table that wouldn't normally be sitting at the table making decisions for what would happen at a city level, for example. What types of campaigns are going to be led by the city around food, and are they led by people of color? I'm actually on the leadership board for the LA Food Policy Council. It's great to see folks giving someone like me an opportunity to speak up and say, This is what I think. Being able to have a voice in those spaces is really important and impactful.
What does your personal wellness routine look like?
I've been trying to be better about that with myself because the busier I get, the trickier it gets. The main things for me are waking up at a consistent time every morning, which has been between 6:15 and 6:30 every morning, and taking some time to sit and meditate and get ready for the day.
I'm also a yoga instructor, so yoga is also part of my healing practice, which is hard because I teach it, so when I teach, it's not really for me; it's more for others. I make time to go to classes and learn from new teachers. I also play soccer.
How can people support Todo Verde and your mission?
People can support by spreading the word and seeing if there's a possibility of getting involved. We did that crowdfunding campaign, and we met the goal before the deadline, but it's actually still an in-demand space, which means people can still donate to our Indiegogo campaign. People can also follow up on social media channels to see what's going on and see if there are potential ways to partner together.
What is your favorite dish on the Todo Verde menu?
Right now my favorite is this pipian rojos dish. We make it with jackfruit, so pipian is the mole sauce of where my mom is from. It's a pumpkin seed base, and we use guajillo chilies and a couple of other chilies, then we sear jackfruit, and we put it together. So the jackfruit's in the pipian sauce—that really, for me, feels like home.