The Genius Technique Jewel Uses To Overcome A Panic Attack
Contributing Wellness & Beauty Editor
By Lindsay Kellner
Contributing Wellness & Beauty Editor
Lindsay is a freelance writer and certified yoga instructor based in Brooklyn, NY. She holds a journalism and psychology degree from New York University. Kellner is the co-author of "The Spirit Almanac: A Modern Guide to Ancient Self Care," with mbg Sustainability Editor Emma Loewe.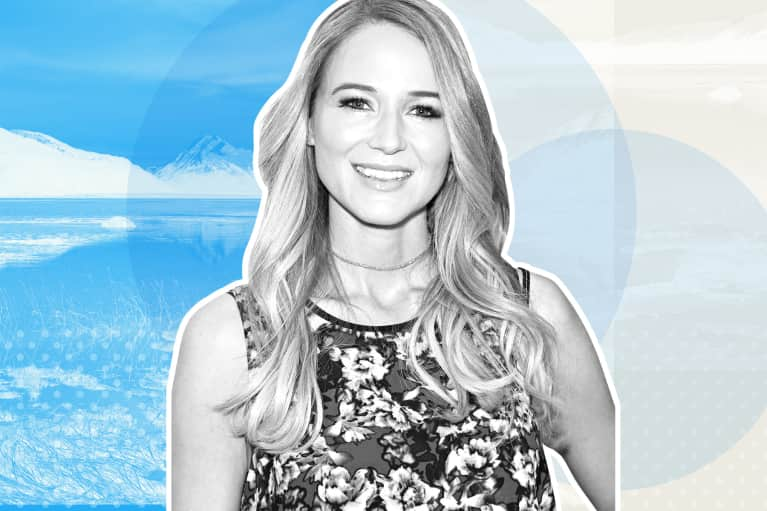 Most people know Jewel for her soulful '90s hits, but the singer-songwriter is emerging in 2018 as a key voice in the fight against anxiety, depression, and abuse. With her personal venture, Jewel Never Broken, she aims to share the mindfulness tools that helped her overcome a number of struggles—including homelessness, child abuse, sepsis caused by a kidney infection, and single parenthood—all of which took a toll on her mental and physical well-being.
"I didn't want to be a statistic; I wanted to rewire my brain," Jewel told mbg about her abusive childhood. One-third of parents who were children of abuse are likely to repeat the cycle—she refused to become one of them.
Reflecting on her younger years, she pinpointed one of the culprits of her anxiety. "I didn't realize I was becoming hypervigilant," she said and noted that it probably hurt her mental health more than it helped. "But as I look back on my life, my hypervigilance was just another way of medicating anxiety." As a kid, she was on her own at 15 and had to look out for herself. When you're a child of abuse, life is unpredictable—even exciting, career-related opportunities and achievements can be difficult. This hypervigilance and anxiety manifested in the form of panic attacks.
"My superhero strength was my willingness to adapt," she said. She didn't know that's what would ultimately save her, but she said that "setback after setback," her adaptability was what cultivated true, reliable resilience. She did the hard work of choosing to let each setback allow her to soften instead of causing her to become callous and/or bitter.
These are the practices that helped Jewel transmute pain into something useful:
1. She looked to nature for patterns and inspiration.
She grew up watching nature in Alaska—the tides go in and out. When she speaks to her 7-year-old son, she explains that pain is like ocean waves. It can start strong, but it gets less intense over time.
She meditates in the morning and the evening and usually a couple of times during the day. "It only takes 30 seconds to sit down and breathe," she said, and she finds it hugely beneficial to stay consistent.
3. Remember that nothing is forever.
She used a metaphor of a tree—a healthy tree is well-grounded because it has great roots. You'll experience stormy days and blue-sky days, she said, "but your job as the tree isn't to grab the weather—it's to experience the weather and let it pass."
This was the genius technique Jewel used to overcome panic attacks.
She was 16 years old when she started having panic attacks and, unfortunately, had them regularly enough that she could tell when one was coming on. "If you've never had a panic attack before, you feel like you're dying," she said. She told mbg that she noticed that when she was in a curious or observant state, she'd immediately feel calmer and less anxious. It didn't happen overnight and took practice, but by using visualization and other methods to ground into her body, she was able to ride it out.
She'd visualize being on a boat in a stormy ocean and imagined herself falling backward into the water—eventually she'd slowly sink to the bottom. The color of the water would change, she could see light through the water, she'd taste the salt on her lips, and she'd make her way down to the seafloor, where it was very peaceful. By the time she got to this point in the visualization, her body would calm down and the panic attack would have passed.
During a panic attack, the part of your brain that deals with thought and logic goes offline. Jewel found it very useful to force her brain to deal with limited sensory information like smell, taste, and touch by eating a juicy strawberry or doing something equally sensory, which helps to remap your brain while it's experiencing extreme stress.
She continues to be an advocate for health and well-being.
"The only time I've ever used my name was to get access to good doctors and to advocate for my health—I never used it to get a table at a restaurant," she said. "It's very difficult for us to advocate for ourselves."
Most recently, she co-founded grocery store chain Kroger's Wellness Your Way festival, which will take place in Cincinnati on October 4–7, 2018. The festival stems from the content hub that Kroger shoppers can use as a resource to get information about nutrition, medicine, and lifestyle from experts. As Jewel put it: "It's my mission to share the techniques that have helped me with the masses."