These Bizarre Sea Creatures Could Help Treat Cancer
mbg Health Contributor
By Gretchen Lidicker, M.S.
mbg Health Contributor
Gretchen Lidicker earned her master's degree in physiology with a focus on alternative medicine from Georgetown University. She is the author of "CBD Oil Everyday Secrets" and "Magnesium Everyday Secrets."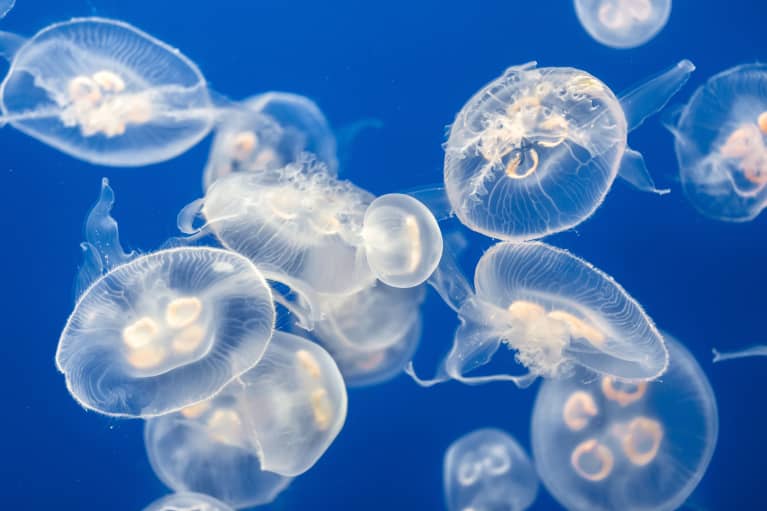 February 15, 2019 — 10:14 AM
Cancer is the second leading cause of death in the U.S., and according to the CDC, one of every four deaths in the United States is due to cancer. I think we can all agree that these numbers are scary—and they mean that finding effective ways to prevent and treat cancer is more important than ever.
Here at mbg, we talk a lot about plant medicine and the beneficial properties of certain leaves, roots, and berries are pretty well-known and well-accepted at this point. What we sometimes forget, though, is that animals can also contain compounds that are beneficial to our health. And now, scientists from the Pacific Institute of Bioorganic Chemistry (PIBOC) and the Far Eastern Federal University (FEFU) have found a group of marine invertebrates that might be able to treat tumors and prevent cancer from spreading.
Their findings, published in the Russian Journal of Marine Biology, showed that marine invertebrates living in the Sea of Japan contain compounds with strong anti-tumor and immunostimulating properties that could prevent the metastasis of malignant tumors. They also exhibited strong antimicrobial properties that were capable of killing insects. The compounds were toxic to insects and crustaceans but harmless to the cells of mammals, which makes them an even more interesting option for the development of new drugs since current treatments for cancer can have dangerous side effects.
You might be wondering what a "marine invertebrate" actually is. The study looked at funky animals like sea anemones, marine worms, nemerteans, and jellyfish. And it's not the first time scientists have looked at these creatures for their health benefits. According to Elena Leychenko, associate professor of the Department of Bioorganic Chemistry at FEFU, scientists have been interested in jellyfish and sea worms for a while now. "Marine invertebrates are a promising source of biologically active compounds that can be applied to design medical drugs of a new generation. The therapeutic effects of such compounds are of a broad range. They can be antioxidants, possess cardioprotective, analgesic, antimicrobial, anti-tumor, and many other properties," she explained.
The most exciting animals of them all? Worms. The worms Eulalia viridis and Phascolostoma agassizii demonstrated the strongest anti-tumor and antimicrobial properties. Based on the study, it sounds like research in this area will continue to gain speed. Here's to better cancer treatments in the future, and here's to our planet for supplying the most incredible natural medicine.