Your Weekly Horoscope Is Here. What's In The Stars For You?
Astrologers & Best-Selling Authors
By The AstroTwins
Astrologers & Best-Selling Authors
Dubbed the "astrologers to the stars," identical twin sisters Ophira and Tali Edut, known as the AstroTwins, are professional astrologers who reach millions worldwide. The AstroTwins have been featured by The New York Times, Good Morning America, the Today Show, and People Magazine, and have read charts for celebrities including Beyoncé, Stevie Wonder, Karlie Kloss, and Emma Roberts.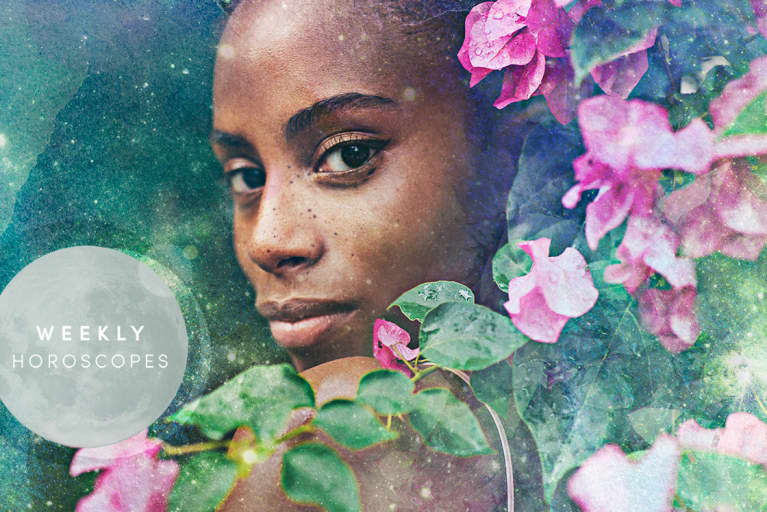 On Wednesday, there's a full moon in Leo.
Flashback moment! Where were you standing (tinted black polymer glasses shielding your gaze) last August 21? You know, during the momentous solar eclipse in Leo? More importantly, what were you thinking about? Reflect on that day. All the hopes, wishes, and dreams you planted under that supercharged new moon could come to a stunning milestone this Wednesday, January 31, when a FULL moon lunar eclipse in Leo electrifies the skies. Get ready to harvest! This completes the lunar "planting cycle" that began six months ago.
With the zodiac's regal lion helming this operation, the bumper crop could be glamorous, fame-fueled, and larger than life. Everyone's a celebrity of sorts when a Leo lunar eclipse comes to town. If you've earned your bragging rights or just have something exciting to share, shout it from the social media rooftops. Pro tip: Take a little longer to primp on Wednesday morning, and don't leave until you're Instagram-ready. Sure, this is a fine day for snapping selfies, but you might not be the one with your finger on the shutter. (Hustle to the limo before the papz get a shot!) For others, this eclipse could signal that it's time for your final act before moving on to greener pastures. The best performers always know how to make an entrance AND an exit. Give 'em one last act, enjoy the standing O, then head off for your next adventure.
And right before Valentine's Day, the lovestruck Leo energy could usher in romantic revelations. Forget about dodging Cupid's arrows. His aim is far too sharp with these lunar high beams shining down. Eclipses are harbingers of change, speeding up inevitable actions and pushing us to look in new directions. On a literal level, an eclipse reveals a shadow. The same holds true, metaphorically. Secrets could be revealed near Wednesday—from secret crushes to torrid affairs. When the smoke clears, it's up to every individual to decide how to use any such information that comes to light. Will you run in the opposite direction or use this as an opportunity to rebuild from a place of honesty? If you go with the latter, make sure BOTH parties are equally engaged in the process.
This eclipse is also the halfway point of the series on the Leo-Aquarius axis that began on February 10, 2017, and wraps up on January 21, 2019. The first of these lunations is always the most potent, kind of like an explosion being set off. Then, the job of the next two-ish years is to pick through the rubble, make sense of the disruption, and rebuild on a stronger foundation.
Over the past year, we've watched the gulf widen between the elite "haves" (Leo) and the masses who are, by comparison, "have-nots" (Aquarius). We're watching the richest citizens trying to push through legislation that will punish everyday people being met with record-breaking voter turnouts and hashtag activism (techie Aquarius' domain) that is changing the course of history. As we sit at the halfway point of this eclipse series, questions emerge. Can we find leadership that represents "the people"? Do humans rely too heavily on a regal figure instead of self-governing? These are questions that many are mulling over—oh so timely for the Leo-Aquarius eclipses. And in 2018 we expect engagement in politics and activism to continue growing across the board. Shake-ups there may be, but when united in the best possible way, the hybrid of Aquarius and Leo can bring a full-on revolution of love. And with mindful Mercury heading into progress-driven Aquarius from Wednesday until February 17, the world could turn into a giant think tank. Log on—or meet up IRL—and let the brainstorming begin!
Want more insights from the AstroTwins? Tune into their mbg podcast episode and check out their Astrology Fundamentals class.