Has Your January Been A Doozy Already? Here's Why, According To Astrology
mbg Contributors
By The AstroTwins
mbg Contributors
Ophira and Tali Edut, known as the AstroTwins, are professional astrologers based out of New York and Seattle. Their work has been featured in The New York Times, Elle Magazine, Vogue and Good Morning America and they are the authors AstroStyle, Love Zodiac, Shoestrology, and Momstrology.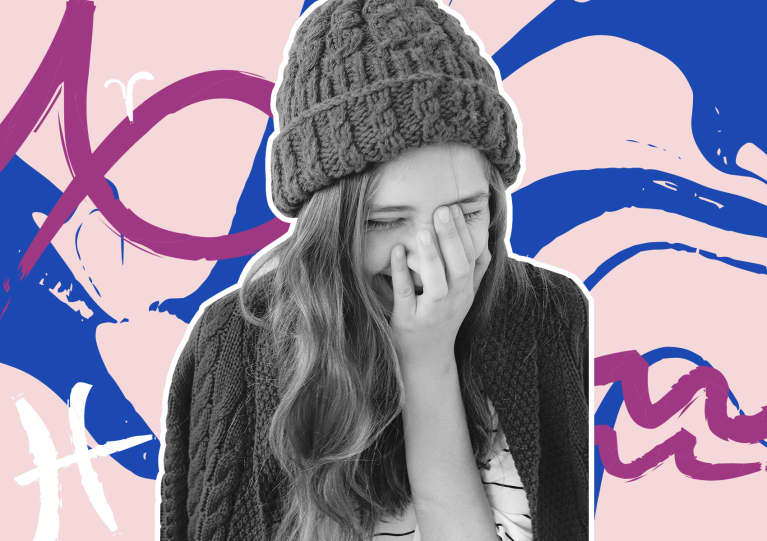 January begins with both a whoosh AND a thud. As we leave 2018 in the rearview, the stars catalyze our desire for "new, different, anything but THAT again" by presenting not one but TWO eclipses this month. Eclipses are the cosmic change agents that spur us into action, sometimes by orchestrating dramatic or unexpected events.
The planets have a few plot twists in store, as they'll present us a solar (new moon) eclipse in goal-driven Capricorn on January 5 and a showstopping total lunar (full moon) eclipse—also a supermoon—in Leo on January 21. (C'mon, would Leo have it any other way?)
The first eclipse could reshape resolutions, so don't fret if yours aren't written. The prudent Capricorn vibes, mixed with a hopeful new moon, will help us make intentions with integrity—ones we might actually pull off. Sure, you'll want a few with sexy bells and whistles. We've got restless Mars in its home sign of Aries from January 1 to February 14 and optimistic Jupiter in its native sign of Sagittarius until December. We need some "stretch goals," as the corporate marketers call it, to keep us striving under this competitive fire-sign team-up.
Saturn is aligned with the sun this week, which could bring a harsh reality check.
But that thud we mentioned earlier? That's the sound of Saturn, the cosmic curmudgeon and interstellar inspector, drizzling on our starry-eyed parade. Saturn will travel close to the Sun for the first week of January, making an exact meetup on January 2. This once-a-year alignment usually comes with a harsh reality check, which can be a buzzkill and a blessing, since it can keep us from going entirely off the rails. Saturn will linger close to the solar eclipse, dashing a few dreams or at least sending them back to the drawing board to be drafted with a solid budget, timeline, and plan.
Uranus will go direct this weekend and call on all of us to be more vocal activists.
But good luck trying to keep order for long, Sir Saturn! On January 6, rebellious Uranus, the planet of sudden change and innovation, wakes up from a five-month retrograde to complete its final two-month lap in Aries. The world experienced the fiery impact of Uranus in Aries from March 2011 to May 2018, a time of great selfishness AND social justice strides. Uranus rules technology, and in me-first Aries, it gave us everything from the smartphone to the selfie to the birth of YouTube and streaming video.
On November 6, 2018, Uranus dipped back into Aries for a last hurrah. On March 6, Uranus will move into Taurus for eight years, not to return to the Ram's court again until the 22nd century. Use these last two months to put your personal stamp on something that will better the world, even just your corner of it. Find your voice and raise it for a worthy cause. With Mars fanning the flames, there's even more urgency to demand change—but also some volatility to be aware of, as this combination can unleash righteous anger and blind rage in equal doses.
Jupiter and Neptune will square midmonth, and things could get confusing fast.
Midmonth brings a different kind of strangeness as Jupiter and Neptune—two of the most optimistic yet gullible planets—lock into their first of this year's three conflicting squares (90-degree angles). Both planets are in their home signs, and in fickle "mutable" signs at that, so wishy-washiness and mixed messages could prevail. Trying to get a straight answer to anything could be a wild-goose chase. But it's certainly an important time to open our minds and explore other options—perhaps even to suspend our skepticism. With mystical Neptune in spiritual Pisces and philosophical Jupiter in metaphysical Sagittarius, who knows what "reality" even is anymore? On a world level, global Jupiter and deceptive Neptune could lead to more political shadiness and turmoil in international relations. We'll contend with two more Jupiter-Neptune squares in June and September.
Mark January 21 on your calendar: It's a biggie.
But speaking of world politics, the January 21 Leo lunar eclipse marks a major turning point. For two years—since February 10, 2017, to be exact—we've dealt with a major leadership crisis under the duress of a Leo/Aquarius eclipse series that's brought us everything from Leo's "ruling class" vibes (heck, we even had a royal wedding) to Aquarius "power to the people" (who would have thought that marches and rallies would make such a comeback?). This one is the grand finale of the series, then there won't be eclipses here again until 2026.
With a fiery Mars-Saturn clash happening the same day as this eclipse, there could be some real uprisings afoot, as we demand that the people running this so-called free world do better for those they represent. These outgoing eclipses also push us all to find leadership within ourselves rather than expecting some symbolic parent figure to show up and make it all better. (Speaking of parent issues, the next year and a half's eclipses are on the Cancer/Capricorn axis—mommy and daddy baggage, begone!)
These three dates could prove important too.
We'll have a few soothing spots in January, such as a graceful trine (120-angle of harmony) between the love planets, Venus and Mars, on January 18. In fire signs, the cosmic canoodlers encourage us to wear our hearts on our sleeves. Why wait for Cupid when you can express your feelings and desires a month early?
Venus and Jupiter, also known as the "benefics" for their positive and helpful influence, will make their once-a-year conjunction in adventurous Sagittarius on January 22, spreading some love right after that heated Leo eclipse.
Jupiter will also play nice with Mars on January 25, as they, too, form a harmonious trine in fire signs. This could be a hugely motivating day, when anything and everything seems possible. Still in a New Year's resolution slump? Earmark today for adding some excitement and a few bucket-list items to your 2019 plans. With these honest and no-BS planets exchanging high-fives, the month will close out with some much-needed #RealTalk. Speak from the heart, but be sure to respect the other person's right to do the same.
Looking for an in-depth look into what astrology says about your year ahead? Check out the AstroTwins' 2019 Horoscope Guide (psst...mbg readers get 20 percent off with the code MBG!).