Your Weekly Horoscope Is Here: What's In The Stars For You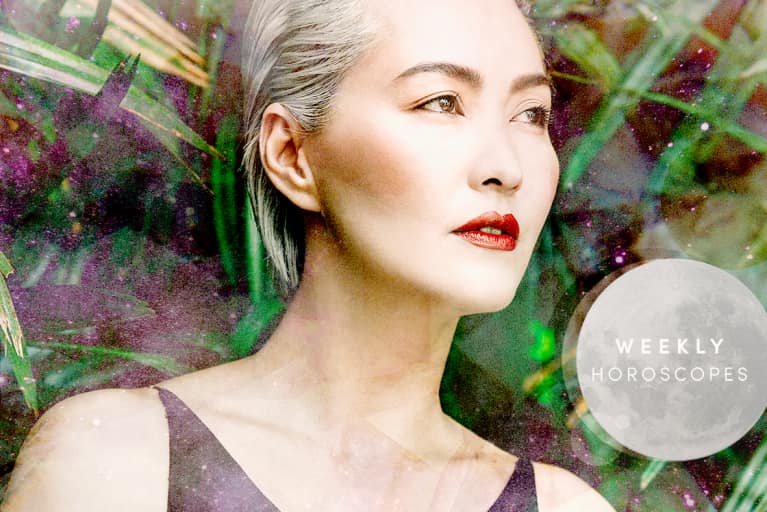 January 15, 2018 — 9:50 AM
This Tuesday, there's a new moon in Capricorn.
Whether you hit the ground running on January 1 or have been creeping along in first gear since NYD, this is another prompt to step on the gas. But before you do, plug in the proper GPS coordinates. This lunar lift has only one direction in mind: Straight to the top, baby!
Review the resolutions you made on New Year's Day, under the touchy-feely light of the full supermoon in Cancer. Sure, those soulful goals might evoke some warm-fuzzy delight...but are they challenging and kickass enough? You have six months to build upon this Tuesday's galvanizing moonbeams, so why not level up and push yourself outside of your comfort zone? With structure-junkie Saturn, alchemical Pluto, messenger Mercury, creatrix Venus, AND the life-giving Sun all lending an assist from the Capricorn zone, the bricks you lay this week could evolve into an empire (or femmepire?) by the corresponding full moon on June 28. While you're at it, splash some green on your dreams. Capricorn is the elder among the three earth signs, so the influence of the new moon nudges us to conserve natural resources and embroider environmentally friendly practices into anything we produce.
On Wednesday, Venus is entering Aquarius.
Cupid is also readying a launchpad this Wednesday, January 17, as amorous Venus—the rocket ship of love—blasts off into future-forward, anything-goes Aquarius until February 10. Since Christmas Day, Venus has been hunkered down in goal-oriented Capricorn, infusing a serious vibe into our relationships. While bonds have certainly grown stronger, matters of the heart may be feeling a bit heavy right about now. Levity returns on Wednesday—along with an idealistic reminder that love is love…is love. Don't be surprised if a totally unexpected type captivates your attention over the coming three weeks. Squabbling couples, forget that Love Potion No. 9. In quirky Aquarius, laughter is the best medicine in the love doctor's little black bag. Aquarius is all about free love, so if there were ever a time to experiment with those exhibitionist fantasies, open relationships or other non-garden-variety arrangements, get rolling before Valentine's Day. More of a proud vanilla type? You can still call yourself "Variety Spice," but mix it up with some interesting date planning—and, since Venus rules fashion, by flaunting a more unique wardrobe. Single? Don't log off the dating apps because, in techie Aquarius, Venus can reinvigorate your Tinder game.
Aquarius season officially starts on Friday.
The Water Bearer rules more than just romance starting Friday, January 19, when the Sun begins a monthlong festival in this sign's domain. Yup, it's officially Aquarius Season: Shall we all hold hands? Because until February 18, we'll be less concerned with our individual accomplishments and more tuned in to what's best for the collective. Under these idealistic skies, activism could see another uptick a la the historic Women's March last Aquarius Season.
Regardless of where your attention turns, get involved in something that feels more like a movement or a world-changing mission. This solar surge serves up an important reminder that we humans need to pool resources; there's more than enough to go around. If you can't find like-minded people in your area, tap the virtual network to rally with kindred spirits. Geek is chic during this tech-savvy, four-week cycle. Is it time to update your electronic equipment and digital devices? If that would make life more efficient—and profitable—the stars say yes.
Tune in to the AstroTwins' mbg class for more out-of-this-world insights.