If You See One Documentary This Year, Make It This One
mbg Sustainability Editor
By Emma Loewe
mbg Sustainability Editor
Emma is the Sustainability Editor at mindbodygreen and the author of "The Spirit Almanac: A Modern Guide To Ancient Self Care."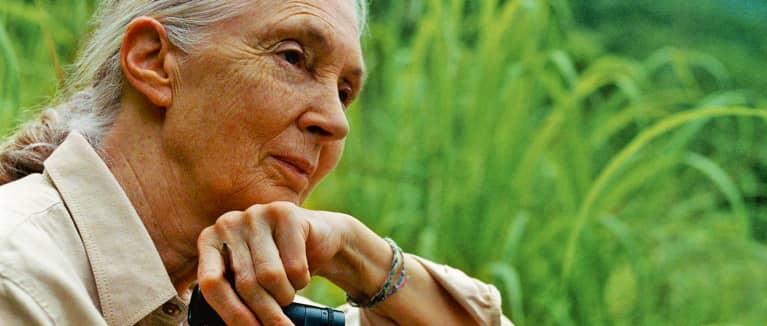 November 25, 2017 — 10:40 AM
When it comes to conservation, few names are as recognizable as Jane Goodall. Her time in Africa studying chimpanzees gave us a new understanding of primate behavior and humanized a species that had long been misunderstood.
A new National Geographic documentary, Jane, compiles never-before-seen footage into an intimate portrayal of Goodall's first years in the jungles of Tanzania. Back in a time when women in science were few and far between, the 26-year-old set out to study primates in action, equipped with nothing but a high school education and a profound wonder for the natural world. Met with opposition in all corners (British authorities actually objected to a young woman heading out into the jungle alone at first), Goodall persevered, continuing to visit the creatures she loved so much again and again.
Shot by wildlife filmmaker Hugo van Lawick, whom Goodall would later go on to marry, Jane closely follows the young naturalist and captures gorgeous moments along the way. It shows her experience living among the chimps and emerging with the conclusion that they have complicated, funny, smart, and sometimes aggressive personalities, just like humans. Back then, her findings were ridiculed by many in the scientific community. The idea that animals could share so many similarities to humans was written off as preposterous. It wasn't until last month—more than 50 years after her original expedition—that new research confirmed what Goodall knew all along: Chimpanzees and humans share more similarities than differences.
It's almost hard to believe that the film was shot in the 1960s, and it shows an environmentalist who was truly light-years ahead of her time. Today, in an age when the number of chimps in the wild is down to about 340,000, compared to 1 million in 1900, the species needs Goodall's help more than ever. She continues to be a vocal activist for animal rights, with her foundation's youth program Roots & Shoots stretching across 15,000 chapters around the world from Burundi to China, making it one of the largest conservation movements ever.
At the age of 83, Goodall still travels 300 days out of the year.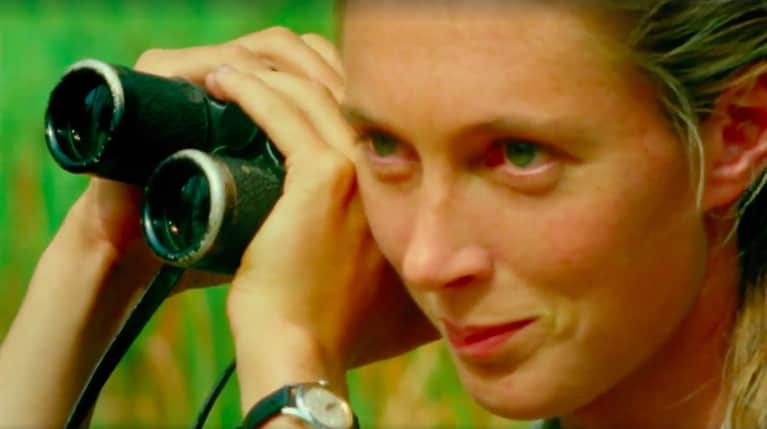 Goodall is a force of inspiration for many. Schools teach her story with reverence, and thousands of young people, girls in particular, grow up wanting to follow in her footsteps and journey into the wild unknown. "When I was a kid, all I wanted was to be Jane Goodall. She inspired me as both scientist and humanist," actress and environmentalist Alysia Reiner tells mbg. "She studied and taught compassion for the earth and all its creatures."
Erin Schrode, a young activist who has dedicated her life to lobbying for environmental reform, echoes this admiration. "Jane Goodall has inspired me for as long as I can remember—an embodiment of activist, conservationist, change-maker, doer, woman, leader. She is a powerful voice for those who cannot speak for themselves, who has inspired countless to join positive movements for real-world impact. I proudly carry the torch, fighting to protect what I love and never viewing apathy as an option."
And Grace Dowd of the advocacy group the Rainforest Alliance cites Goodall as a constant inspiration. "I couldn't pinpoint a moment when I knew Jane Goodall inspired me, because she was always there. She is a household name. Knowing she was there, in the background, meant that I could be a female field scientist if I wanted to. That was powerful. And her conviction that everyone can make a difference has always stuck with me. It's partially why I work for the Rainforest Alliance—I share Jane's belief that we can all make a change."
Goodall is a true visionary. She challenged society's perception of what an uneducated woman could do, and she won. She sacrificed comfort and safety every day to give people a better understanding of the wild world that we inhabit and the animals that need our help. She persisted through ridicule and criticism to emerge as a true global hero.
We could all benefit from learning more about such an icon. If you see one documentary this year, make it Jane.
Here are details about where the film is being screened, and here are a few more environmental docs to add to your list.