Is Your Décolletage Showing Signs Of Aging? A Quick Remedy For The Delicate Skin
mbg Associate Editor
By Jamie Schneider
mbg Associate Editor
Jamie Schneider is the Associate Editor at mindbodygreen, covering beauty and health. She has a B.A. in Organizational Studies and English from the University of Michigan, and her work has appeared in Coveteur, The Chill Times, and Wyld Skincare.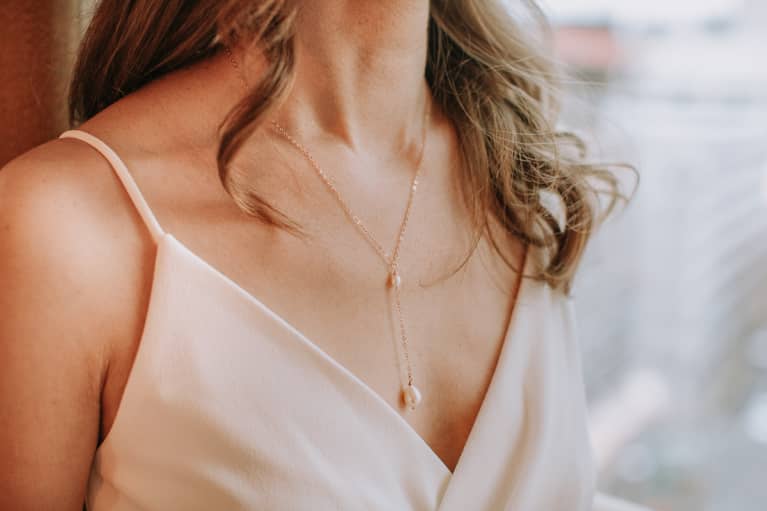 When it comes to skin aging, most of the conversation zeroes in on the shoulders up. Of course we can't forget about the hands, as our paws are a valuable tell-all for signs of aging as well (both the skin and the nails, it turns out). Another area that needs some extra love? The delicate skin of your décolletage. It's time to take a good look at your chest and clavicle—you might notice some signs subtly making their appearance.
First things first: Can your décolletage get wrinkles?
The short answer: absolutely. According to board-certified dermatologist Loretta Ciraldo, M.D., FAAD, the décolletage is often the first area to show signs of aging—with an even earlier onset than our faces. It's a process that seems to happen all at once with no warning at all, but there are some subtle alarm bells to keep in mind.
What tends to happen first is some redness or darker areas of pigment in these areas, Ciraldo tells mbg. You might even see proper sunspots along the area, especially if you're one to spend time outdoors (read: Proper sun care is a nonnegotiable). Then come the wrinkles and crepey skin: "There's a sagging and loss of firmness, often with chest lines that radiate to the chest's center," she notes.
Why do these wrinkles form?
Wrinkles pop up when our skin's structural components start to break down—that is, they occur at the internal level. Of course other components are likely at play—your sleeping position, for instance—but the changes mostly happen at the cellular level. And fine lines on the décolletage are no exception: The area is just as sensitive to pollution, sun damage, and oxidative stress as the skin on your face. And those aggressors can quite literally change the structural makeup of your skin over time.*
Even if you start to see some discoloration across your chest, don't fret just yet: It's possible to slow down the onset of those wrinkles and make décolletage care a priority—at the internal level.*
How to care for your décolletage. 
Achieving a healthy glow (and keeping it) is a long-term journey, and it doesn't happen overnight. That's why investing in your skin is key—and you can do so through supplementation. mindbodygreen's nr+ supplement promotes youthful skin from within, so you don't have to keep searching for quick fixes each time a skin care concern crops up.*
That's because it starts at the cellular level, naturally rejuvenating your cellular metabolism by promoting healthy levels of NAD+—the important coenzyme that keeps mitochondria (the powerhouse of the cell) healthy and energetic.* Then to keep those rejuvenated cells happy, the formula is packed with skin-healthy actives: namely, astaxanthin to support the skin's collagen layer and manage age spots, rhodiola to help the skin manage oxidative stress, and phytoceramides, or plant-derived ceramides, to promote skin barrier function and moisturized, plump skin.* This blend of good-for-you ingredients works to support your skin from the inside-out. Research backs it up, too, with studies showing that the supplement can promote glowing skin and reduce the size of wrinkles.*
All is to say, nr+ is so much more than a "quick fix" for healthy, youthful skin: It starts at the cellular level.* Perhaps exactly what the décolletage needs, in addition to proper sunscreen and a stellar exfoliating regimen.*
The delicate skin of the décolletage requires targeted care, and the earliest signs can be quite subtle; you might only notice a sunspot or two before the fine lines settle in. That's why investing in your skin is so important, with ingredients that promote healthy aging from the inside out.*