Learn How Your Body Responds To Stress With This Technique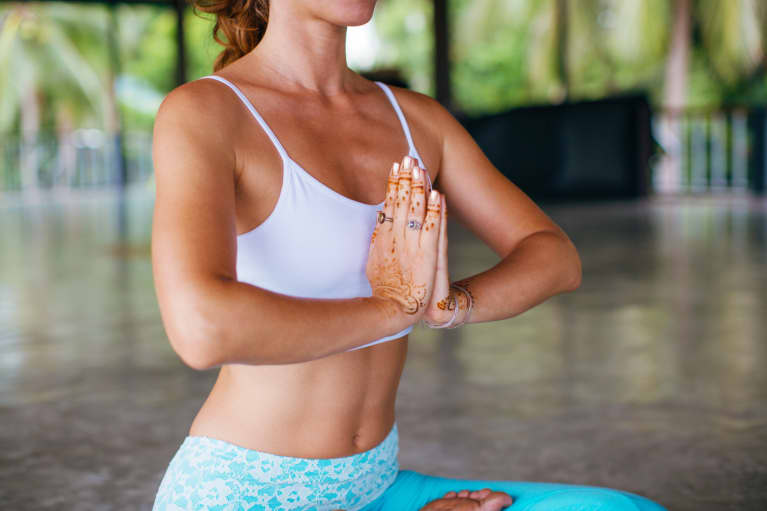 When something is chronic, I like to visualize a smoldering or angry storm. Something with chronicity will billow in and linger, become subject to increases in intensity, and may be very hard to get rid of. The American Psychological Association provided a news release to the public titled "The APA Stress in America Survey." In short, the survey asked people if they were stressed and why. Needless to say, it seemed as if at least 50 percent of Americans find themselves worrying about at least something some of the time, and this trend seems to be here to stay.
Stress is, without a doubt, a major player in a host of different health problems—including anything from depression to cardiovascular disease to IBS. So what's the best way to combat the epidemic of chronic stress? First, we have to better understand it.
Diving into the science of stress.
Here's where heart rate variability (HRV) comes into play. To put it simply, HRV is a measure of the health of the autonomic nervous system in humans. The autonomic nervous system is comprised of the parasympathetic nervous system (PNS)—which is known as our rest-and-digest system—and the sympathetic nervous system (SNS)—which is responsible for increasing our heartbeat and sweat production when faced with a stressful situation. There is a delicate balance between the SNS and the PNS in the body, and certain activities and/or triggers affect each.
When a human has an optimal amount of heart rate variability, this tells scientists that that person is able to respond appropriately to stress via the sympathetic and parasympathetic pathways of the nervous system. On a cellular level, this means molecules get created and travel via the bloodstream to various soft tissues and organs, causing changes in physiology and behavior. So what does this mean for your everyday life? Well, one interesting study looked to find an association between thinking too much about work once you get home (otherwise known as rumination, in this case "work rumination") and heart rate variability. What they found was that those who ruminate on their work-related problems while at home actually experience lower heart rate variability—which further translates into lower parasympathetic activity in the body. Remember, the PNS is the half of the nervous system that is supposed to kick in when it is time for you to unwind. One can imagine what could happen to the body in terms of stress if the system that was supposed to initiate relaxation was somehow not working properly, possibly due to too many stressful thoughts.
Assessing stress levels with heart rate variability.
Simply understanding HRV does not tell the full story, since the data we get from measuring HRV can be interpreted and used to better our health. Many people are proposing that simple monitoring devices that measure HRV could help us better understand stress or anxiety and a personal biosensor may be what we see next. Tapping into the knowledge of your HRV and the possible ways to manipulate it may be the edge you need if you experience subjective stress and are open to trying the new technology as an intervention.
There's even been chatter about an app that might be used to achieve better balance in the duality of the autonomic nervous system. Results from a recent randomized controlled trial showed that a type of subtle energy conveyed by the Heart+ app via personal smartphone devices had a beneficial impact on the balance of the two systems (the PNS and the SNS). This could mean that your phone or other smart device could deliver waves of (healing) energy to your central nervous system, helping to land your HRV at an optimal value for an appropriate and resilient stress response.
There's no doubt about it: Stress is an epidemic. Luckily, science and technology are advancing at a pace that might help us better address the root cause and consequences of chronic stress on our bodies and brains. Heart rate variability seems like it will play a big role in the fight again stress in the future. Stay tuned!