Is Rye Bread Actually Good For Lower Blood Sugar Levels?
mbg Health Contributor
By Gretchen Lidicker, M.S.
mbg Health Contributor
Gretchen Lidicker earned her master's degree in physiology with a focus on alternative medicine from Georgetown University. She is the author of "CBD Oil Everyday Secrets" and "Magnesium Everyday Secrets."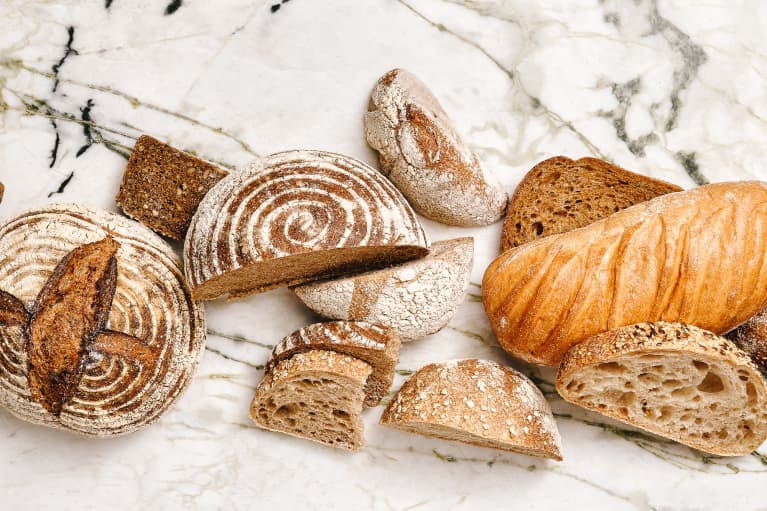 August 6, 2019 — 19:42 PM
Everybody loves bread. (That's a scientifically proven fact, isn't it?) Unfortunately, we also know simple carbs and grains aren't always the best for our health; our croissant, baguette, cinnamon toast, and brioche dreams are crushed regularly.
But not today! A new study, published in the journal Microbiome, is all about the health benefits of rye bread, which seems to be good for our health in more ways than one.
Getting to know the bacteria in rye bread.
The study, which was performed by researchers from the University of Eastern Finland, analyzed the bacteria found in rye sourdough, which is what's used to make rye bread. First, they found that it contains high levels of lactic acid bacteria. These beneficial microbes have the important job of fermenting the dough, creating the sourdough taste we all love, but they also affect the contents of the bread itself by interacting with it and producing other substances, called metabolites.
The researchers dug deeper and compared the metabolites produced by the bacteria in rye bread to the ones produced naturally by human gut bacteria. The results showed that the lactic acid bacteria in rye help produce branched-chain amino acids and peptides that can affect human health in positive ways, including having a beneficial effect on insulin levels. We've long known that eating rye bread leads to a less drastic insulin response compared to other types of bread, but until now, we didn't know why.
It's not just about lower blood sugar levels, either. Another compound produced by rye bread, called trimethylglycine, is chemically similar to a compound called betaine, which is produced naturally by bacteria in our gut. Betaine has demonstrated an ability to enhance cardiovascular performance and protect against heart disease in previous research.
Understanding why rye bread is *actually* healthy.
The compounds described in this study could explain many of rye's unique health benefits, including why it's a better choice for our blood sugar health.
The type of analysis used in this research is part of a larger area of study that looks not just at microbes but at the substances they produce. All together, this is called the metabolome, which is just like the microbiome—only bigger and more complex.
So what's the take-home? This study confirms that rye bread is, in fact, a gut-health-friendly type of bread. As one of the lead researchers on the study, Ville Koistinen, explained, "The major role played by gut microbes in human health has become more and more evident over the past decades... It's a good idea to avoid unnecessary antibiotics and feed gut microbes with optimal food—such as rye."
And that feels like a big win for bread lovers everywhere.