Sitting For Too Long Could Literally Be Hurting Your Brain
Contributing Sex & Relationships Editor
By Kelly Gonsalves
Contributing Sex & Relationships Editor
Kelly Gonsalves is a sex educator and journalist. She received her journalism degree from Northwestern University, and her writings on sex, relationships, identity, and wellness have appeared at The Washington Post, Vice, Teen Vogue, Cosmopolitan, and elsewhere.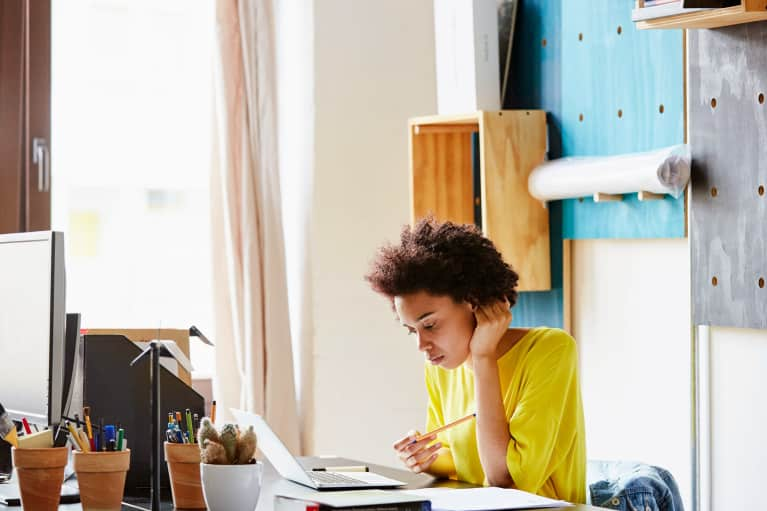 August 16, 2018 — 9:10 AM
Add this to the list of reasons you need a standing desk: Sitting for hours on end may actually lower the blood flow to your brain, a new study just found.
By now, it's common knowledge that getting your body moving regularly throughout the day is about more than just staying fit. Sitting for too long can lead to a slew of adverse health effects over time: Past research has shown that sedentary behavior can increase your risk for cardiovascular damage, obesity, certain types of cancer, and even early death. Yikes. And now, a new study conducted at Liverpool John Moores University in England explains how your brain could also be feeling the effects of extended physical inactivity. Fortunately, the researchers were also able to identify a strategy to offset the effects.
The scientists used ultrasound probes to study the brains of 15 healthy adults as they worked through three seated four-hour sessions. In the first session, the participants sat for the entire four hours uninterrupted. In the second session, they stopped two hours in to take a leisurely eight-minute walk on a treadmill before returning to their desks for another two hours. In the third session, they stood up every 30 minutes to walk on the treadmill for a quick two minutes.
The results came in squarely against long, consecutive work sessions: Those who didn't get up at all in the four hours saw a dip in blood flow to their brains. The people who got up once midway through their sitting time did have increased blood flow while they were up and moving, but after they returned to their seats and kept working for two more hours, they ended up with even lower blood flow than when they'd started. But those with the frequent walking breaks in between? Their brains actually had more blood flowing by the end of the session than when they'd begun.
"Only the frequent 2-minute walking breaks had an overall effect of preventing a decline in brain blood flow," the lead researcher told the New York Times.
As common wisdom about "getting the blood flowing" suggests, the human brain needs a constant supply of blood to function properly. Blood is packed with oxygen and other healthy nutrients; even short-term dips in cerebral blood flow can slow a person's thinking and memory, the Times reports. That means sitting at your desk for long stretches of time is not only bad for your health—it's also eating into your productivity.
As cardiologist and mbg Collective member Joel Kahn, M.D., wrote in mindbodygreen, simply moving your legs periodically (aka fidgeting) may help counteract a sedentary lifestyle. "That's why you'll find me at my desk with my legs bouncing up and down, or in the corner of the lecture hall pacing back and forth out of the way."
You can, of course, also make a point to stand up from your desk regularly or get a standing desk. If there's no standing desk in your future, there are plenty of other ways to get the blood moving throughout the day: Try a simple barre exercise from your seat, change your sitting position often, and try to take the stairs whenever possible.
At the very least, have a bowl of brain-boosting blueberries handy—or within a two-minute walking distance.
Get more of today's news here.