Is This Outdoor Workout The Next Wave of Group Fitness?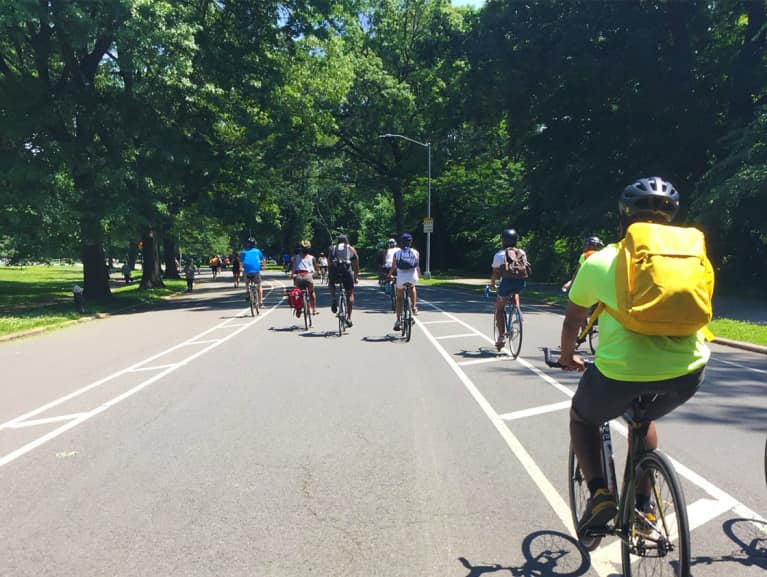 Inclusivity in wellness still has a long way to go before becoming the status quo, but a new league of community-first workout groups are setting the tone for a future of fitness that includes anyone and everyone. The latest effort? Switching out indoor cycling at boutique fitness studios for biking in the great outdoors.
When Angela Azzolino started Get Women Cycling in 2015, she was looking for ways to help introduce the convenience and fun of biking to more women. Even as a longtime cycling enthusiast and bike mechanic, she wasn't fully aware of the cycling gap between men and women. According to several studies, fewer women than men bike outdoors for a number of reasons—including safety and feasibility of biking as an alternative mode of transportation.
For Azzolino, a long-time cyclist, the invisibility of women came as a surprise. "There wasn't a gap for me—just a continuum. I was always cycling; I was unaware," she told mbg. "It was when I started volunteering at a nonprofit that I learned of the disparity between women and men."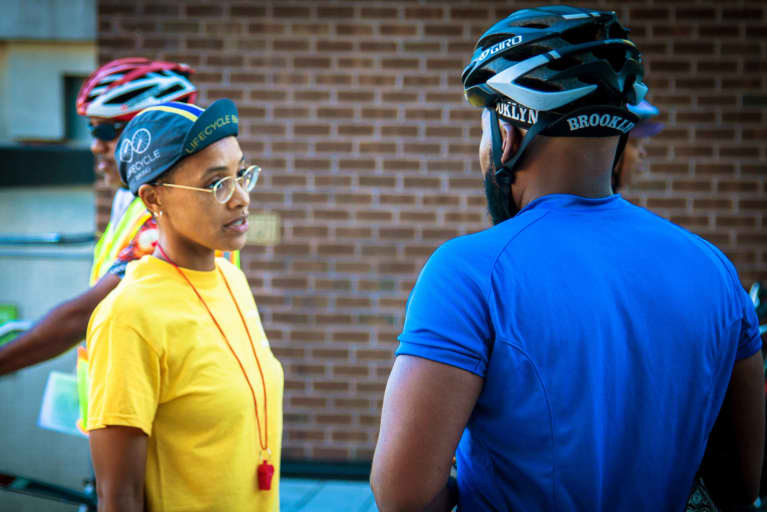 She researched gender discrepancies between men and women cyclists and noticed the sparse resources and information available on the subject—and so, she started GWC to address an overall lack of knowledge and leadership for women cyclists and encourage newcomers. "If you don't see more women [on the road cycling], then you probably won't think there are women cyclists."
Not only that but a large part of GW's mission is to unveil the misconceptions around cycling as an expensive and inaccessible mode of transportation and exercise.
Road cycling, Azzolino says, should rank high on the list of accessible and affordable exercise options. "There's this idea that it's expensive to ride and that you have to be athletic. There's no exposure to commuting cycling as an entry point."
An alternative to fitness boutique classes.
Like GWC, LifeCycle Biking launched in part as a solution to a problem well-known in the boutique fitness space: lack of diversity. Founder Amber Drew started cycling on her own in 2014 when she found herself looking to join a community of riders to learn more about biking. But she found the people very polarizing and isolating. "If you didn't have a certain bike, they'd kinda look down to you. As you're learning, that's a difficult atmosphere to be in," Drew says. "It was really discouraging, particularly for a beginner who was excited to learn more about the sport."
Along the same lines, Drew also found indoor cycling studios to project a similar exclusive atmosphere—LifeCycle formed as a counter to these spaces for people to thrive and enjoy working out without the pressures of feeling "othered." "I started hosting rides for people who looked and felt like me, so I reached out to folks eager to learn but unsure of how to begin," Drew says. "The main focus was showing anyone, no matter where you are in your life cycle, you could involve biking in your life."
Representation matters—at all levels.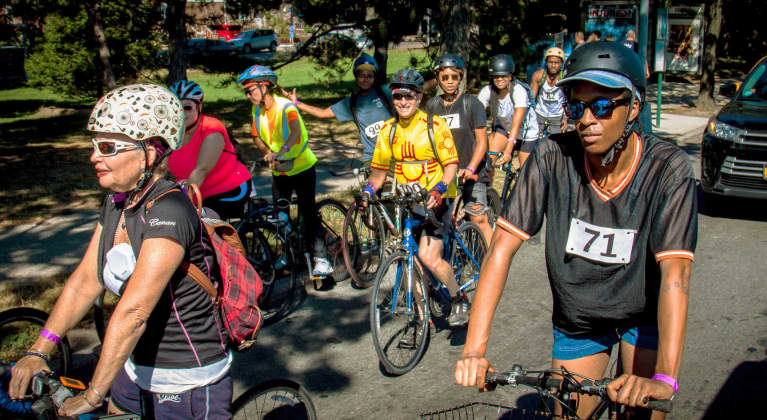 LifeCycle and GWC aren't alone in working to make sure more marginalized people feel welcome in the cycling world. Within the past five years, cycling groups have been popping up all around the country, with a new report from the New Majority titled "Pedaling Towards Equity" citing people of color as the fastest and largest growing group of bicyclists in the country.
Naturally, the membership of LifeCycle began to shape up to be diverse and inclusive of minorities—mainly queer-identifying individuals, women, and people of color. It was only a matter of time until the group evolved beyond just a physical workout and began to incorporate the emotional benefits of outdoor cycling.
The emotional upsides are just an added bonus.
"The more we ride, the more we see emotional and physical benefits. It's not about having a $2,000 bicycle. People want to get out and do it, but they don't feel like they belong," Drew says. Having the space to experience and interact with people that look like you while learning a new skill—it's a total game-changer."
There are even LifeCycle rides that begin with intention setting. "The body is an amazing tool to help heal yourself and your mind. We're just trying to tap into that on a basic level through cycling."
Both Get Women Cycling and LifeCycle Biking represent a new crop of fitness options that not only widen the demographics of cycling but contribute to a much-needed repositioning of group fitness as welcoming, rather than elite and inaccessible. A focus on inclusion spotlights community front and center in an otherwise alienating space—without a doubt, a You. We. All. step forward for the future of fitness and wellness as a whole.
Is mindful running having a peak wellness moment? One woman thinks so.