When It Comes To Online Dating, How Much Choice Is Too Much?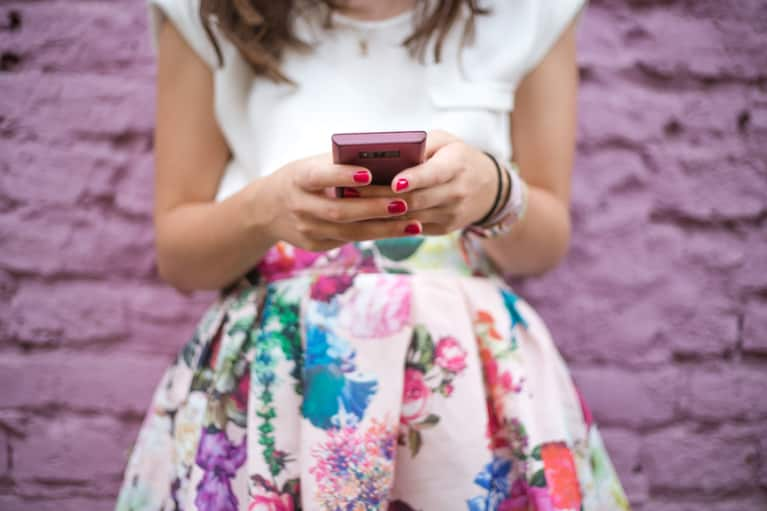 Our editors have independently chosen the products listed on this page. If you purchase something mentioned in this article, we may
earn a small commission
.
You're probably familiar with the phrase, "paradox of choice." The notion comes from a theory by Barry Schwartz, a professor at Swarthmore College. Most people intuitively believe that having more choices will lead to greater happiness. After all, if you can choose between coffee and tea, aren't you more likely to end up with what you want than if you get coffee or tea but have no say in the matter?
Well, maybe. But then, maybe not. Schwartz argues that too many choices make it harder to decide—and decide well—and that the more options you have, the less happy you will be.
If we have choices, we tend to second-guess ourselves, whereas having only one potential course to take encourages us to make the best of it, whatever it is. In the age of internet dating, in which we tend to focus on widening the candidate pool, it seemed important to explore whether or not the paradox of choice is a factor in finding love. Does having more choices end up making us less happy in our relationships? Here's what I've come to believe.
Long before I was married, a friend and I joked that despite men being half of the world's population (around 2.5 billion at the time) there were only around 1,000 potential future husbands for me. We went online and did some research to get a more accurate estimate. Starting with that global population number, we narrowed it down to men living in the United States within a preferred age range who were single, didn't have kids or smoke, who'd reached a desirable level of education, were heterosexual, and were not currently incarcerated.
We hypothesized as we whittled further as to how many of these men would have a wicked sense of humor or kind eyes, which of them would laugh at my poorly constructed puns, tolerate my nocturnal teeth-grinding, watch chick flicks with me, not judge when I ate an entire package of Trader Joe's dark chocolate peanut butter cups in one sitting, and could stomach my off-key singing in the car.
When all was said and done, we figured there were probably only a handful guys in the United States that would be a match. Talk about a needle in a haystack!
Turns out there was only one man—The One—who fit the bill.
I was lucky enough to meet him online in 2000, when online dating was in its infancy. In fact, most of the online dating sites were free. I assume they hadn't yet determined how to monetize the service and were trying to prove the concept that young professionals who are busy working and finding it difficult to make the right connection at the gym, bar, coffee shop, or grocery aisle would turn to the internet. People were "married" to their cellphones and laptops, so why not use that technology to really get married.
You see, one of the great benefits of online dating is the opening up of new possibilities. Now you can avoid the "meat market" scene of bars and clubs and instead enjoy a "meet market"—an international bazaar of prospective mates. The internet allows you to get to know thousands of people around the world.
But I understand that for some people, having more choices just feels like more work and more decisions. However, when it comes to love, I'd like to think that when cupid's arrow strikes, you just know. Perhaps that sounds naive or oversimplified. Call me a hopeful romantic. But for someone who's had her share of hilarious and heinous dating experiences, as well as friends with lots of stories to share, I truly believe that more choices not only make the stellar people stand out but also increase the likelihood of finding the right one for you.
Personally, I needed to cast a wide net in order to find my match. At the time, my now-husband was living 30 miles away and we didn't have any mutual friends. I'm not certain we would have met otherwise. However, I'm confident there is no better complement to me. (On a side note, turns out he had a picture of me when I was 11—turns out we attended the same summer camp as kids. Talk about meant to be!)
Similarly, I think online dating offers additional benefits that greatly outweigh any challenges. Here are a few of them:
1. It lets you narrow the field in advance.
If you do your homework, online dating will allow you to narrow your focus. You can join a general dating service and design your dating search to make matches based on criteria important to you from interests and values to age and previous history. You can select an online dating service that focuses exclusively on a niche market based on religion, gender, education, age, etc.
2. It's always on your terms.
Online dating provides a relaxed, flexible experience. Share as little or as much information as you want. Avoid people you're not interested in. Communicate at your convenience. Just don't send a message at 2:30 a.m. Nothing smells more of desperation than an email from someone trolling the internet for a date in the wee hours of the morning.
Imagine! You can flirt while filing your taxes, chat while you trim your nails, or meet a mate while making breakfast. It's a well-known fact that women are great multitaskers. Take full advantage of that skill.
4. It can save you time and money.
Let's face it. Dating isn't cheap. It takes time, money, and—your most valuable and scarce resource—energy. With the "try before you buy" environment of online dating, you don't have to meet for a drink, grab a coffee, or sit through a long dinner only to discover there's no physical attraction, you have nothing in common, or that the conversation is lacking.
5. It dulls the sting of rejection.
In my novel about online dating, the main character gets an email from someone halfway across the world looking to meet someone willing to move for him. After sending a polite and diplomatic "thanks, but no thanks" email message, she proclaims to her friend, "It's so much easier to reject someone over that internet than in real life. Score one for online dating!" While rejection is easier for both parties when done online, it's important to remember that people still have feelings.
In addition to the above-mentioned benefits, at the end of the day, all of the choices online dating opened up made me more appreciative of finding my "one." My grandmother used to say, "For every chair, there's a tush." If it happened for me (if you recall, I have a penchant for bad puns and off-key singing), it can happen for anyone. So, I believe in making the choice to wade through the choices. If you're like me, in the long run, you won't be disappointed.
Want more insight into your relationships? Find out the five things couples who stay together do every day and the ways your sex life can show you what's wrong in your relationship.