Is This New Therapy The Secret To Calming Your Anxiety?
mbg Health Contributor
By Gretchen Lidicker, M.S.
mbg Health Contributor
Gretchen Lidicker earned her master's degree in physiology with a focus on alternative medicine from Georgetown University. She is the author of "CBD Oil Everyday Secrets" and "Magnesium Everyday Secrets."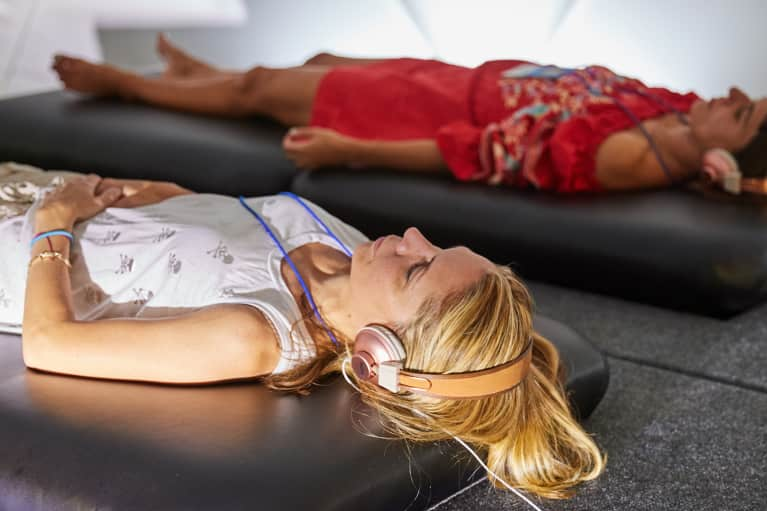 When you hear the words "sound healing," you might immediately think of woo-woo wellness. I mean, the healing power of sound does seem a little out there. That's why it might be a surprise to learn that the healing nature of sound and different frequencies has been both documented throughout history and in science and medicine.
Native Americans and Africans both use chanting as part of their healing rituals, and the Chinese symbol for medicine actually includes the symbol for music. Research has also shown that certain sounds can help lower blood pressure and regulate the heart rate. Many of us unconsciously turn on music to help us relieve stress and comfort us when we're feeling down, and according to science, we're probably onto something.
Experiencing the healing power of sound firsthand.
This year at revitalize—our annual event that brings together the most brilliant minds in wellness—we sat down with tune studio to learn about their medical sound-healing therapy. A revitalize attendee named Elizabeth got to experience a session and explained that the process was super simple: Essentially you just lie down with some big over-the-ear headphones on and the sounds start playing. "The session was definitely relaxing; for me, it was sort of like meditation but the sounds and vibrations somehow made it easier to focus on the present moment." That seems great, but how does it really work?
Everything in your body has a frequency—from your neurons firing to your heart beating to your breathing rate. It's normal for daily stress, lack of sleep, or other external factors to knock us out of our optimal state. Sound therapy aims to return the body and mind to the ultimate frequency, and research has shown that vibroacoustic stimulation can induce relaxation and lower cortisol levels and improve quality of life.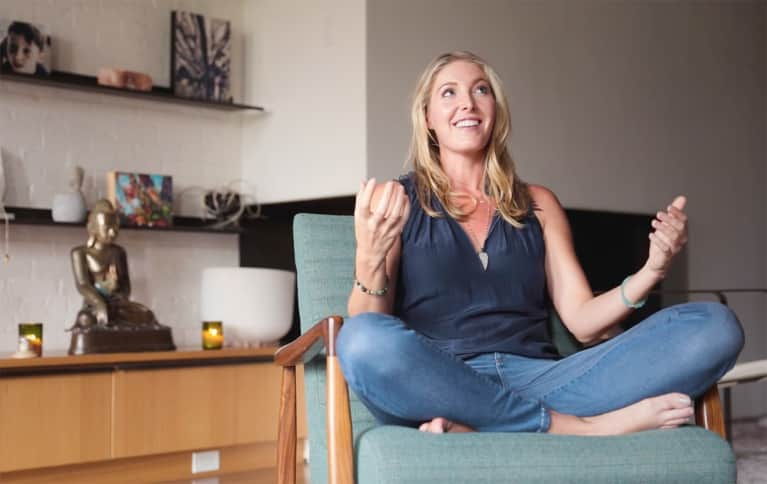 Kyle Godfrey-Ryan, the founder of tune studio, has been working in the wellness industry for a decade and has tried hundreds of alternative and complementary therapies. "I fell in love with this therapy because of it's simplicity" she explained to us. Right away, she started creating her own frequency sets, layering them and adding music to create three perfect sound cocktails to promote happiness and relaxation in the morning, afternoon, and evening.
Sound therapy for stress reduction and happiness.
"This therapy taps into that frequently and immediately sets the body into a parasympathetic state." explains Godfrey-Ryan. In the first few minutes of the session your body enters the parasympathetic state, which is the part of your nervous system responsible for rest and relaxation. After a few minutes, you should start to feel a sense of calm wash over your body, and in the latter part of the therapy, "the body will align with the frequencies of happiness." Apparently, the more sessions you do, the more accustomed your body will become to entering this state of relaxation and bliss (which sounds a lot like meditation to us). The goal of the therapy? To leave you clearheaded, light on your feet, and in a good mood so you can go out and tackle your day.
Elizabeth didn't feel a sense euphoria on the table, but when the therapy concluded, she sat up and definitely felt the positive effects. Her friend Lauren—who did the therapy alongside her—had a really intense experience: "During the session, it felt like I was on a sound journey that had a bunch of different chapters, and then at the end I felt like my body was floating and filled with light. When I came out of the meditation my cheeks actually hurt from smiling." According to tune studio, the effects of just one 15-minute session will last between 2 and 10 hours. Both Lauren and Elizabeth would definitely do it again and can see medical sound therapy being a practical way to manage daily stress.
Lucky for us, tune studio is opening six locations in New York City and two in Los Angeles in the near future. The best part? These sessions are available for only $15 each. When asked about the pricing Godfrey-Ryan said "I created this technology so people can leave happy and create their life from a place of happiness. I don't want just the elite to have access."