How Risky Is It To Go Barefoot In The Locker Room? A Doctor Explains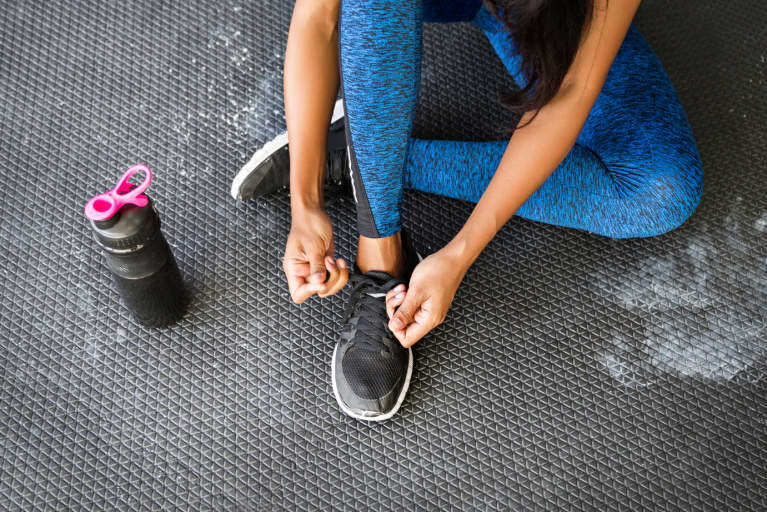 If you saw me at the pool with my toddler, both of us donning flip-flops and standing on gym towels instead of the bare floor, you'd think I was a total germaphobe. But the truth is that I'm not a total germaphobe; in fact, I try to embrace germs as much as possible. I'm simply wary of certain kinds of germs and bacteria. You see, there are healthy germs (like the kind you find in probiotics, while playing outside in the woods, or those that come from your dog), and then there are gross germs: pathogens—something that you don't want anywhere near you or your feet.
Not all germs are the same.
As a general rule, we've gone totally overboard in our efforts to avoid all microbes, without making the distinction between the healthy and the bad types of germs. According to the "Hygiene Hypothesis," antibacterial hand soaps—which the FDA recently warned against using in the home—hand sanitizer overuse, and less outdoor playtime have reduced our children's exposure to the good germs, contributing to the rise of allergies, asthma, and autoimmunity. Our immune systems need these exposures to germs to recognize the good from the bad and prevent the hyper-reactive immune responses that occur in asthma and allergies.
But locker rooms? They've definitely got the bad kinds of germs. Spend too much time barefoot in the locker room and you put yourself at risk of contracting the fungus that causes athlete's foot, the antibiotic-resistant form of Staph called MRSA, and even plantar warts. Sorry. I hope you weren't eating lunch.
How to avoid the bad germs at the gym.
So what do you do? Before you start hauling your own DIY antibacterial cocktail to the gym (I know, you were thinking it, weren't you?), try these tips:
Always wear flip-flops in the locker room, especially in the shower.
Use a good liquid soap on hands and feet after using a public locker room or shower.
Dry feet well after washing, as warts and fungus thrive in a damp environment.
Be extra careful if you have any open cuts or sores on your feet, as you're not only more likely to transmit illness to someone else but pick it up yourself.
If you're there with children, lay down a towel on the floor or bench, where they're more likely to sit (or roll around, since the dirtier the surface, the more my children seem to want to rub themselves all over it).
Bottom line? We don't have to worry about all germs (so you can loosen up there), but we still need to be aware of and avoid a few bad ones. And locker room germs? Those are definitely little buggers that you don't want to bring home.