How Risky Is Eating Sugar While You're Pregnant?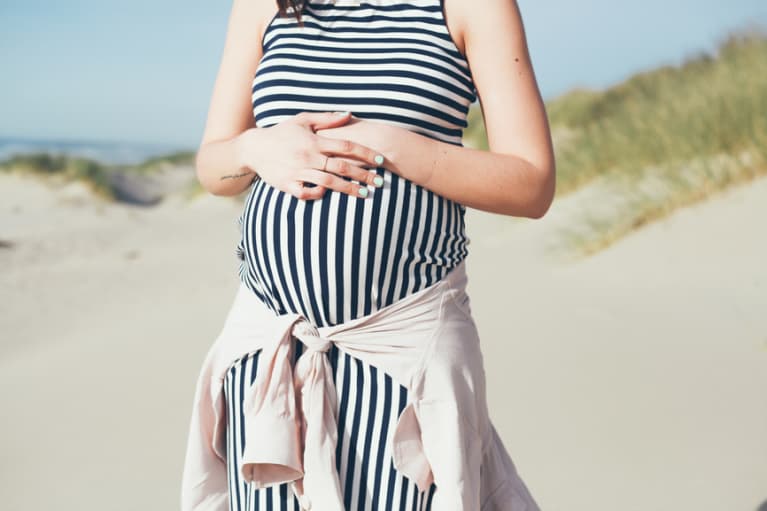 Ever feel like health news is too overwhelming, fast-paced, or hard to decipher? Us too. Here, we filter through the latest in integrative health, wellness trends, and nutrition advice, reporting on the most exciting and meaningful breakthroughs. We'll tell you exactly what you need to know—and how it might help you become a healthier and happier human.
Sushi, alcohol, raw meat—we all know the classic foods that are best avoided during pregnancy. But what about the rest of your diet? Could other under-the-radar foods be affecting the future health of your baby? According to new science, sugar is one to keep an eye on. A recent study of almost 9,000 mom-child pairs showed that maternal sugar intake is associated with a higher risk of allergies and asthma in offspring.
Can sugar hurt your baby's health?
This study, published in the European Respiratory Journal, estimated the sugar intake of soon-to-be moms using a food frequency questionnaire that covered all main food groups. Years later, when the children were around 8 years old, they evaluated them for things like doctor-diagnosed asthma, wheezing, hay fever, eczema, atopy (also known as the genetic tendency to develop allergic diseases), serum total IgE (a common way to test for allergic disease), and lung function.
After accounting for all other variables that could be playing a part in the health status of the children, the results showed an association between maternal intake of sugar and atopy and asthma in their offspring. Interestingly, the development of these illnesses was not associated with how much sugar the child ate when they were a young kid. In other words: How much sugar mom ate when she was pregnant mattered more than what the child ate as a kid—at least in this study and when it comes to these specific ailments.
What's the best way to avoid sugar?
According to this study, there's a direct link between sugar intake during pregnancy and the development of asthma and atopy in children. How does this work, exactly? The researchers aren't totally sure, but they suspect is has a lot to do with sugar's effect on inflammation levels, the immune response, and the microbiome—which is no big surprise.
So how much sugar is too much sugar, and what kind should you avoid? This study measured the participants' intake of free sugar, which, according to the World Health Organization, refers to "all monosaccharides and disaccharides added to foods by the manufacturer, cook or consumer, plus the sugars that are naturally present in honey, syrups and fruit juices." This does not include the lactose that's found in milk and sugars found naturally in the cellular structures of fruits and vegetables, but it does include ingredients like honey and maple syrup.
So basically, free sugar is very similar to added sugar, and both are the kind you should be watching closely (pregnant or not). The good news is that sticking to a whole foods diet—avoiding packaged foods or anything that's not in its natural form as much as possible—should eliminate a lot of the added sugar in your life.