How Sore Is Too Sore To Work Out?
mbg Associate Movement & Wellness Editor
By Ray Bass, NASM-CPT
mbg Associate Movement & Wellness Editor
Ray Bass is the associate movement and wellness editor at mindbodygreen and a NASM-Certified Personal Trainer. She holds a degree in creative writing from the University of Pennsylvania, with honors in nonfiction.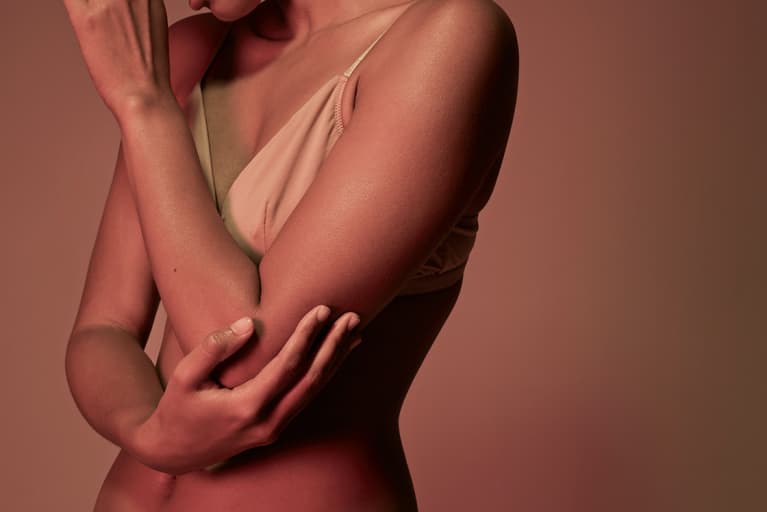 We've all been there—we've taken a challenging workout class or kicked some ass at the gym, only to wake up the next morning feeling sorer than we thought we would. And soreness is no joke; it can really hurt sometimes, and unfortunately, there's no real way to speed up muscle recovery. You just have to wait it out, rest, and maybe do a little cardio.
And whenever that kind of soreness kicks in—the kind that doesn't go away for days and makes me want to throw my planner in the trash—I wonder if I should be working out, or if I'm making the right choice by staying home. (And by "wonder" I mean overthink to a point of low-grade anxiety.)
So what's the right answer? Should you stay or should you go? Believe it or not, there's an easy way to tell.
How to know if you're too sore.
When deciding whether or not to work out, it's (unsurprisingly) important to check in with your body. What parts of your body are sore? Does that soreness make sense given the workout(s) you did in days prior?
It's also important to consider what type of workout you're planning on doing and whether or not that targets the muscles that are sore. If you did a shoulder workout and those muscles are sore the next day, it's probably not the best idea to do a workout that focuses solely on those exact muscles in the same way (i.e., doing the same exercises, same amount of reps, etc.). Yes, every body is different, but all muscles need time to properly recover. Plus, our metabolisms thrive when we change up our workouts.
But the bottom line is: If you're in serious pain when you move, your body probably needs a day. "If you're in pain going down the stairs, or in pain that restricts your movement, it's a sign that your body needs a break," says Sarah Kostyukovsky, P.T., DPT, OCS. "Let your body rest the day after your workout. Drink fluids, eat well, and the next day after that, try to get some gentle cardio in."
By gentle cardio, Kostyukovsky means walking, using a stationary bike, or if you're a runner, going for a light jog. "I know people who run marathons, and the next day they'll try to run a short distance. That exercise helps your body process the soreness."
In short, knowing how sore is too sore is all about tapping into and assessing your own pain. If your calves are a little sore the day after a boxing class, then you're probably fine to do yoga the next day. But if you can't walk comfortably, then maybe foam rolling and magnesium cream are the way to go. We need to remember that soreness means our muscles are literally inflamed (yea, we rip holes in them during intense workouts) and need time to rebuild—so sometimes the best workout is the one we don't do.