Is It Bad To Wash Your Face In The Shower? We Dive Into The Debate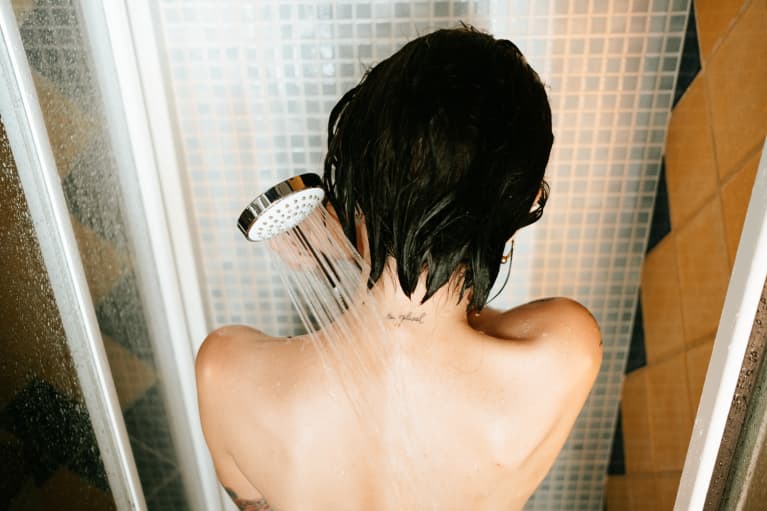 Our editors have independently chosen the products listed on this page. If you purchase something mentioned in this article, we may
earn a small commission
.
No matter how many products you layer in your skin care routine, a good cleanser is a nonnegotiable. But the different techniques for washing your face aren't so set in stone, which has sparked some heated conversation in the beauty space. In addition to the great double-cleanse debate, there are some people who keep their favorite cleansers in the shower, and those who stick to the sink, no matter how sopping wet they might be, which raises the question: Is it bad to wash your face in the shower?
Here's the simple truth: There's not really a right or wrong answer. Washing your face in the shower certainly has its drawbacks, unless you're taking the correct measures to make sure your skin stays hydrated. Here's what the experts have to say on the matter.
The cons: water temperature and shower length.
First up: water temperature. Hot water can be super drying, which is why you might not want to take long, scorching hot showers to begin with. "Apply the same thinking to your face," says celebrity facialist and founder of Cecilia Wong Skincare Cecilia Wong. While it might take some time for you to notice the drying effects on your body, the skin on your face is much more delicate. Board-certified dermatologist Nava Greenfield, M.D., of Schweiger Dermatology Group in Brooklyn, agrees: "Skin on the face is more sensitive and needs to be treated more carefully."
So if you're one to hop into the steam for a lengthy, spa-grade lather (it happens!), you might want to save the face wash for after the shower. Especially if you have sensitive skin, as extreme water temps can even cause broken capillaries for some thin-skinned folk.
Let's say you stick to a lukewarm shower and a hop-in, hop-out rinse: Are you good to go? Again, it depends, as this is when product order comes into play. If you're washing your hair, imagine all the residue sopping down your face as you rinse. That's another reason you may want to save the face wash for last—you don't want all the buildup and oil lifted from your scalp clogging your pores as it runs down your face. It's nothing to be too caught up in; you'll just want to make sure face wash is the final step.
The pros: steam and convenience.
Assuming you mind all the criteria above, washing your face in the shower isn't so bad. Sometimes, a shower can even enhance the experience. Case in point: enzyme masks. According to Chase Polan, founder and lead alchemist of Kypris, enzymes tend to work better when the temperature of your skin is increased. That's because the chemical reaction that causes their exfoliation becomes faster and more powerful with increased temperature—and a lukewarm shower does just the trick.
Even if you don't opt for an enzyme mask, the shower steam can help open up those pores before you cleanse (there's a reason facialists often use steamers during their treatments). As mentioned, just make sure you stick to a lukewarm shower on the shorter side—around 10 minutes, says Wong.
So is it bad to wash your face in the shower? Not completely. Cleansing in the shower can either be an asset (a convenient trick, in the case of enzyme masks) or a recipe for dry, itchy skin.
No matter what you decide, don't get distracted post-wash—perhaps the biggest mistake people make during their skin care routine. When you don't work fast enough to seal in that hydration (serums, moisturizers, oils, and the like), the water will evaporate into the air and leave your skin even drier than before. So if you do wash your face under the spray, be sure to dive right into the rest of your routine as soon as you towel off. As Wong notes: "Overall, it doesn't matter where you wash your face, as long as your skin is getting the right care it needs."