Is Active Recovery More Important Than Passive Recovery? Here's What The Experts Have To Say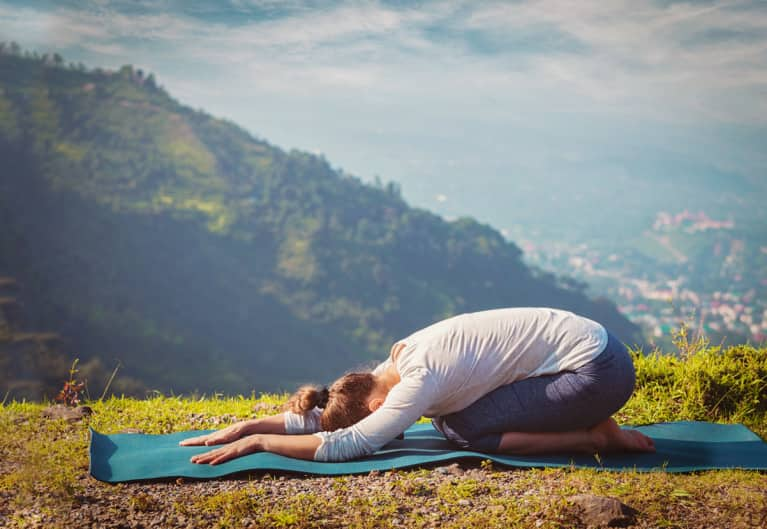 Whether you prefer to spend your day off in a cryotherapy chamber or a gentle yoga class, the consensus seems to be that any type of recovery is better than no recovery. And while there's definitely truth to this, it's unclear how much of each is actually required and whether one is more important than the other when it comes to giving our muscles the care they need to recuperate and grow.
While both passive and active recovery are important, there are different opinions on how much of each we actually need. Let's take a closer look.
The case for prioritizing active recovery.
In an ideal world, we'd have all the time and money in the world for endless yoga classes, infrared saunas, and gentle walks on the beach. But given the fact that many of us take only one rest day and are often crunched for time, if you can choose only one form of recovery, you're probably better off choosing movement.
"I'm a huge fan of active recovery. I move every day," says personal trainer and coach Kate Ligler. "So many people have a little bit of soreness in the hip and stop moving altogether. We're animals; we're not meant to stop."
Boxing instructor Jenny Savage has similar feelings. "Active recovery the day after a workout releases lactic acid, balances the body, and leaves you with much less pain and soreness," she explains. "Imagine you're a wild tiger and you've been chasing after your food for hours. The tiger doesn't stop moving the next day because he's sore; he's active and moving on. It's evolutionary."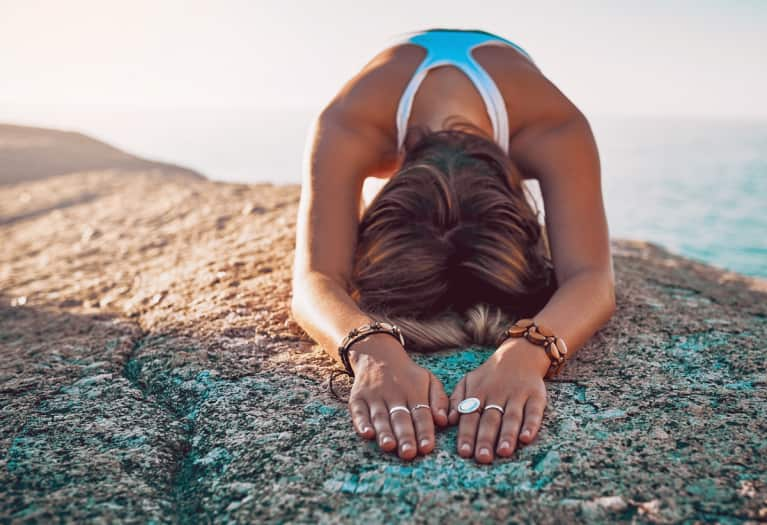 When it comes to passive recovery, choose sleep and meditation over cryotherapy and infrared saunas.
While infrared saunas and cryotherapy chambers are all the rage these days, Nicholas M. Licameli of Professional Physical Therapy encourages people to remember exactly why they're recovering—to help their muscles grow. "Muscles do not grow in the gym. Training causes muscles to be broken down and become weaker. It is during recovery that muscles make adaptive changes," he explains.
These specialized passive recovery tactics probably won't do any harm, but if you don't have access to them, it's not a huge deal. Across the board, experts agree that the most important passive recovery tactic is sleep. "Our brains make new connections and truly absorb new knowledge during the rest, digest, and recovery phase, which occurs after our workout and usually during sleep."
Licameli also recommends utilizing deep breathing and meditation as a form of passive recovery. "Sleep and deep breathing or meditation are the most important forms of passive recovery hands down," he says. "I have seen drastic improvements in patients with various types of pain and diagnoses after implementing proper sleep, along with deep breathing and meditation. Deep breathing and meditation increases parasympathetic nervous system activity (rest, digest, recover) and decreases sympathetic nervous system activity, like your fight-or-flight response."
But remember to do what's best for you.
Amanda Kloots, trainer and founder of the workout method The Rope, says that it really depends on the person and what her or his body is craving. "I think both active and passive recovery are super important," she says. "I exercise six days a week so I do feel like even when I'm extremely sore, active recovery helps move the lactic acid built up in my muscles. However, on my day off, I truly believe that passive recovery refuels my body."
When it comes to active versus passive recovery, the rules are actually pretty simple: Do what feels best for your body, and don't neglect movement altogether.
Want to learn more about active recovery? Here's a routine for HIIT enthusiasts.