Coffee Could Become The World's Most Sustainable Crop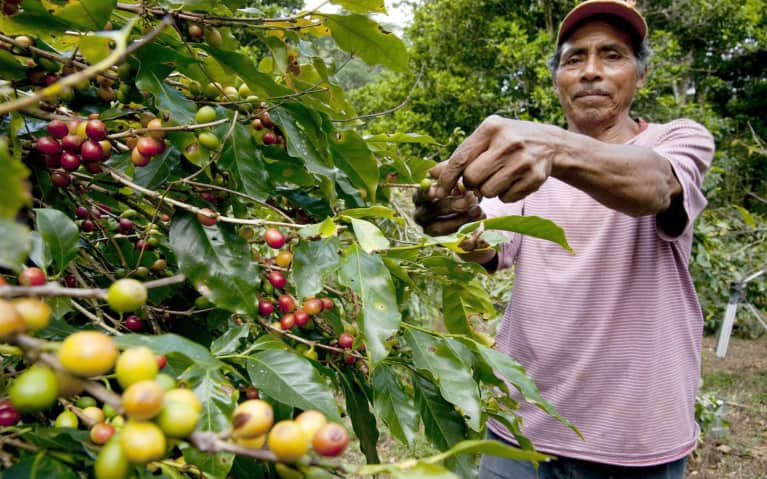 October 1, 2017 — 7:00 AM
Today marks International Coffee Day, an occasion for caffeine lovers everywhere to raise a mug to their favorite brew. First kicked off three years ago, the nascent holiday celebrates the farmers and the land that make today's coffee culture possible.
Unfortunately, our fervor for cold brews and almond milk lattes has created a double-edged sword of sorts. While it brings more employment opportunities to poor regions in Africa, Latin America, and Southeast Asia, the safety and profitability of some of these jobs have been questioned. The global thirst for coffee beans has also led us to the outer edges of the earth on a hunt for more farmland, making mass deforestation a huge concern in business. When you consider the fact that these beans thrive in tropical climates that have steady, predictable weather patterns, global warming becomes a threat to the industry's future too.
Before you throw your hands up in defeat and switch over to matcha, know that there are organizations out there working to help the industry grows and scale in a sustainable way. Conservation International (CI) is one nonprofit leading the charge, and they have a lofty goal: to make coffee the world's first sustainable crop.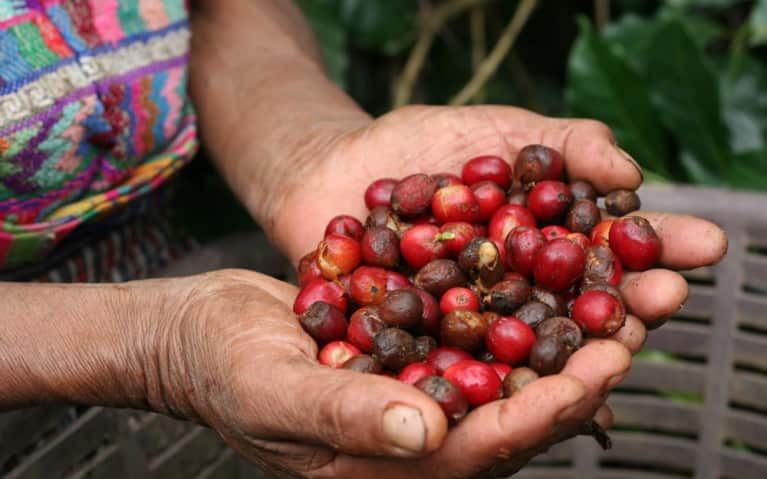 How to step up your brew.
"It's a super-ambitious goal, but we know that coffee is the furthest along in this journey. The coffee market has been trying to move forward on sustainable production for almost 20 years now. We also know that we really need to get this right..." warns Bambi Semroc, a strategic adviser for CI. "About half of the land that's suitable for growing coffee could be lost by 2050."
Through on-the-ground work, CI has seen how climate change threatens not only the land but the people tending to it. Warmer temperatures mean hotter days in the field and less predictable rainfall, which throws off the entire farming process and leaves producers without a crop to sell.
On the bright side, Semroc notes that plenty of organizations are joining in on CI's mission to help farmers adapt—including some large industries that might surprise you.
"Starbucks reached the 99 percent ethically sourced milestone in 2015, after 15 years of work," she says, adding that McDonald's and Walmart have also set goals to make their coffee more sustainable. "People are usually surprised about many of the companies making an effort, even the ones who have been at it for a long time." These commitments are part of a larger initiative called the Sustainable Coffee Challenge, a network of 80 partner organizations—from major chains to research organizations and NGOs—that are agreeing to clean up their sourcing and share the resources that make their sourcing more sustainable and transparent.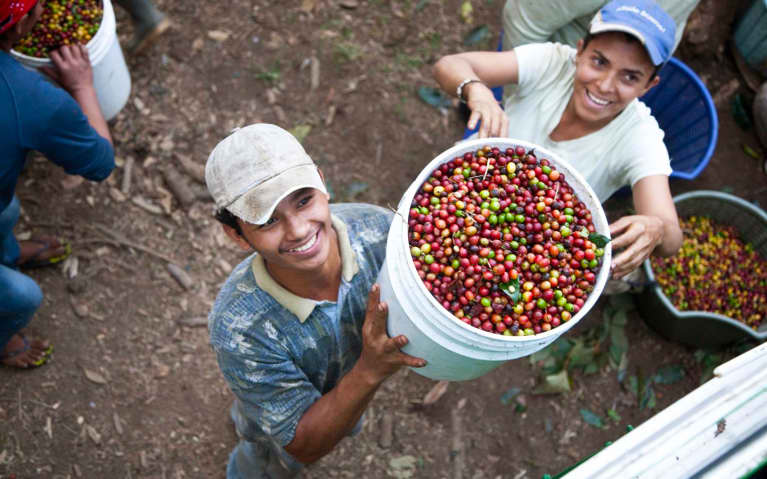 By this point, you may be asking yourself what a sustainable coffee even looks like and how you can avoid being greenwashed into drinking something you shouldn't be. Semroc and CI have put forth a clear definition of a sustainable cup of joe: coffee that improves the livelihood of those who grew it and didn't require the harming of natural resources. Their answer on how to find it, though, is a little less clear-cut.
Looking for labels is a great place to start, and Rainforest Alliance, Fair Trade Certified, and UTZ seals all show that a coffee producer has taken steps to become a certified organization. However, as is the case with organic food, not every farmer has the time or money to undergo the certification process. So CI recommends that instead of making it a label-or-bust kind of mission, you start making a habit of asking questions.
"Your job is to be part of the movement. And to be part of the movement, you need to ask the questions. Ask where your coffee comes from, who the roaster is, how the company is driving sustainability forward. Since there are a diversity of programs out there, the most important thing you can do is start engaging in the dialogue."
One editor's experience giving up coffee cold turkey will make you crave it like never before.