Feng Shui Energy Shifts You Can Try Today Without Spending A Fortune
Designer & Feng Shui Master
By Dana Claudat
Designer & Feng Shui Master
Dana Claudat is a modern Feng Shui Master and founder of The School Of Intention Feng Shui Certification Program. She holds a B.A. from Stanford University.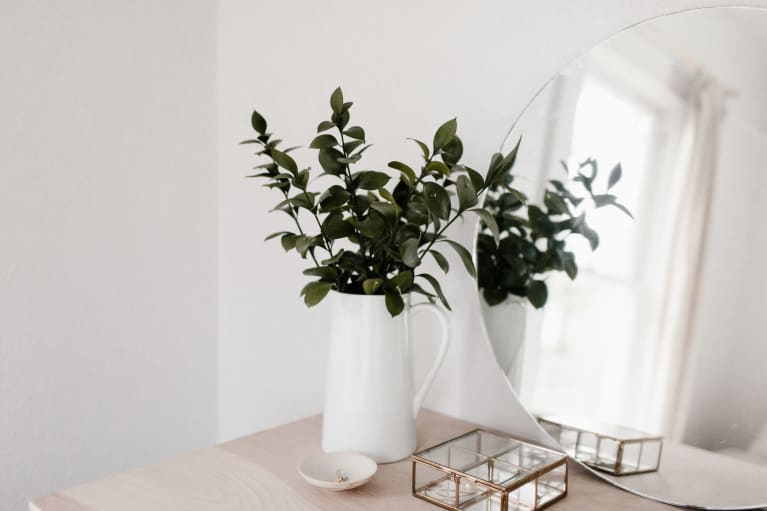 Dana Claudat, feng shui master & mbg Collective member, takes traditional feng shui concepts and brings them into the modern world. Whether you're new to the concept of feng shui, you dabble with the occasional clutter-clearing, or you're a full-on feng shui devotee, this class is perfect for you. This class has everything you need to make simple shifts to supercharge your home's energy & to transform your home into the home of your dreams.
Click here
to learn more about Dana's class, The Feng Shui Home Makeover!
When you hear about feng shui, it might conjure thoughts of statues, fountains, mountains of crystals, and, possibly, the need for a complete home renovation.
It can be daunting to think about all that investment—especially when you aren't even sure it works! Well, luckily, I'm here to confirm that you never need to make that kind of investment to try feng shui for yourself. You definitely don't need talismans, lucky charms, new furniture, or anything else to create a home that supports your dreams.
In fact, the most vital principle in my feng shui method just starts with one thing: feeling at home. And that doesn't have to cost a thing. When you feel at home, you are deeply supported. You have a sanctuary—a space to rejuvenate and connect more deeply and privately with friends, family, and yourself. You feel grounded, calm, and connected and that energy translates into everything you do in powerful ways. The resulting flowing, positive energy can make you stronger in every way—while stuck, heavy energy only leads to weakness.
Raise the energy around you and you'll feel the flow. Here are some easy and inexpensive ways to raise the energy in your space right now:
2. Make some of your own art.
Art brings powerful energy into a space, and you can make it yourself, even if you have no idea where to begin. Just start with what's fun: everything from crafts, your children's art, and your own DIY projects qualify. Your own art brings your energy into your space in a potent way, and that can go far in creating a feeling of connectedness at home.
3. Create an old-school vision board. 
This board can energize your newly decluttered closet! Collect pictures, inspiring images, and words that describe what you want to create in your life, and paste or tape them on some recycled cardboard. It doesn't have to be fancy, but it works best when you really feel what you want evoked by the imagery you choose.
4. Fill bowls with fruit. 
Placing lemons, oranges, limes, or other citrus in bowls in your house brings fresh color and high energy. Nine lemons are used traditionally in Feng Shui as a wealth symbol, but any amount of citrus is amazing. Yes, you can eat it, cook with it, and use it over time; just keep on replenishing it.
5. Grow herbs and other fruits, vegetables and/or edible flowers.
Growing your own food—even if it's a pot of herbs near a sunny window—is a prosperous and grounding activity.
6. Elevate your sensory experience.
We experience the feeling of home in so many ways—from scent to color to temperature. A candle with a gorgeous scent can go a long way in transforming your experience of a room, as can the addition of your favorite colors and textures.
7. Use sea salt to clear stagnant energy.
Plain sea salt is very versatile at clearing energy. You can add a pinch to the water you use to mop your floors, add a small bowl or two to rooms that tend to get stressful as symbolic "house protection" from negative energy, or take a bath in sea salt to clear your own energy. (I personally put 2 cups into a bath, though I know some people use much more.) Soak in the bath for 20 minutes or so and stay in the tub as the salt drains, imagining any lingering stress going down the drain with it.
8. Pick some flowers or grab a bunch at a local shop.
Bouquets of flowers are always add a rich, sensory burst of freshness. These are some easy ways to start raising the energy around you, getting more connected to your home, and feel the flow all around you. Flowing energy is the energy that helps you stay inspired, motivated and glowing!