New Burger King Stats Indicate People Are Into The Impossible Burger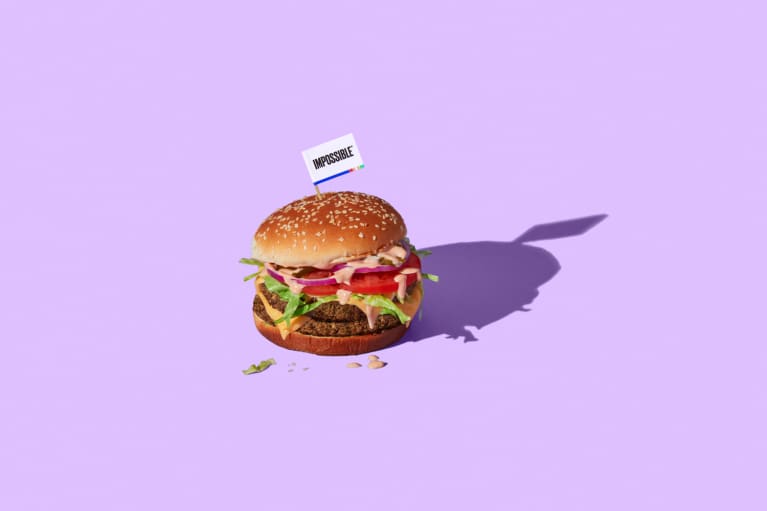 Back in early April, Burger King announced plans to pilot the Impossible Whopper, a plant-based alternative to its signature hamburger, in a handful of locations in Missouri. By late April, the fast-food chain could already see that the burger was selling well enough to start going nationwide. A new report shows just how well: Foot traffic was up to 18 percent higher in Burger King locations that offered the vegetarian whopper.
According to InMarket inSights, while the number of visits to Burger King chains was down nationally by 1.75% between March and April, the St. Louis locations that sold the burger were getting 16.75% more traffic. This influx of customers could speak to the mass appetite for hyper-realistic, plant-based burgers.
Though it costs about a dollar extra on most menus, the Impossible Whopper—made from soy and potato proteins, coconut oil, and sunflower oils—delivers a similar taste to the real deal. When it tested its Impossible Whopper against its traditional one, Burger King found that most customers could not tell the difference.
You can now find the faux Whopper in Columbus, Georgia; Montgomery, Alabama; and Miami, Florida, with a national rollout planned for the year's end.
Impossible Foods' biggest competition, the Beyond Burger—made from pea protein isolate, canola oil, and beet juice extract—also seems to be selling till the cows come home (sorry, had to). It's now available in more than 35,000 restaurants, grocery stores, universities, and other establishments nationwide including TGI Fridays, A&W, and Carl's Jr. Burger joints aren't the only ones joining the meatless bandwagon: Tim Hortons is now testing Beyond Meat breakfast sandwiches; Del Taco serves Beyond Tacos; and Little Caesars puts plant-based sausage on its pizzas. Dunkin' Donuts and McDonald's are reportedly keeping an eye on the market, too.
To keep up with increasing demand, Impossible Foods is putting its recent $300 million funding round toward revving up production. "We're dead serious about completely replacing beef," CEO Pat Brown told the Washington Post, adding that his company plans to do so by 2035.
Impossible? Maybe not.