An Acupuncturist's Go-To Supplement For Youthful, Glowing Skin: mbg nr+
Contributing writer
By Debbie Kung, DAOM, L.Ac.
Contributing writer
Debbie Kung, DAOM, L.Ac., is a Board-certified Doctor of Traditional Chinese Medicine and NCCAOM Licensed Acupuncturist and Herbalist with a patient-first, nurturing, private practice at Kung Acupuncture in New York City.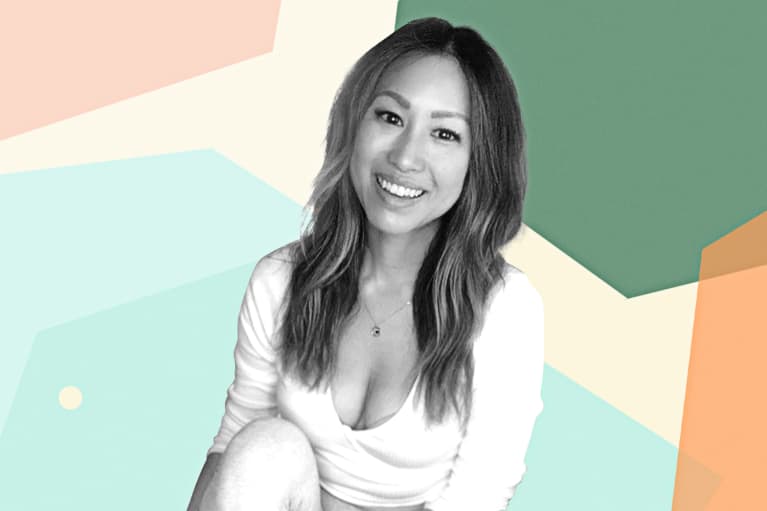 Last updated on January 8, 2021
I have started a new decade in my life and therefore begun to take skin health and healthy aging more seriously than ever before. I want to tackle aging at the cellular level, making sure I am being smart with how I nurture and tend to my skin.
As a doctor of Chinese medicine and acupuncturist who specializes in facial rejuvenation, I am constantly reading new studies from both Eastern and Western medicine, then interweaving both into my private Chinese medicine practice. This is when I came across something that caught my eye: mindbodygreen's new cutting-edge, healthy aging supplement, nr+. Here's why I believe in the formula.
Why I am so impressed by mbg's nr+.
I had been doing research on nicotinamide riboside (NR) prior to taking mbg's, as it's an active that's been gaining popularity by experts of many fields. I'll explain why it's so innovative: NAD (nicotinamide adenine dinucleotide) is a coenzyme that is required for mitochondria to produce energy. NAD fixes damaged DNA, thereby slowing the aging process of cells in the body. As we age, there is a natural decline of NAD. This decline is often connected to many age-related health conditions. But one way to support your body's levels of NAD is supplementation.*
This is where mbg's breakthrough supplement nr+ comes in.* NR is the precursor to NAD, which just means that when you ingest NR, your body converts it into NAD; this means that you're enhancing your body's production of the healthy aging enzyme, NAD.* And the thing is, you can't find NR in your standard diet, so you can only get this ingredient via supplements.*
So how does this tie back into Chinese medicine?
In Chinese medicine, we look at aging as a systematic process. Several factors are considered when aging in variables such as lifestyle, constitution, and environment, which can translate into deficiency of qi, blood, yin, yang, and Jing. Qi, which is considered our life force, tends to naturally deplete as we age.
From an Eastern medicine perspective, modalities such as acupuncture, gua sha, cupping, and Chinese herbs help to combat these issues. From a Western medicine perspective, NR seems to be the new healthy aging answer. And what struck me about mbg's nr+ is the combination of NR and four supporting ingredients: betaine, rhodiola, astaxanthin, and phytoceramides. All four of these ingredients are found in Chinese medicine herbs. So this supplement, in my opinion, blends together Eastern and Western pathways toward longevity. That's exactly what I'm about in my practice.
One supporting ingredient in nr+ is rhodiola, which is a commonly used herb in Chinese medicine. Some pharmacological actions for rhodiola include helping manage oxidative stress, inflammation, UV damage, and fatigue.* So, it's no surprise that rhodiola is considered a healthy aging wonder when its effects show up in the dermis.*
Astaxanthin is another that contributes to skin health.* It is considered one of the strongest antioxidants found in nature. It has a high ORAC (oxygen radical absorbance capacity) value, which helps manage oxidative damage caused by free radicals.* Researchers in Japan and China have also found preventive aging effects of astaxanthin by using an accelerated model where mice were subjected to jet lag.* They found that the mice were better equipped to deal with the stress when given the antioxidant and therefore had fewer signs of aging.* Additional human studies have confirmed it's one of the best antioxidants for helping skin manage photodamage, too.*
Then there's betaine. Betaine helps cells manage osmotic change and supports qi in the body.* Betaine is naturally found in large quantities in the Chinese herb goji berry (aka wolfberry). Goji berries are typically eaten for eye health and improvement of Jing and are considered to have strong antioxidant properties.* Betaine also can help with absorption of nutrients and helps the body maintain a healthy metabolism.*
And the final topper of support in the nr+ formula, which makes it a super supplement, is phytoceramides.* Phytoceramides are lipids that keep your skin glowing and smooth; it naturally occurs in common foods such as rice, wheat, and yams. It supports moisture retention in the epidermis layer of the skin.*
I've taken one bottle of nr+ and so far, I've had a better sense of emotional and mental health, better sleep, and mental clarity.* Overall, too, I feel confident I am helping my skin long term.* mbg recommends taking the supplement for at least three months to see the full difference, so I'm excited to see how I look and feel after three bottles especially after seeing all the studies that show how this supplement can slow the signs of aging in combination with Chinese medicine modalities.*
It's a supplement that not only aligns with my views on healthy aging but has the research and studies to back it up. If you are looking for ways to support your skin and overall health, I cannot recommend nr+ enough.*