Lessons Everyone Should Be Teaching Their Kids About $$
mbg Sustainability Editor
By Emma Loewe
mbg Sustainability Editor
Emma is the Sustainability Editor at mindbodygreen and the author of "The Spirit Almanac: A Modern Guide To Ancient Self Care."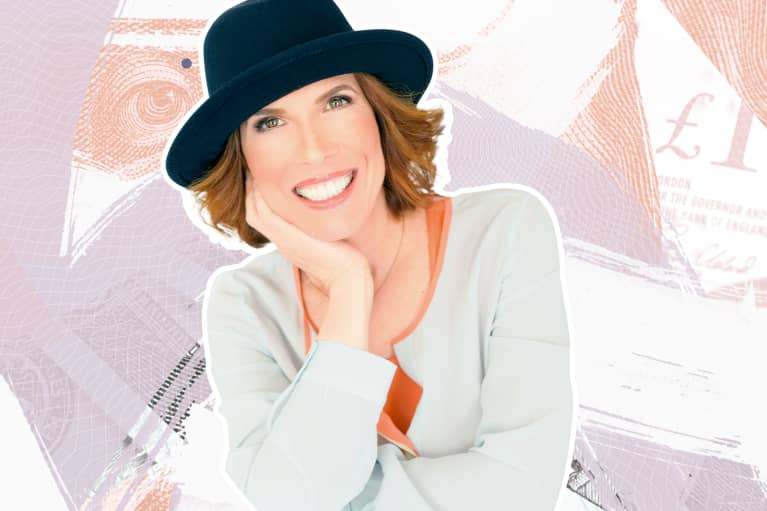 With an estimated 67 percent of Americans at least a little anxious about paying the bills, and 58 percent worried they won't have enough money for retirement, it's becoming increasingly clear that being financially well is an integral part of overall wellness. Of course, money management isn't one-size-fits-all, so we're talking to people from all walks of life to find out how they achieved a healthy relationship with their finances. We hope it empowers you to live a life Well Spent.
Ilene Ruhoy, M.D., Ph.D., is an integrative neurologist and founder of the Center for Healing Neurology, in Seattle. We called up the mbg Collective member to learn a little bit more about the role that finances have played in her journey, from childhood to medical school to opening up her own practice, and along the way, she doled out some of the best advice we've ever heard about teaching the next generation about money.
What does financial well-being mean to you?
It's having the money to pay my basic expenses, as well as to give back in some format—whether it's money or time.
What has your financial journey looked like so far?
I think there's this common idea that doctors are rolling in money, and I can assure you that's not true! We go to college, which for some, requires loans. We go to medical school, which for me, definitely required loans. Then we do residency, during which we make very little for three to nine years. For 95 percent of physicians, you basically spend your entire young adult life in debt. If you open your own practice, that's a whole new set of loans. So my financial journey has been up and down.
I didn't come from money. I took out loans from med school and was frugal during residency. I started to pay off my loans while I was working, and then I decided to open up a practice, which required another output of money. I'm certainly not complaining. I was never destitute, but it was definitely a struggle.
Sometimes the lows were pretty low; I didn't know how I was going to pay the credit card debt or another bill. Somehow you just get through it, and you're more frugal the next month. I feel like if you're on a journey that you're really passionate about, as long as you're able to pay your basic living expenses, it's worth the money. And I preach this to my patients, too. I try not to dwell on the financial aspects of it.
How did you decide to take the leap and open your private practice?
I couldn't do what I wanted to do in a more restricted, academic setting. I've always been an outside-of-the-box thinker. When I was at the hospital, it was hard to try other things because a lot of medicine is algorithms and protocols.
I decided that the only way I could practice the kind of medicine I really wanted to practice was to open up a place of my own. But in medical school you certainly don't learn any business skills! That was my hardest challenge—to learn how to get it off the ground. And I'm still learning as I go.
The little things add up. I know we've all heard that, but it really holds true.
Looking back on times when you felt more financially strapped, what kind of money-saving habits did you develop?
Residency was definitely a hard time. You're being paid, so there's this level of "now you have to manage your money," yet you're very busy working crazy hours, so it's hard to think everything through. And you're not making much: I remember we calculated how much we were making per hour and it was ridiculous, like $2.25/hr. There's no way around it. When you work in hospitals and you're dealing with patient care and patient suffering, it's hard to clock out at 5 p.m.
I tried to stick to a budget, which didn't always work! That's when I learned that the little things add up. I know we've all heard that, but it really holds true.
So I would start to do things like make my own pot of coffee in the morning and be careful about how much I spent in the hospital cafeteria. I wore scrubs every day, so at least I didn't have to buy clothes! Those are things I was able to do, but I realize they're not applicable to the masses. I did try very hard to calculate what I was spending money on every single month and try to find ways that I could reduce it.
Do you have any financial tips you wish you could give your younger self?
I was never spending wildly or freely, but I did get into some credit card debt when I was on my own for the first time, just by going out with friends and shopping. So I started medical school with that, which is not fun, by the way, because of all of those interest rates. I think that if I had to speak to my younger self, I would just tell her to calm down. "You don't need that extra pair of pants," I would say. "Life has a lot of good things waiting for you. Just be patient, responsible, and rational."
I also think I would teach my younger self about interest rates, accruing interest, and how when you spend $5 on something, before you know it, you could be paying $50. I didn't know any of that. I was completely clueless. I try to teach my teenage daughter those lessons my parents didn't teach me.
What else are you teaching your kids about money?
I just got my 16-year-old daughter her own credit card, and it came with a list of stipulations. So far, she hasn't used it at all because I think I scared her! I've been teaching her about bank accounts since she was about 10, though.
We opened up a savings account, and I let her see the statements so she could learn how money can accumulate when she doesn't use it. When she wants to purchase something that's not an obvious necessity, we'll talk about it. If we think it's worth the money that she has saved, sometimes the answer is yes, and I let her dip into that account. Then I show her the new statement and how it went down.
I talk to her about utilities. She had no idea that we pay for water, and she takes 40-minute showers. We talk to her about the bills. We're very transparent with her. Since she was young, she's known what we pay for.
Every opportunity that we get to talk about money and savings, I definitely take it.
She's a singer-songwriter, and she recently got accepted to a boarding school called Interlochen Academy for those who are talented in the arts. It's out in Michigan, and I'm in Seattle. It's very expensive. It's almost like Harvard's tuition, and there will be a lot of flying back and forth. We were talking about this tuition and what it would mean, how we'd pay for it, and how she's going to save to contribute a bit to it. She now has a whole plan with her babysitting gigs.
It's not like every moment I'm like, "Hey, let's talk about your finances," but every opportunity that we get to talk about money and savings, I definitely take it.
What's one money habit that you've developed over the years that you're proud of?
I have an automatic deposit into my savings account every month. I pretend like that money's not even there. I've been doing that for years. Initially, I would stop and think, "Oh, I could use that money," but then I realized that that wasn't doing me any good in the long term.
I'm also fairly frugal in certain ways. I don't do a whole lot of extraneous beauty things. I make my own face masks; at one point I was making my own soaps. All of that saves me money, and I'm proud of myself for figuring out that those things are important to my sense of well-being, but I don't have to spend a lot of money on them.
Which wellness trends or investments do you think are worth the money, and which aren't?
To me, it is such a worthy investment to buy a good, slow-press juicer to maximize the vitamins and nutrients in your food. I use mine every morning. Organic fruits and vegetables are also worth it. I know that they're more expensive than non-organic, but there are lots of studies to support why.
If you have disposable income, there's certainly nothing wrong with spending money on exercise trends, but if you're trying to save, you don't have to spend a ton on fitness. I wouldn't invest in fancy gyms or exercise programs. You can do almost everything on your own outdoors or in your house. I run, do yoga, do squats and lunges, use my barbells, and even do Pilates outside.
What is the best money you've ever spent?
I'm passionate about what I do, and I couldn't have done it without medical school, so I feel like that's a no-brainer. I had to take out loans for it, but I was happy to do so.
Also, about 10 years ago, I went to a fasting retreat in Palm Springs with a friend. We decided we needed an abrupt shift in our attitudes because we were both struggling with maintaining good health. It was expensive, but it was definitely a life-changer. It ended up giving me the tools to help patients who are struggling to overcome obstacles to health that they face.
This interview has been edited and condensed.