Get A Leg Up On Your Spring Cleaning With These 10 IKEA Decluttering Must-Haves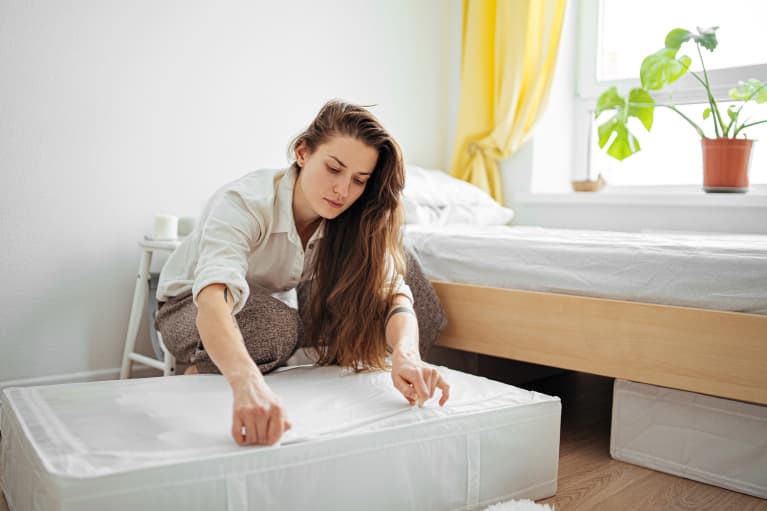 Our editors have independently chosen the products listed on this page. If you purchase something mentioned in this article, we may
earn a small commission
.
Spring cleaning is about more than wiping down windowsills and deep cleaning floors. It's an occasion to check in with your house as a whole and reflect on what's working, what's not working, and where you can clear a little clutter before a new season starts.
But first, you need the right tools. Professional organizers consistently say that the key to keeping a clean, tidy living environment is giving all your belongings a home. Everything from scissors to tape, new paperwork to old electronics, should have their rightful spots.
By this logic, the best way to prep for spring cleaning is to make sure you have the right bins, baskets, and dividers to fit your space and your stuff. No need to go overboard and buy a ton: Organizers agree that five key categories—clear boxes, wood baskets, open bins, paper storage, and trays—can serve most of your storage needs.
In the name of one-stop shopping, we pulled our favorites options from the organizational haven that is IKEA. In each category, you'll find one standard-size option plus a smaller, more flexible version that's ideal for tighter spaces. They're all affordable, streamlined, and ready for whatever spring cleaning curveballs you throw this year:
Clear boxes are a perfect spot for out-of-season clothes, spare household supplies, childhood keepsakes—basically, anything you don't use every day but still want to be able to see and keep track of.
The small, stackable, GLIS is well sized to fit in smaller cabinets and shelves, while the larger SAMLA is ideal for under-bed storage.
Never underestimate the power of a good basket. Open-top ones are great for items that you need more regularly but still don't want to be looking at all the time. Think phone and computer chargers, magazines, or seasonal accessories.
IKEA has been building out their collection of baskets made from bamboo, a durable material that comes with sustainability perks. We're eyeing the circular LUSTIGKURRE, which comes with a turquoise lid that doubles as a stylish tray, for storing smaller items, and the square BULLIG box, made from a commanding bamboo weave, for bulkier stuff.
Step 1: Kondo all your paperwork into three categories—papers that need immediate attention, important files you need to keep, and joy-sparking papers like old letters or cards. Step 2: Set up a zone where you can unload incoming papers in the future until you're ready to sort them.
The magazine-stand-style LUSTIGKURRE is a sharp place to store magazines, newspapers, and larger items, while the TJENA is perfect for smaller letters and bills.
For those sticky, leaky things you don't want gunking up your decorative boxes, opt for plastic or wire ones.
The RISATORP wire basket is well sized for laundry-day essentials and your go-to cleaning products, and its fold-down handle means you can store it under the sink and carry it to messes as needed. Or, if your storage space is limited, the shallow NOJIG is a great pick.
And finally, for pantry or office items that you want to keep out on display, a tray can keep them organized. IKEA's new bamboo VÅRFINT is a sturdy stunner, as is the more stashable plastic option.