I Stayed In The IKEA Hotel & It Made Me Want To Streamline My Entire Life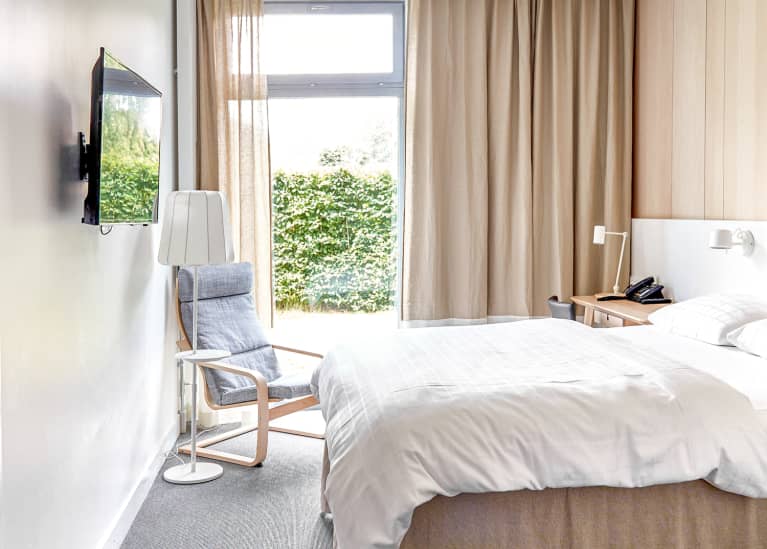 Only the real superfans of IKEA will recognize Älmhult, Sweden, as the furniture giant's humble hometown. The site of the first IKEA store, built by founder Ingvar Kamprad in 1958, is a sleepy Swedish hamlet that's hours from the nearest major airport and home to just over 10,000 people. Its attractions include—you guessed it—an IKEA store, an IKEA Museum chronicling the brand's history, and an IKEA Hotell that gives shoppers a place to crash after all those Swedish meatballs.
"When the first IKEA store opened in Älmhult 1958, we found that customers would travel long distances to be able to shop for modern and affordable furniture," Kicki Rundbäck, who was a design manager and project leader for the hotel's 2012 redesign, said of its initial conception. "That was why the original IKEA motel opened in 1964, where guests could recharge…and sleep over if the drive home was long." These days, it features 250 rooms of various shapes and sizes that start at $53/night.
I wasn't sure what to expect of the hotel when I stayed there last month during IKEA's annual press conference, Democratic Design Days (to be honest, I'd had no idea it existed until pretty recently), but from the second I walked into the lobby, I was a convert to its decidedly minimalist approach to hospitality. Here are some of its clever design features that I'm hoping to implement in my life back home.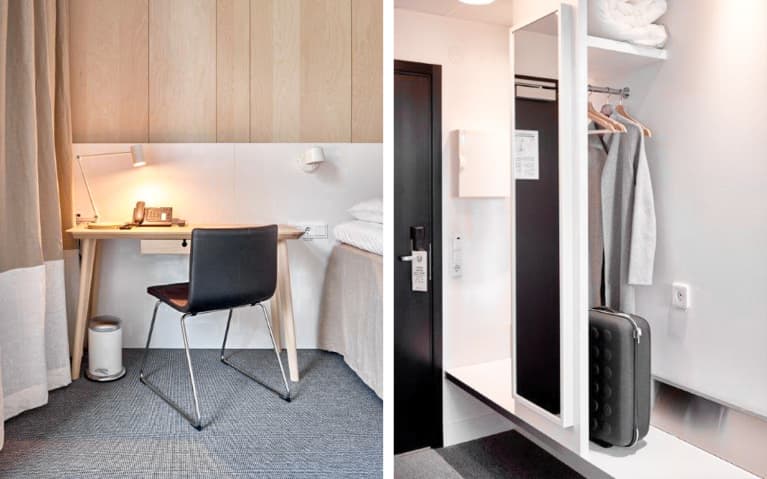 1. Everything was there for a reason.
My room's walls were free of artwork, and there was little to no color to speak of, save for a bright pink hook that hung the hotel recycling rules on a cardboard cutout. All the wood was unfinished, and there wasn't an accessory in sight. Yet walking in for the first time felt like taking a deep, cleansing breath. I was immediately reminded why minimalism continues to be a timeless design trend.
There's something immediately calming about being surrounded by only what you need. IKEA isn't the only hotel that's using a sparse, highly edited approach to design to put guests at ease. Sister City a trendy new NYC outpost by the creators of Ace Hotel, also operates on a "less but better" philosophy. ("We asked what was needed for today's traveler," its site reads, "and shaved off excess, considering aesthetic sustenance, human connection, and modern needs as well.")
The room was a testament to the freedom that comes with having less—and it made me want to get rid of a few knickknacks back in my own bedroom.
2. The rooms were built to encourage mindful habits.
There was no turndown service during my three-day stay since IKEA doesn't clean rooms or linens unless specifically asked to by guests. (According to Rundbäck, many people just opt to go without.) There were plenty of other opportunities to practice other sustainable habits in the room too. For example, the lights, electronics, and AC were powered by the room keys, meaning you couldn't leave them on when you left for the day. It reminded me of another innovation I saw at Democratic Design Days—an early prototype of a gadget that measured trash intake in real time and displayed it on a screen in the kitchen for all to see.
I found these built-in reminders to monitor environmental impact really smart, and I hope they keep popping up in homes and hotels of the future. In the meantime, I'm considering making small signs to do things like "stop wasting food" and "turn off the tap when brushing your teeth" to hang in my own space.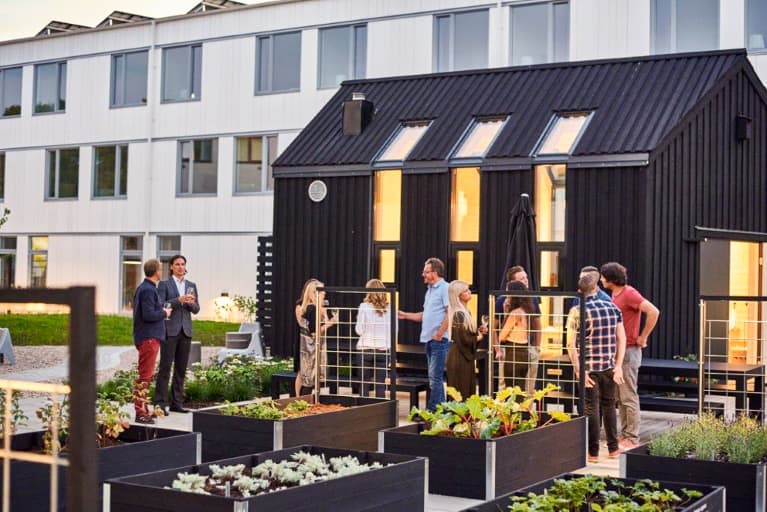 3. Communal spaces were designed to be hubs for gathering.
There weren't any frivolities in the guest rooms, but the central common areas on each floor were outfitted with games, books, etc. Outdoors, there was also a communal garden where people would head to sit and mingle. These spaces were designed to foster a greater sense of community, Rundbäck explained. "We took away all service in the rooms, such as everyone having their own refrigerator. Instead we offer common 'living rooms' on each floor if they want a cup of tea without having to go out and buy one." It's an approach that saves on energy costs while taking away some of the isolation of travel.
IKEA is now exploring the potential of shared spaces outside of its hotel walls too. "We are more connected than ever digitally, but more and more people are suffering from loneliness," Evamaria Rönnegård, a development leader at Better Living IKEA Group, told a crowd at Democratic Design Days. "We believe we can all share more. We can make sharing an attractive alternative." Rönnegård was teeing up to a new initiative that IKEA is spearheading to make cities of the future more livable and sustainable using modular homes and plenty of shared resources.
My stay in Älmhult was a reminder of how good design can help people and the planet. Like many Scandinavian spaces, the hotel was simple but functional, subdued but somehow exciting. Lena Pripp-Kovac, head of sustainability at Inter IKEA Group, spoke eloquently of what IKEA is trying to do with designs like these when she told me, "If you're going to create a movement, people need to aspire to live sustainably."
I now know that aspirational spaces don't have to have luxurious fixtures or fancy amenities. In fact, sometimes simple but smart design is the most enticing thing of all.