Would You Wash Your Face With This Acne-Clearing Sea Sponge? I Did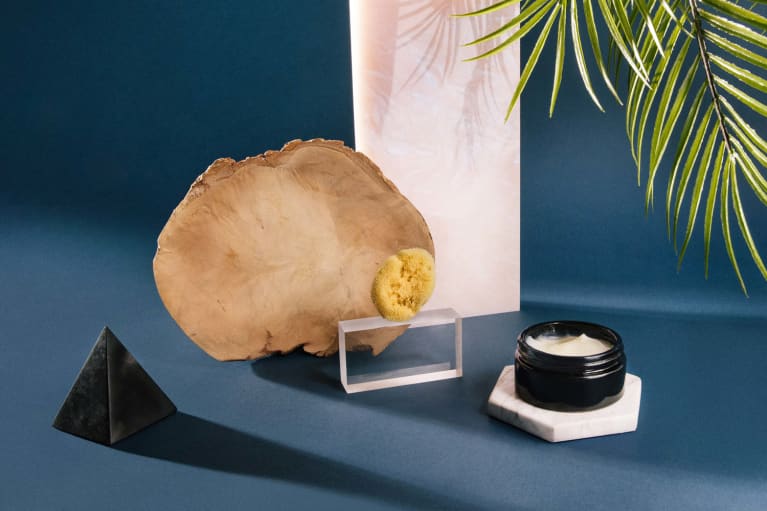 Our editors have independently chosen the products listed on this page. If you purchase something mentioned in this article, we may
earn a small commission
.
I'm just going to get to the point: Washing your face with a fina sea sponge feels like washing your face with a warm cashmere blanket.
And now, a little back story. Argentum Apothecary is a natural, organic, clean London-based brand that recently started selling stateside. I first learned about it a few months ago and was given a few products to try out. Immediately the brand resonated the with me: The products come in beautiful recyclable glass (less plastic!); the ingredients are potent, natural, and organic; and the collection is a very simple edit. Each product also comes with a mini Tarot card, which I love, but that doesn't really do anything for your skin so that's more of a side note.
And what really stood out for me was the La Lune de Velours Nourishing Oil Milk Cleanser. The face wash was a transforming oil balm that starts off something like a slippery pudding and, with water and circular motion, builds into a creamy liquid. It's made with noncomedogenic oils, like sweet almond, argan, and vitamin E, as well as the two star ingredients: a patented Silver Hydrosol, a colloidal silver famous for its antimicrobial properties (great if you have acne), and DNA HP, which is a marine-based pharmaceutical-grade DNA molecule that, according to the brand, can carry 10,000 times its weight in water. And if you're keeping track, that's 10 times the amount of water hyaluronic acid can hold.
But the coolest part: It also comes with a mini fina sea sponge. "These are ethically harvested fina silk sea sponges, sourced from the Mediterranean Sea and hand-picked using traditional methods," says brand founder Joy Issacs, noting that the sponges are cut at the base so they can regenerate.
And when dry, the little blob of sponge feels coarse. Honestly, I couldn't imagine it anywhere near my easily irritated face. I had more or less given up any sort of physical exfoliation years ago, as I realized I had inflamed skin that I was sensitizing through overwashing.
So I did some quick Googling: Apparently people use sea sponges for washing babies, so if it's good enough for their skin, I guess mine would likely be able to handle it.
You start the process by applying the cleanser on dry skin and massaging it into your face for a bit (I use tiny circular motions starting at my chin and working up). You especially want to take some time with it if you are wearing makeup. Oil is great for getting off foundation and eye makeup, so really work it into your skin.
Then, you drench the sponge with warm water, squeeze out some excess, and start gently polishing your face. That's when everything changed. When wet, the sponge just melts into this sweater-soft texture. Massaging it across my face was one of the most gentle, luxurious face-washing experiences I've ever had. After, the brand recommends rinsing the sponge thoroughly with warm water and letting it dry in a space with good air circulation.
Fina sea sponges are said to gently exfoliate, better clean pores, and help remove buildup on your skin, which I could see being accurate. The whole idea is that it buffs dead skin cells away but won't scratch like a scrub or strip away your skin's barrier.
At the very least, it better removed makeup than my fingers and face wash could alone—but that is in the same way that a towel better removes makeup than your fingers. And after using it regularly my skin did feel smoother, but I wasn't sure if that came from the sponge or the cleanser. (I did also try switching it up and using the sponge with other cleansers, and it really is best suited for a nonfoaming, oil-based option. It just blends better with something silky. You lose a little bit of the sensation otherwise.) Overall, too, I found my skin to be brighter after use—and never splotchy or red, which I'll often get with physical exfoliators. And, for what it's worth, I just loved using it for the tactile feeling.
Now, because this is something I hadn't seen before, I had a few questions. And, seriously, there's almost no information out there about this at the moment. So my first question is: Does it work? I reached out to board-certified dermatologist Whitney Bowe. "From a personal standpoint, I love that it's natural and biodegradable," she says. "And from what I can tell, it does seem more gentle than those loofah sponges that would be more abrasive for the face's skin. And if you feel that it's not irritating for you personally, then you can feel fine using it."
But how hygienic is it? That question largely depends on how you care for it. "What does scare me about any of these sorts of things is that if you don't let them dry, they become a breeding ground for bacteria—there are so many small holes and crevices for bacteria to live in and grow," Bowe says.
First and foremost, follow the daily care instructions above—letting the sponge dry in an open space is vital. "You must, must let these things dry completely," she says. And while the brand didn't give any "end date" for it, I'd wager you should replace it the same amount you would for your body sponges: every month. (Don't worry; I found Salus Sea Sponge Silk Facial, and I've already made an order.)
So is this a savior product that we've all been missing out on until now? Unclear, to say the least. But in the meantime, I genuinely just like the experience. And I'm all about a skin care routine that brings you joy. Now, if you need me, I'll be counting down the minutes till I get to wash my face again.