I Tried Lululemon's Revolutionary New Bra. Here's Why I'm Never Taking It Off
mbg Contributor
By Leigh Weingus
mbg Contributor
Leigh Weingus is a New York City based freelance journalist writing about health, wellness, feminism, entertainment, personal finance, and more. She received her bachelor's in English and Communication from the University of California, Davis.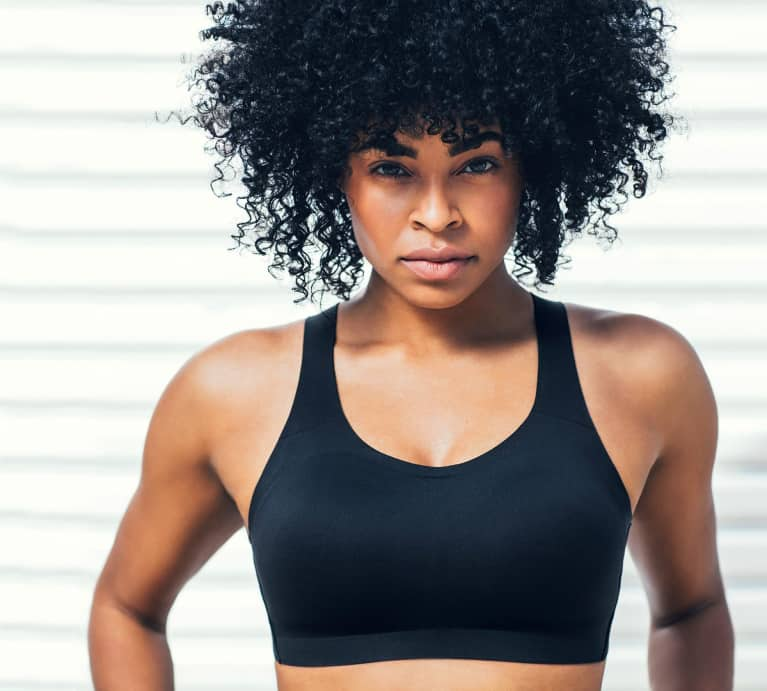 Our editors have independently chosen the products listed on this page. If you purchase something mentioned in this article, we may
earn a small commission
.
While I go crazy for athleisure trends, especially when they promise to improve my performance and make my life more comfortable, I've never been one to put much thought into a sports bra. My bra size is a whopping 34A, so other than not wearing my Calvin Klein cotton bralette on runs (those are strictly yoga-only), I don't have many rules or requirements when it comes to sports bras.
When Lululemon told me they were rolling out their innovative Enlite sports bra, I didn't think much of it. I was skeptical of the clasp in the back, which seemed like it would add an element of discomfort to my savasanas, and frankly I thought it looked a little too high-tech for my simple sports-bra lifestyle. But I have to admit, I was intrigued.
"This particular project started by needing to get to the heart of how women want to feel in their sports bra," Lululemon innovation product manager Alexander Plante told me. "Through our research, we learned that most women feel they have to compromise on comfort, performance, or aesthetics when it comes to this category. In developing the Enlite Bra, we challenged the traditional belief that reducing breast movement is what provides women comfort and high performance."
In other words, this bra is all about embracing breast movement rather than restricting it. It was an interesting concept, so I decided to test it out in two different scenarios: on a run and at yoga.
Here's why it was great for yoga.
While the Enlite bra certainly has as sleek look, it doesn't exactly scream comfort. The back is strappy, and as I mentioned, there's a clasp. I expected to feel confined by such a high-tech bra during a practice that usually requires minimal fabric, but I was pleasantly surprised. I felt like I wasn't wearing a bra at all.
Let me clarify: I felt like I wasn't wearing a bra, but I also felt supported. I was able to jump my feet up to my hands without any bounce, and at no point did I feel like the bra was digging into my skin, which I'm prone to notice when I'm in more relaxing poses. The clasp lay flat and didn't bother me at all during savasana, and when I got home I didn't even take it off. I pulled another shirt on over it and met a friend for dinner.
And here's how it held up on a run.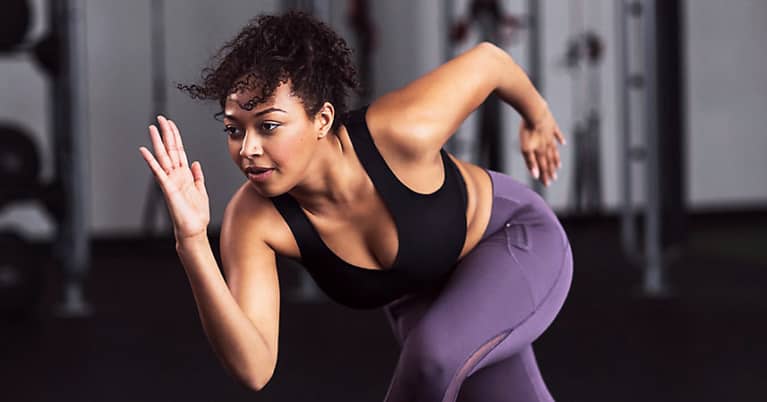 If you ask me, to truly test out any sports bra you have to go running in it. So I did just that, and again, I was shocked. I didn't feel like I was wearing a bra, but I did, because I didn't have to deal with any painful bouncing. I ran a little faster than usual, and while I'm not totally sure I can attribute that to the Enlite bra—like all runners, I have good days and bad days—I certainly wouldn't rule it out.
After a run, I'm dying to take off my sports bra immediately. Without fail. I don't want to spend another second in that tight, damp bra. But this time was different—I lounged around, drank some water, and had a snack while in my sports bra because, again, it wasn't digging into my skin and if it was wet I couldn't tell.
Long story short, I fell in love with this bra as a small-chested woman—but naturally, I wanted to have someone with a larger chest give it a try, so I enlisted Gretchen, our health editor, to take a spin in it. "I'm a 34C, and normally, I really struggle with sports bras; I feel like I have to choose between comfort and support—and I usually opt for a comfy but less supportive bra over one that makes me feel like a bionic woman," she said. "The Enlite Bra looks pretty hard-core, but I was really surprised by how natural it felt when I put it on. The fabric is super soft, so it didn't chafe my arms while I ran, and I didn't feel like it was restricting my motion when I was stretching. It definitely passes the jump test, and it feels smarter than my other sports bras. It doesn't just try to plaster my boobs to my body; it lets them do their thing but still supports them in a way that's hard to describe."
So if you're looking for a new sports bra, I recommend you give this one a try.
Want to further upgrade your athleisure wardrobe? Check out this magical celestial leggings and invest in a pair of flowy track pants.