I Worked Out Like Ariana Grande For A Week & Here's What Happened
mbg Associate Movement & Wellness Editor
By Ray Bass, NASM-CPT
mbg Associate Movement & Wellness Editor
Ray Bass is the associate movement and wellness editor at mindbodygreen and a NASM-Certified Personal Trainer. She holds a degree in creative writing from the University of Pennsylvania, with honors in nonfiction.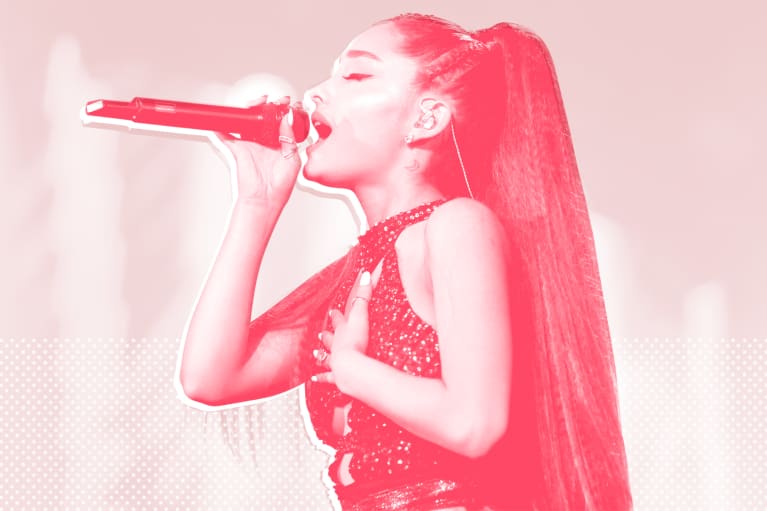 Whenever I think that Ariana Grande is peaking, she releases a new song, album, or wins another coveted award, and I have to walk it back and say, "OK now she's peaking." The pop star has gained recognition for her incredible voice (Exhibit A), relatable lyrics (Exhibit B), and ability to churn out an album in less time than it takes most people to get dressed in the morning. She's also been open about her mental health, specifically her anxiety, which is refreshing AF.
Between her Sweetener World Tour and stopping by Coachella for a very casual headlining performance (as the youngest female artist to ever headline Coachella), it's hard to believe that she can find time to exercise—you know, other than the dancing and performing she does, which is probably a workout in itself.
But in true Ari fashion, she manages to do what superhumans do—she fits in short, effective workouts and stays very active, even on tour. I decided to live a little more like her for a week, namely by trying some of her favorite exercises and adhering to her ever-moving lifestyle. Here's what it looked like.
I had to hit at least 12,000 steps a day.
Grande told Women's Health that she gets 12,000 to 14,000 steps every day, which, as someone who sits at a desk for eight or more hours, definitely took some concerted effort. On busy days, I hardly leave my desk, and I barely clock 3,000 steps (I know, tragic).
To hit Ari's goal during the week, I started walking to a farther subway stop and taking a more roundabout route when walking home from my stop. Even with that, hitting 12,000 wasn't easy. Most days I had to take several walk breaks at work, in addition to my morning workout (unless my workout was a run, in which case hitting that goal was much easier). I did like having that challenge, though, and it made me say yes to going for midday walks outside or taking a lap around our floor. Plus, on the days that I didn't exercise, getting in steps gave me a little endorphin boost that I wouldn't otherwise have gotten. And I will never ever say no to that.
I did so, so many lunges.
It's no wonder than Grande's legs are toned AF—one of her trainer's go-to moves is a walking lunge. Lunges are hard enough stationary, and they're a move I do all the time, but adding the walking aspect made them way harder than I expected. Walking lunges forces you to lunge with every step, and it's a much more continuous motion than lunging in place. Let's just say it got my heartbeat up real quick, and I was pretty damn sore in the days following.
Glute bridges became a daily ritual.
Another move that Grande and her trainer (or maybe just her trainer?) love is a glute bridge. I was always someone who never really "felt" glute bridges, but after doing hundreds of reps that week, my glutes were on fire. Like literally, I checked to see if there were OK. (They were; I'm being dramatic.)
My workouts took way less time.
What I loved about working out like Ariana Grande was that my workouts were shorter and more efficient than they usually are. Instead of spending 45 minutes to an hour pedaling away in a spin class, I could spend 15 to 20 minutes really pushing myself and feel the mental and physical benefits of exercising. Plus, I could do these at home, which cut down on the time it takes me to commute to a class, which can sometimes take an hour.
My body isn't particularly used to HIIT (I prefer running, boxing, and spinning), so even though the workouts were shorter, they still tired me out. I never believed that 15 minutes could really do anything for you, but pair that with 12,000 steps a day and you've managed to fit in some serious movement.
I would be lying if I said I don't look the same. OK, maybe that's not entirely true. The walking lunges definitely toned my legs, and the glute bridges also did something. The longer I live, and the more I work out, the more I realize that the psychological benefits are the ones I'm chasing—that feeling of being more relaxed before I get to work, feeling accomplished after busting my ass, and knowing that soreness means I'm getting stronger.
Would I recommend Ariana Grande's routine to other people? Sure, why not! We could all use an excuse to get more steps in, and even though the workouts are short, I think the best workout is the one you will actually do (which is the one you have time for).