I Tried A Beauty Tutorial From Instagram & Totally Failed. Here's What Happened
Contributing Wellness & Beauty Editor
By Lindsay Kellner
Contributing Wellness & Beauty Editor
Lindsay is a freelance writer and certified yoga instructor based in Brooklyn, NY. She holds a journalism and psychology degree from New York University. Kellner is the co-author of "The Spirit Almanac: A Modern Guide to Ancient Self Care," with mbg Sustainability Editor Emma Loewe.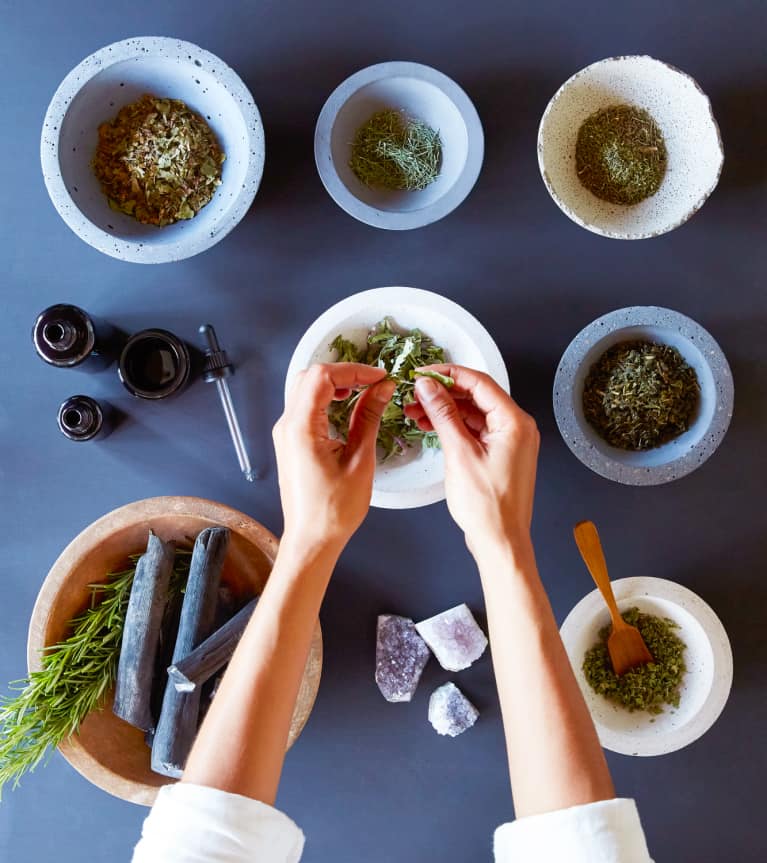 Famed Instagrammer @faradhukai, aka Farah D, is known for her brief and clever natural beauty video tutorials. She subscribes to an all-natural approach to makeup and skin care, using kitchen ingredients to show her massive following—5.7 million on Instagram and 1.8 million YouTube subscribers—that DIY can be both enjoyable and effective.
Having followed her for years, I knew it was finally time to actually do a tutorial when she posted a scalp treatment that promised to make hair grow twice as fast. You see, I'm always looking for new ways to heal my chronic issue: perpetual scalp flakeage. I know, it's pretty gross. I've looked into it extensively and haven't discovered the root cause (yet...I don't think it's simply dandruff, and it's not as severe as psoriasis), so I'm in trial-and-error purgatory. So far, I've tried a few alternative holistic treatments, and I haven't found a "cure," but this post details a few tricks that have certainly helped.
I thought I'd stumbled upon scalp-clearing gold! If this treatment cleared Farah's scalp enough to expedite new hair growth, surely it would get rid of my persistent flaking. I gathered the ingredients and followed her recipe to a T, which meant waiting an entire week for the coconut-oil-and-cayenne-pepper mixture to sit. In the name of a clear scalp, I'll try almost anything.
Seven days later, the treatment was ready. I poured the mixture through a fine-grain filter, ensuring the cayenne pepper was extracted from the now red-hued oil and transferred the liquid to a squeeze bottle with a spout to control the flow. Farah warned the mixture would sting a little, so I applied it gingerly. It took a moment, but 15 minutes later my scalp started to tingle. This is where it gets good: The tingle went from zero to burning in a matter of seconds! Her instructions said to leave it on overnight, which most definitely wasn't happening at this point, or "as long as you possibly can," which for me was about 16 minutes. Every second that went by became infinitely more intense. I had to get this scalp masque off—stat!
I hopped into the shower immediately—the burning was borderline intolerable. I didn't notice or care that my shorts were still on: Washing out this oil was the one and only thing that mattered. In my haste, I got sloppy. Somehow, a drop of the mixture made its way into my eye. It felt like I'd been stung by a bee and then punched directly in the eyeball. While it's hilarious in retrospect, in the moment I could barely open my eye it was burning so much. As painful as this was, the sensation on my scalp continued to intensify so I kept on shampooing.
My husband brought me a cold-cloth compress to soothe my eye, which I did for a minute and then kept washing. After a second round of shampoo, the uncontrollable coughing began. While tossing me the towel, my husband started coughing, too, and I realized I'd inadvertently created a cayenne pepper oil steam in my bathroom, prompting us to tear up, cough, and sneeze. In between laughs, coughs, and actual tears, I finished up in the shower, scalp still burning. The sensation took hours to subside.
This isn't to say that tutorials by Farah aren't trustworthy—her inventive ideas, detailed procedures, and sense of humor have made me an invested follower. The moral of this DIY beauty fail? Patch-test first, even for naturals. As pumped as you may be about trying something new, there's a chance your skin reacts to it differently than the beauty blogger you are following. Lesson learned.
Here's our guide to the best organic natural skin care and makeup by your skin type.