I Cut Dairy To Heal My Asthma (And It Changed My Life)
mbg Health Contributor
By Gretchen Lidicker, M.S.
mbg Health Contributor
Gretchen Lidicker earned her master's degree in physiology with a focus on alternative medicine from Georgetown University. She is the author of "CBD Oil Everyday Secrets" and "Magnesium Everyday Secrets."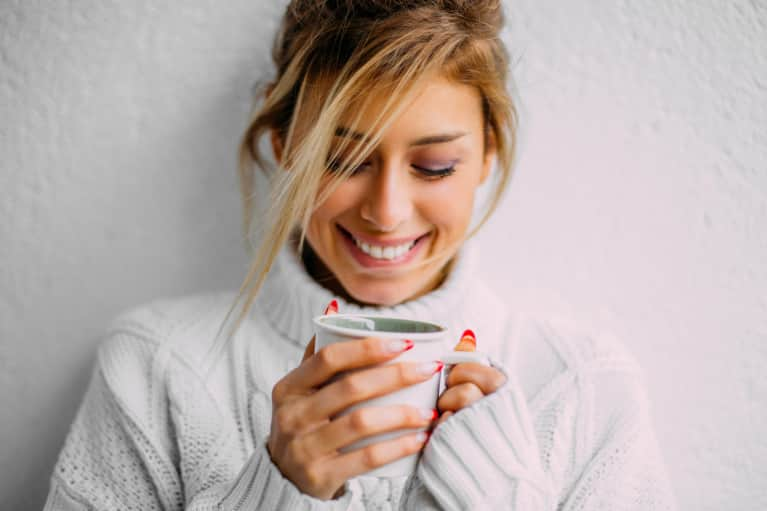 I was always an amazingly healthy kid until I developed asthma when I was 12 years old. At first, it was just typical wheezing after soccer practice (especially on cold) days, but when my family moved from Arizona to Virginia, everything changed. Looking back I think it was the combination of the stress of the move, living in an old house that was without a doubt mold-infested, and being exposed to more grasses and trees in one day than I was exposed to in a month of living in the desert.
During high school I was in and out of the ER, the hospital, and the doctor's and psychologist's office—because not being able to breathe can create some pretty serious anxiety. I would get a normal seasonal cold and it would quickly escalate to a sinus infection, strep throat, bronchitis, or walking pneumonia, which led to weeks—if not months—of wheezing and coughing. I once had a teacher tell me it sounded like I had been smoking a pack a day for 30 years, and it really wasn't an exaggeration.
I missed out on everything; I was always sick, always stuffed up, and had this chronic postnasal drip that made me totally miserable.
When I went to college, one of the personal trainers at my gym—who later turned into my life coach and good friend—listened to my story and suggested that I cut out dairy. She explained that it was causing "chronic inflammation" in my body and it might help reduce the amount of wheezing, sniffling, and coughing in my life. I already knew that dairy bothered my stomach from time to time, but I had never thought to connect that to my asthma. (Breathing and digestion are two completely different things, right?) I always think back to that day and am so thankful that, for whatever reason, I decided to listen to her. I went home and threw out all my yogurt and ice cream and bade an emotional farewell to grilled cheese sandwiches.
What happened next was surprising. After a couple of 100 percent dairy-free months, my sinuses were clear and I was feeling good—really good. I had way less bloating and felt lighter, more energetic, and positive overall. In addition, I didn't go out and buy a bunch of processed vegan cheese products: Instead, I put avocado on everything, learned to love almond milk, and ate extra veggies and nut butters to fill the void cheese had left in its wake.
A few months in, the real test came: I got a cold. I braced myself for a month of wheezing, prednisone, antibiotics, and an ER visit (or two). The cold did travel to my chest, and symptoms of wheezing and coughing returned. I got back on my feet after a couple of weeks, but still had to take a prescribed round round of steroids to recover.
To an outsider it might not seem like much, but to me it was major progress. I felt like a normal person who simply fell sick and got better.
In the months and years that followed, each cold was shorter and a little less traumatic. I felt so motivated by the progress that I saw a naturopathic doctor, who put me on some immune-system-boosting supplements—with echinacea, green tea, elderberry, and mushrooms—and I also did my first detox program.
These days, my colds still last longer than a non-asthmatic. I get a little extra wheezing and coughing, and sometimes it hangs on longer than I'd like, but I'm happy to report that I haven't taken an antibiotic or a steroid since 2012.
Now for the burning question: Did I ever go back to eating dairy? After a few dairy-free months I found that my body really didn't tolerate it anymore. It's almost like it was used to constantly being abused by dairy, but now that it knows better it reacts way more aggressively when I do indulge. Every now and then I'll treat myself to cheese and crackers at a friend's house or real cream in my coffee, but I will always wake up with an uneasy stomach and some congestion in my nose... which is a great reminder of why I eliminated it years ago.
So what does the research say about diary and asthma? According to Dr. Amy Shah, a physician and functional medicine expert, "Medical studies have not panned out on proving that dairy increases mucus asthma or sinus issues. However, in my practice I would say about 40 percent of people that have sinus issues will improve once they cut out dairy and sugar! This is an area of medicine that is quite new and there is more to come on the subject of food sensitivity and sinuses, allergy, and asthma issues."
I would never tell you that cutting diary was the miracle that cured my asthma. It was, however, a huge piece of the puzzle that needed to fall into place before any other healing could occur. We all have our own unique health journeys, but we all have an aha moment along the way when it really registers that what we eat really, truly affects the way we feel. And this was mine. Cutting out dairy changed my life because it made me realize that my whole body was intricately connected and that gut health is everything—it saved me from the vicious cycle of Western medicine and started me on my path to optimal health.
Feeling inspired but need more motivation? Here's what happened when our wellness and beauty editor gave up dairy for a month.