This Integrative Neurologist Hugs Her Patients (And There's A Science-Backed Reason Why)
Integrative Neurologist
By Ilene Ruhoy, M.D., Ph.D.
Integrative Neurologist
Dr. Ruhoy is a board-certified neurologist practicing integrative pediatric and adult neurology in Seattle. She is the owner and founder of the Center for Healing Neurology, and received her M.D. from the University of Pittsburgh School of Medicine.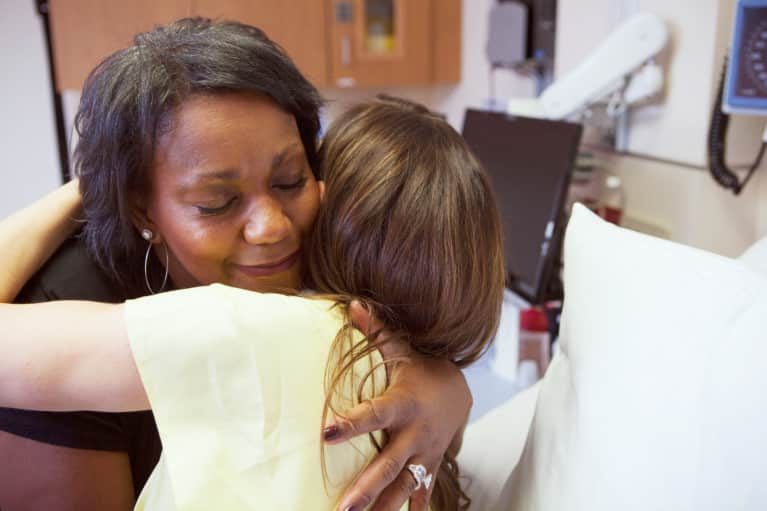 Each morning, when we wake up from a night of sleep, my husband will reach out and put his hand on my shoulder. I then put my hand on top of his hand. We remain quiet and still as our minds and consciousness enter the new day. This simple act of touch eases the transition from asleep to awake; it creates a sense of calm and an inner motivation to start the day with gratitude and strength.
The power of the touch of others has long been used in healing, but unfortunately, it has been largely forgotten in modern conventional medicine. It's my hope, as an integrative neurologist, that this changes and we stop underestimating the healing properties of physical touch.
The power of touch is underrated. Here's why.
Studies have demonstrated that human touch has incredible qualities to calm the nervous system, steady the mind, decrease the heart rate, and lower the respiratory rate. It is even thought to improve our immune function as well as induce the release of important neurotransmitters such as serotonin and dopamine. The biologic and physiologic effects of human touch can be so profound that many integrative physicians include "therapeutic touch" or "healing touch" as part of their care for patients. The physiologic changes that accompany the human touch are thought to be related to an exchange of energy in the form of electrons.
I certainly do, as I have been known to hug my patients, usually in the middle or at the end of the appointment. I might place a hand on their shoulder or hand when I deliver difficult news or even during a follow-up when symptoms are progressing. I hug their family members to thank them as they are the support for my patients but also need support themselves. Many of them are surprised and perhaps a little taken aback that their neurologist is hugging them, but they soon get used to it.
Hugging helps to develop closeness, trust, and foster a sense of mutual understanding and caring that is vital in a doctor-patient relationship; it gives us a personal doctor-patient moment.The act of hugging also releases oxytocin stored in the pituitary gland, which is often affectionately referred to as the "love hormone" because it helps us bond with our newborns. That feeling of love, familiarity, and fellowship is why we have the instinct to hug our children, our parents, and our friends. Knowing this, it's no surprise that newborns who are not held regularly often have difficulty with growth and development.
Why physical touch can change your brain (literally).
You're all probably familiar with the idea that meditation or cognitive behavioral therapy can help rewire the brain. But a similar concept actually applies to physical touch. And that's because it's not just children's brains that grow and develop. In fact, the adult brain retains the ability to adapt and change throughout life depending on what we do, how we think, our ability to express emotion, and to what we are exposed.
The brain can strengthen existing synapses between cells as well as build new connections and improve signaling transmission. This means that certain exercises or experiences can decrease anxiety and depression, enhance cognition, and improve our confidence and outlook on life. When we are touched by others, we feel a sense of belonging to a community, and we feel cared for. Human touch in our lives is important in our quest to thrive and flourish and has even been shown to help in the case of serious illnesses like cancer. Luckily, we don't need a partner or lover to gain the benefits of physical touch. We can still garner this effect even with a hand on a shoulder, a hold of a hand, or a touch on the arm from someone we care about in a totally platonic way.
How to use physical touch to enhance your life.
Knowing all about the science of physical touch, you might be tempted to think that it's difficult to reap all those benefits. But really, it's as simple as creating moments when you feel physically connected to others. For example:
1. Hug your friends and family three to five seconds longer than you normally would.
2. Touch someone who is suffering or feeling sad or lost.
3. Hold hands with your partner, your child, your friend.
It's nice to know that something we instinctively do is backed by science as an effective way to enhance our lives, our relationships, and even our ability to heal. It's just another reason to believe that wellness isn't just about the individual, it's about You. We. All.
Want to learn other ways to calm your mind? Here's what you should know about the vagus nerve and anxiety.