Breaking Out Around Your Eyebrows? You Might Have Your Mask To Blame

mbg Associate Beauty & Wellness Editor
By Jamie Schneider
mbg Associate Beauty & Wellness Editor
Jamie Schneider is the Associate Beauty & Wellness Editor at mindbodygreen, covering beauty and wellness. She has a B.A. in Organizational Studies and English from the University of Michigan, and her work has appeared in Coveteur, The Chill Times, and Wyld Skincare.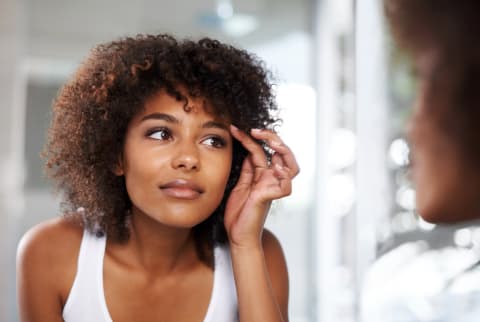 Image by PeopleImages / iStock
Our editors have independently chosen the products listed on this page. If you purchase something mentioned in this article, we may
earn a small commission
.
June 19, 2020
As you may know by now, you can experience breakouts in the unlikeliest of places. The ears? Yep. The scalp? You bet. After all, anywhere you have sebaceous glands (aka pores) has the ability to clog up with oil and debris. So it only makes sense you could experience some acne along your eyebrows. That doesn't make those pesky pimples any less annoying, but just know that it happens from time to time.
But if you're noticing more of those blemishes popping up right now, the reason might be a little more—shall we say?—pandemic-focused. According to board-certified dermatologist Loretta Ciraldo, M.D., FAAD, you may have your face mask to blame.
Advertisement
This ad is displayed using third party content and we do not control its accessibility features.
How can your mask cause eyebrow breakouts?
You're probably thinking: Wait, shouldn't my mask cause breakouts around my mouth, nose, or chin? And it very well may (a clever little thing dubbed "maskne"), but according to Ciraldo, wearing a mask can actually cause some sweat to collect around the eye area. Why? "Because our breath travels up," she explains. When that happens, "more heat and moisture can collect there and can lead to clogged pores."
Think about it: When you're wearing your mask, you likely feel your face heating up. That extra heat might just be due to the fact that you have a cloth covering over your face during summer, sure, but the heat of your breath is also a factor. And where else can your breath go but through the smaller openings up top?
What should you do?
First things first: Make sure you're thoroughly cleansing your face each day. Even if you aren't wearing makeup, it's a nonnegotiable; you still have dirt, oil, and residue from past skin care products building up on your skin—even around the eyebrow area. Especially if you're one to swipe on some brow gel before a morning meeting, you'll want to take extra caution to cleanse all that residue. "You can absolutely clog the pores around that area, so you should make sure to cleanse the makeup around your eyebrows thoroughly each day before bed," celebrity makeup artist AJ Crimson tells mbg.
On a similar note, you might want to switch out your brow products, especially while you're more prone to some summer sweat. Brow gels tend to have occlusive properties, which is great for keeping your brows fluffy and in place. But those properties could be doing more harm than good while you sweat—those waxy gels have the potential to block your pores and break you out. So if you're partial to products with a wax base, Crimson suggests switching to a powder-based product or pencil for the time being. See if it helps, and consider switching up your summer look.
Advertisement
This ad is displayed using third party content and we do not control its accessibility features.
The takeaway. 
Unfortunately, the concept of "maskne" seems to reach more places than the actual surface area of the mask itself. Of course, the breakouts and skin irritation from wearing your mask are not an excuse to skip wearing one, especially as some states start to ease up on lockdown restrictions. Just consider them a sign you should take extra care with your skin routine, swap out your brow products, or simply ditch the makeup altogether.
Advertisement
This ad is displayed using third party content and we do not control its accessibility features.
Heal Your Skin.
Receive your FREE Doctor-Approved Beauty Guide