New Science Has Fascinating Findings About How You Should Think About Your Baby While You're Pregnant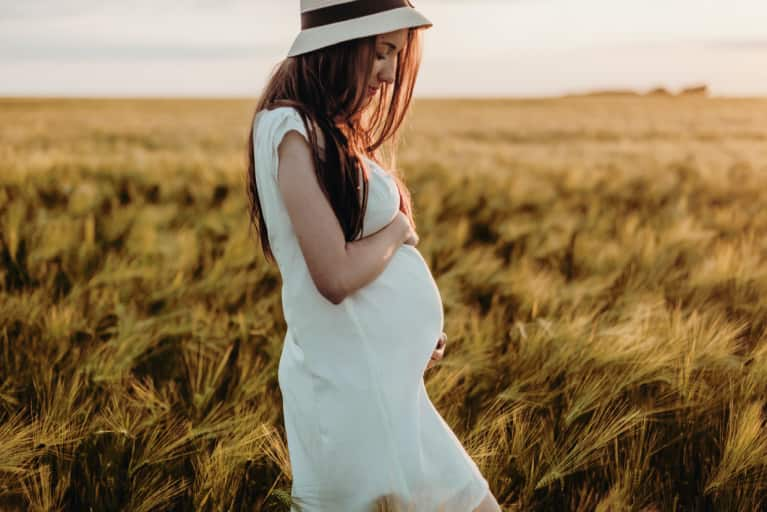 Ever feel like health news is too overwhelming, fast-paced, or hard to decipher? Us too. Here, we filter through the latest in integrative health, wellness trends, and nutrition advice, reporting on the most exciting and meaningful breakthroughs. We'll tell you exactly what you need to know—and how it might help you become a healthier and happier human.
Whether you're pregnant or thinking about trying to conceive sometime in the future, a new body of research conducted out of the University of Cambridge found that how a woman thinks about her baby while she's pregnant could have a long-term impact on the child's development.
The findings, which come from 14 studies involving 1,862 women, interviewed expectant mothers about their mindset around their unborn child. The research found that when women had a "balanced" representation of their child, meaning they were excited about their child's birth and could see them as an individual with their own thoughts and feelings, they were more likely to interact in a positive way with the child once it was born, which had a positive impact on his or her development.
On the other hand, if they had an "unbalanced" view of their baby while in utero, meaning they either idealized their child or had incomplete, distorted descriptions—meaning they couldn't properly visualize them—the babies typically faced greater developmental problems.
"Studies have shown that parent-child interaction is crucial for a child's development and learning, so we wanted to understand if there were prenatal signs that might predict a parent's behavior," explained study author Sarah Foley.
While more research needs to be conducted on this topic, it's further proof of the amazing power of the human mind.
Want to prepare your body for pregnancy? Here are 21 ways to do it.