Study Finds Fitness Trackers Can Predict Flu Outbreaks
mbg Editorial Assistant
By Christina Coughlin
mbg Editorial Assistant
Christina Coughlin is an editorial assistant at mindbodygreen. She graduated from Georgetown University in 2019 with a degree in psychology and music.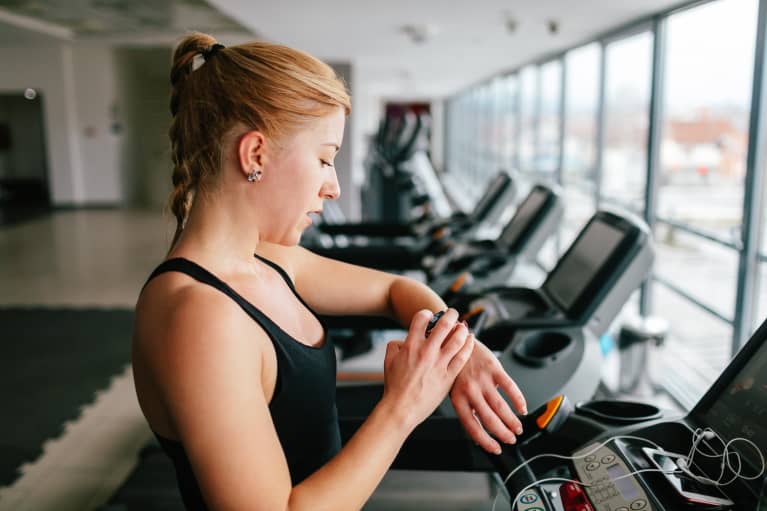 January 21, 2020 — 23:05 PM
Fitness trackers do a lot—help boost a workout, monitor progress, and promote healthy behaviors overall. But what if they could predict a flu outbreak in your area, making it easier to take appropriate precautions? Turns out, they may be able to.
A new study published in the Lancet has identified fitness trackers as great tools for following health trends in specific areas and identifying potential flu outbreaks.
Here's how they found out: Researchers looked at fitness tracker data from 200,000 users in California, Texas, New York, Illinois, and Pennsylvania. All participants were tracked for a period of at least 60 days when they were wearing their devices, and data was collected over a period of two years. The measures of heart rates and sleeping patterns were then compared with each state's weekly estimates of influenza-like illness rates from the Centers for Disease Control (CDC).
Results showed a correlation between abnormal data, such as irregular sleeping patterns or elevated heart rates, and a rise in flu outbreak in each state where the study took place. The study discovered that the data from fitness trackers was actually able to predict these outbreaks faster than the CDC's prediction method.
The flu is a serious virus that affects millions of people each year, and identifying outbreaks as soon as possible is essential to minimize the damage. Head researcher Jennifer Radin, Ph.D., says, "Responding more quickly to influenza outbreaks can prevent further spread and infection, and we were curious to see if sensor data could improve real-time surveillance."
What's next for the research?
Now that we have the answers, researchers are hopeful that these kinds of devices can help with larger public health issues that affect more than just the individual.
They hope that in the future, further technological developments of fitness tracking devices will be able to predict even more health outbreaks by tracking other measures of health.
"In the future, wearables could include additional sensors to prospectively track blood pressure, temperature, electrocardiogram, and cough analysis, which could be used to further characterize an individual's baseline and identify abnormalities," the study says.
With the recent spread of viruses across the country and the peak of flu season upon us, any way to predict possible health crises ahead of time is a welcome one. In the meantime, avoid the flu this season with our best doctor-approved tips.