How You Can Help Victims Of Hurricane Harvey
mbg Contributor
By Allison Daniels
mbg Contributor
Allison Daniels is a freelance writer currently living in New York. She received her bachelor's degree from Belmont University in creative writing and spanish.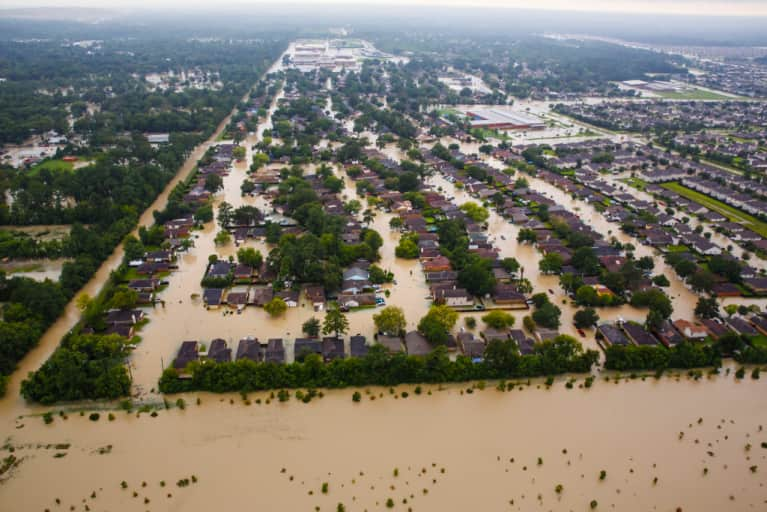 August 30, 2017 — 23:00 PM
Having spent the first 18 years of my life in Houston, Texas, the phrase "hurricane warning" never held much terror for me. I remember when Hurricane Allison was expected to tear through my neighborhood. My mom and I stayed up all night elevating our furniture and making sure any valuables and family mementos were safely stored in the attic. We spent 16 hours making a two-hour drive to my Memaw's house (that's Texan for grandma), and we returned on Monday to a home that looked exactly the same as it had when we left.
So, last Thursday, when my mom texted me that Hurricane Harvey was expected to be a category three storm, I wasn't especially alarmed. On Friday morning, when she sent pictures of the duct-taped, sandbagged exterior of our home, I thought, "Wow. Good for her. She's prepared." When I found out most of Harris County (Houston's home county) was being evacuated, I started to wonder if we might actually have anything to worry about, and I felt a wave of gratitude that my mother and sister were taking shelter at Memaw's ranch, out of the path of the storm.
It was only on Sunday morning, when I woke up to photos of my childhood home drowning in waist-high water that I realized Harvey was the once-in-a-lifetime disaster that no one is ever really prepared for—that I never expected to come. But even as the enormity of the catastrophe began to sink in—even as my Facebook feed filled up with photos and videos of the neighborhood I grew up in, the street I went to school on, the park I used to play in swept away like so many grains of sand—I felt lucky.
Nearly a third of Harris County is still submerged. Police have rescued 3,500 people and counting. But more than a foot of rain is expected between now and Friday, and as long as the rain continues, the death toll will rise. At last count, it stands at 16—including Sergeant Steve Perez who drowned while trying to drive to his duty station. The number of people missing is as yet inestimable. Some 30,000 people have been or will be forced from their homes. The George R. Brown Convention Center, with a capacity of 5,000, had taken in 9,200 people as of Tuesday morning.
The danger is not yet over. As storm runoff collects, the Brazos River is swelling, and expected to rise to a record height of 59 feet, and cause record flooding. Large portions of Brazos County are under mandatory evacuation, though some people have been unable to leave due to road closures.
The total cost of this disaster—to the infrastructure of these cities, to priceless memories, and to human life will be incalculable.
Most major freeways are still underwater. My mother and sister don't know when they'll be able to return to their homes. In the meantime, the wood floors in our dining room are buckling and my mother's freezer is leaking melted ice cream. None of us knows how many childhood photo albums, homemade Christmas ornaments, or other irreplaceable mementos will be lost forever. But people I love are safe; their homes, at least, still stand.
For many people, the idea of "home" no longer exists. They have no choice but to start over—to build a new life, from the ground up. None of us can stop the rain from falling, the wind from blowing, or the pain of loss from landing where it will. But we're not powerless to help. There are more ways to lighten the burden faced by survivors of this storm than most people realize. Diapers, bedsheets, toiletries—things we take for granted—are necessities these displaced families are going without.
So, don't let yourself be paralyzed by the enormity of what's happened. And don't let the vast array of options overwhelm you. Give what you can—in time or money, thoughts or prayers—to the cause or causes that speak most to your heart. Your donations will go toward meeting basic human needs—and I'll outline a few ways to contribute below. But no matter what, how, or how much you give, the simple act of giving generates a crucial component to healing: hope.
The organizations on this list have been vetted, so you can be certain that your donations will help the people and organizations actively assisting those impacted by Hurricane Harvey.
1. Hurricane Harvey Relief Fund
Houston mayor Sylvester Turner established the Hurricane Harvey Relief Fund in response to inquiries from people wanting to help. It's administered by Greater Houston Community Foundation and will be providing local flood relief to those impacted. Donate here.
Serving one of the most affected areas, the Houston Food Bank will be providing food and supplies to residents of southeast Texas now and for the next several months. You can donate money here. If you're in the area, you can also volunteer or donate food and supplies directly.
3. Food Bank of Corpus Christi
Animals are endangered and often separated from their caregivers during natural disasters. The Houston SPCA specializes in disaster-related rescue, recovery, and relief efforts. You can donate to help the efforts here, volunteer to help care for the rescued animals here, or apply to be a foster parent for animals who aren't yet adoption-ready here.
Austin Pets Alive is doing everything it can to help shelters in the path of Hurricane Harvey. Their team has transferred nearly 500 animals to the Austin shelter, and expects more to come. You can donate funds to help them care for the rescues here. If you're in the area, you can also apply to be a foster parent here.
Global Giving is accepting donations for the crowdfunded Hurricane Harvey Relief Fund. They've explicitly stated that "all donations to this fund will exclusively support relief and recovery efforts from this storm." In the early days, the money from this fund will help first responders meet survivors' immediate needs for food, fuel, clean water, hygiene products, and shelter. After the more emergent work begins to abate, whatever money remains will be used to fund longer-term recovery efforts run by local, vetted organizations in the Gulf Coast. You can donate to the fund here for four more days.
If you want more information about where to give, nonprofit-vetting organizations like Charity Navigator, Charity Watch, and Guide Star can help.