7 Ways Yoga Teacher Training Changed My Life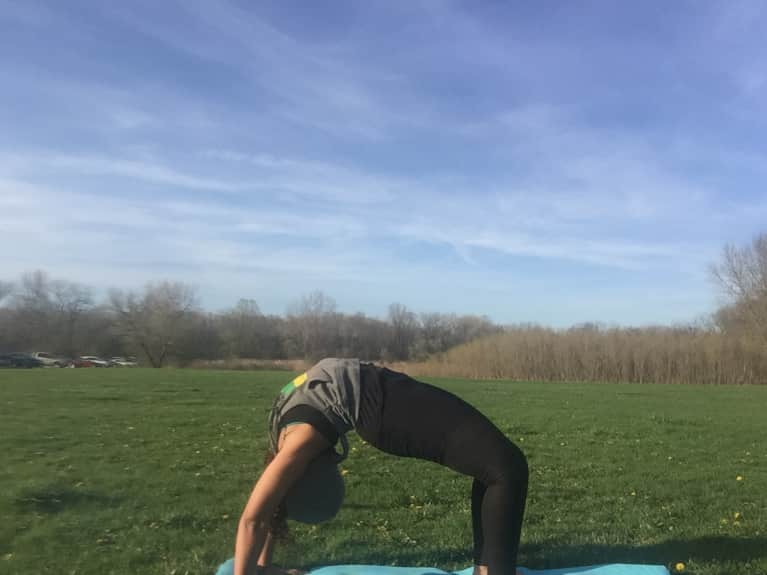 Nearly two years ago I wrote my first mindbodygreen piece. Thank you mbg and all your readers! Because of each of you, my humble story literally traveled around the world and connected me to the one and only Elena Brower. When her friend Bozhana (all the way from Bulgaria!), encouraged Elena to read my piece, she shared with me the gifts of her work in meditation, yoga, and friendship. Over the past 21 months, Elena has connected me to opportunities and individuals who have been vital to my personal development and cultivation of my own yogic journey.
I am now a 200-hour certified yoga teacher. This dream would have been out of reach if it weren't for another of Elena Brower and one of Elena's friends, the angel Stacy (on the West Coast). Her investment, coupled with a scholarship from the school, Prairie Yoga, covered the cost of my training. Women from around the world came together to create a miracle in my life.
Here are 7 ways this miracle of yoga and yoga teacher training changed my life.
1. I am better acquainted with myself.
My initial goals for YTT were to master some jazzy poses and memorize yoga history. Although I have been introduced to new postures and yogic texts, I'm truly learning how to explore me. Through asana, pranayama, and dharana, I am becoming aware of imbalances in my body, breathing, and emotions. The Yoga Sutras of Patanjali served as a dissecting instrument on my psyche. I now challenge long held assumptions about everything from poses to parenting but it's merely the beginning of my journey within.
2. My confidence has grown.
Yoga teacher training is hard work. A reputable program has high standards. The. curriculum is rigorous and the schedule demanding. And all my familial and professional responsibilities had to be maintained. There were moments fatigue, but I learned to give myself grace and compassion I needed meet the demands of life and training. Meeting challenges in this new light of balance and compassion let's me know I'm capable of doing hard things with grace and patience.
3. I am no longer afraid of Ayurveda.
YTT has exposed me to the richness of Ayurveda. I'm in no way an expert, but I no longer cringe because Ayurveda seems "too hard." I was blessed to receive instruction that emphasized gradual and reasonable incorporation of Ayurveda without watering down the science. I'm learning ways to incorporate the foods and practices that benefit and compliment my constitution but with baby steps.
4. I'm letting go of my "yoga body" hangups.
I gained 20 pounds during my training! I'd be a liar if I said I'm completely ok with the weight gain because I am not. However, I'm working to accept and embrace where I am. Four months into training, I began a new job and my fitness routine fell off a cliff. My only exercise was asana until a few weeks ago. My yoga practice has continued to develop but my body also likes cardio and strength training. I want to lose the weight because I'm more comfortable and feel healthier at my former weight. Still, the scale is not the be all and end all of my journey. Yogis come in all sizes and bodies, and weight, like life tends to fluctuate.
5. I'm learning to enjoy the journey.
Yoga history and philosophy could take several lifetimes to study and there would still be more to learn. The journey to the self is the same. I hope to do Asana until my last days, but more so, I desire to develop my character, heart, and relationships by focusing on the yamas and niyamas. God be my help and my strength, I'm in this for the long haul.
6. I am convinced yoga has the potential to be more than a personal or individual practice.
Most people come to yoga for very personal reasons. We come to lose weight and stress and to gain flexibility and strength. When I first dabbled in yoga I was trying to 'firm up' after having my eldest son. When I committed to yoga I was seeking peace of mind and body. The benefits of my practice are too valuable to keep to myself. The mindfulness, self awareness, and intelligence in body and soul yoga cultivates has the power improve relationships ,families, and communities.
7. I'm empowered to share what I've learned.
Yoga practitioners are quick to espouse that "yoga is for everybody." I agree. The sentiment is true in theory! The notion of such diversity and inclusion doesn't translate to most studios, gyms, and trainings across the country. Sadly, in many cases, there's an air exclusivity surrounding mainstream Western yoga. I'm often the only person of color in classes. I'm a black woman, far from skinny, a single parent of four, and I'm poor. I am what diversity in yoga looks like! There are so many people who look and live like me who can benefit from all Yoga has to offer. It's my heart's desire to share yoga with anyone who wants to learn. I'm in the process of developing avenues for marginalized and disenfranchised individuals and groups to access affordable and culturally relevant yoga.
I'm tremendously grateful for all YTT has brought to my life. As wonderful as yoga is, I don't peddle the tradition as a quick fix. My practice isn't a panacea that's eliminated the challenges of my life. Yoga's deepest transformative effects are gradual and incremental. I continue to struggle with family friendly employment, financial security, bouts of depression and anxiety. Nonetheless, yoga, prayer, and the goodness of God provide a container for my life that stills me in the midst of the wildest of storms and allows me to appreciate all the love, beauty, and possibilities of life. I hope what I've learned and all that's been invested in me, will be a blessing to others.
Inspired? Find out what the science says about using yoga to treat pain, and read about how yoga transformed one couple's relationship.