I Had Cancer. Here's Why Yoga Was Crucial To My Recovery Process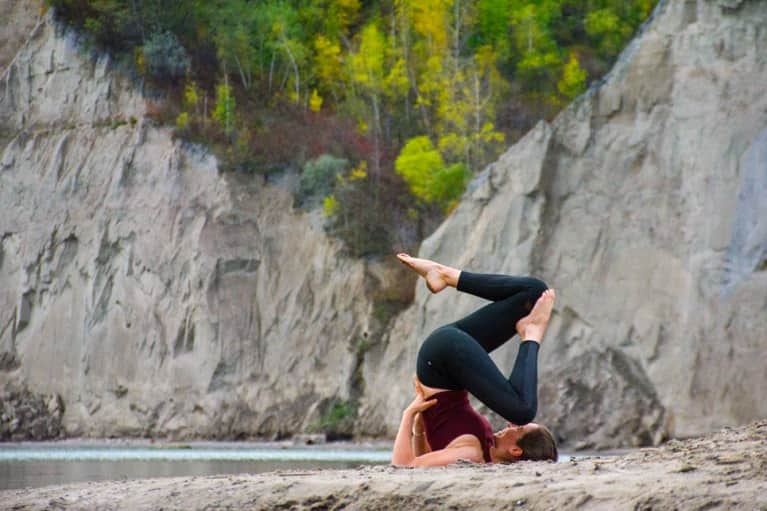 This year marks a pretty big milestone in my life. This year, I am five years cancer-free. That means it's the year that by textbook standards, I can officially call myself a cancer survivor. Pretty big, right? Even after five years, the whole experience still seems a little surreal.
I was 21 when I was diagnosed with lymphoma, and my world as I knew it was turned upside down. I was a young, active girl in my third year of university—how could I have cancer? I don't think anyone ever expects to hear those words. It isn't exactly something that you can prepare yourself for, and it hits you like a ton of bricks. It's hard, it's scary, and it's completely life-changing.
When I was first diagnosed, I tried to maintain some form of normalcy as I was thrown into the world of a cancer patient. But doctor's appointments and chemotherapy sessions quickly became my new normal. After a few months of treatments, I had lost all my hair, and my body had become weak and fragile. My skin was pale, and my arms were covered in bruises from IV needles.
I have always prided myself on being a positive person—a glass half full, "look on the bright side" kind of girl. But at this particular point in my life, when I looked in the mirror I didn't recognize myself. I tried but it was so hard to feel beautiful. My body felt completely foreign to me and this was by far the most difficult, frustrating, helpless feeling that I have ever experienced.
Then I started taking yoga, and it changed everything. I had never taken it before, but I started learning valuable lessons immediately after my first class. I've listed my favorites below:
1. Feeling good in your body.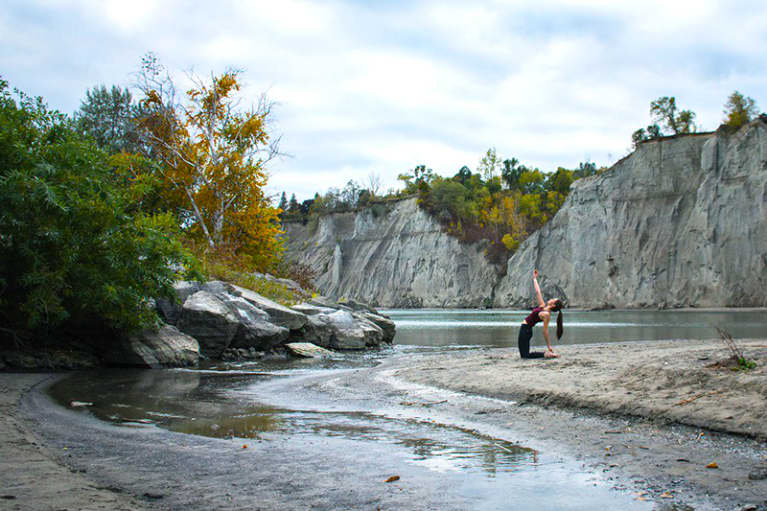 Do you know your body? I didn't. Before being diagnosed with cancer, I had never even heard of the lymphatic system. I was disconnected. The practice of yoga teaches us to connect with our bodies. What feels good and what doesn't? Which parts of your body are tight? Which places do you need to build strength? Not only will practicing yoga asana make you physically stronger, but it will give you a greater awareness about what your body wants and needs.
2. Quieting the monkey mind.
Have you heard of the monkey mind? Most of us experience some version of it—the constant thoughts rushing through our minds. With all that noise going on inside our heads, it becomes crucial to create space by quieting the mind. Many people find it difficult to achieve this but know that it is not a natural or intuitive task. It is a learned skill. The practice of yoga teaches us this skill, starting with awareness of the breath to bring stillness to the mind.
A lot of the time, we find ourselves thinking about the future or reminiscing about the past. Yoga helps bring us into the present moment—the only moment that truly matters. We all have our pain, our problems, and our plentiful to-do lists, which can make it so difficult to stop and just be. When you dedicate time to your yoga practice, you are giving yourself a break from stress, worry, sadness, fear, and any other negative emotions that you are feeling. Being on your mat teaches you that no matter what is going on in your life, it is possible to find a moment of peace by stopping to breathe and fully experience the present moment.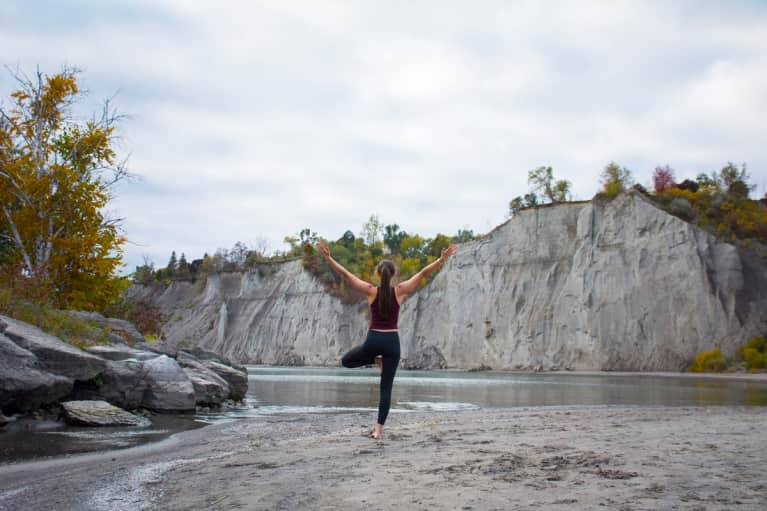 What are you grateful for? It doesn't have to be something huge. In fact, it can be as simple as having a hot cup of tea to enjoy. A daily practice of gratitude is so wonderful for your happiness and well-being. The practice of gratitude trains your mind to look for things to appreciate instead of focusing on something negative.
This appreciation, no matter how small, triggers joy. You can bring gratitude into your yoga practice by taking time on the mat to think of three things that you are grateful for at the start of your practice. This recognition of gratitude will inevitably create a positive energy shift for the rest of your yoga time and for the rest of your day.
5. Loving yourself unconditionally.
If there is one thing I am absolutely certain of, it's that each and every one of us is totally and completely beautiful. We are unique, wonderful humans trying to do our very best in this world. It can be so easy to see this beauty in others. The problem is that sometimes we fail to see this beauty in ourselves. We focus on things that we don't like about our bodies, which brings our self-confidence down. But when our confidence is low, we are less able to make positive changes for ourselves.
Practicing yoga brings us in and lets us see the beauty at the core of our being. Yoga teaches us that beauty doesn't stem from the body or the mind but from the soul. Once you learn to recognize that you are indeed a beautiful soul, it becomes impossible not to love yourself, from the inside out. As you can see, there is so much power in the practice of yoga.
Not only does it change your life when you're on the mat, but it inevitably has spillover effects into life off the mat. I am so grateful that I found yoga, especially during a time when I needed it so dearly. Finding yoga has forever changed my world in the very best way possible. I hope I have convinced you that adopting a yoga practice is one of the most powerful gifts you can give yourself. So, what are you waiting for? Get out there, get on your mat, and practice your yoga! Beautiful, wonderful yoga.
Inspired by this story? Read about the woman who is determined to make us all talk more about mental illness among college athletes.