Is Yoga The Key To Acing An Ironman? This Triathlete Thinks So
Written by
Leigh Weingus
Leigh Weingus is a New York City based freelance journalist writing about health, wellness, feminism, entertainment, personal finance, and more. She received her bachelor's in English and Communication from the University of California, Davis.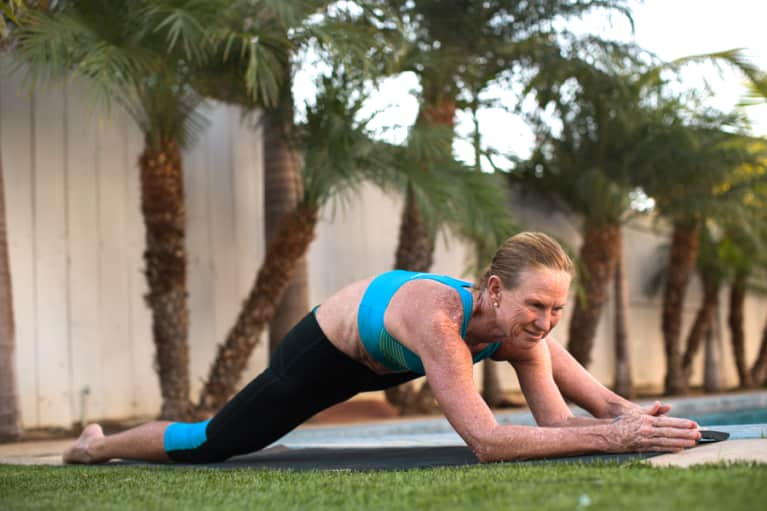 When Julie Moss first got the idea of running a triathlon into her head, it was 1982 and she was working on her thesis in exercise physiology. Although she hadn't trained for it, she decided to take a stab at a race she'd been studying for so long.
Surprisingly, she found herself in the lead—but toward the end, she realized she was running out of steam. "I realized I couldn't take another step, and in that moment I had to make a decision: And the decision was that I was going to finish," she remembers. "So I started to crawl, and I crawled across the finish line."
It's been 35 years since that first Ironman, and despite nearly passing out, Julie remembers being invigorated by it. And a little afraid, too. "It led to so much attention and so many opportunities, but at the heart of it, I was scared to death," she admits. Still, she's been running triathlons ever since—and she credits the majority of her success as a triathlete to yoga.
While there's no question that her first Ironman had a bit of a terrifying ending, Julie found she quickly caught the triathlon bug. And while the thought of racing excited her, she found she was constantly battling with her ego and getting anxious before every race. "I constantly felt like I would have to go back to that place of nearly falling apart physically to ever be successful," she admits.
So while she continued to compete, a part of Julie constantly felt afraid of ever hitting the low point of her first race again. "I had no concept of what was going to be the thing that broke me down," she says. "It wasn't ideal."
Discovering yoga and finding joy.
These days, there's nothing Julie finds more joy in than racing—and she attributes that joy to yoga. "Very candidly, yoga brought me out of a dark place. I was recently divorced, then I got terrible bronchitis, which made it hard for me to run, and that's when I discovered yoga," she says. "It didn't take long for me to realize that yoga also strengthened my mind/body connection, which proved to be crucial to my triathlon performance."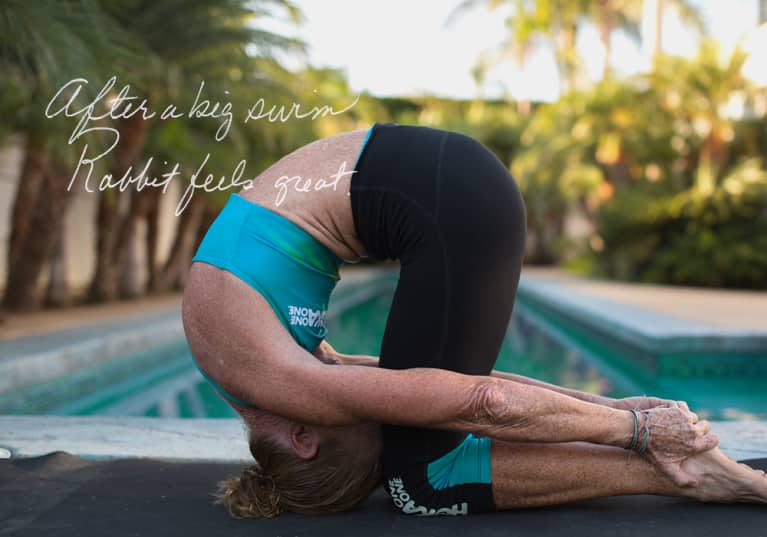 While healing from her bronchitis, Julie discovered that in addition to giving her a kind of mental strength she had never before experienced, yoga gave her the skills to breathe through every challenge. "I give yoga all the credit for my ability to compete in Ironmans after all these years," she says. "Because at 58, almost 59, you get balance, upper body strength, and abdominal strength. Yoga helps me avoid injury and just feel so much stronger overall. I end nearly every day with yoga—I practice six days a week.
While competing in an Ironman this past April, Julie found herself applying a surprising mentality to it: what she calls the "Vinyasa Ironman." Where she had once thought of these competitions as something to force herself through, she finally started thinking of it as a flow.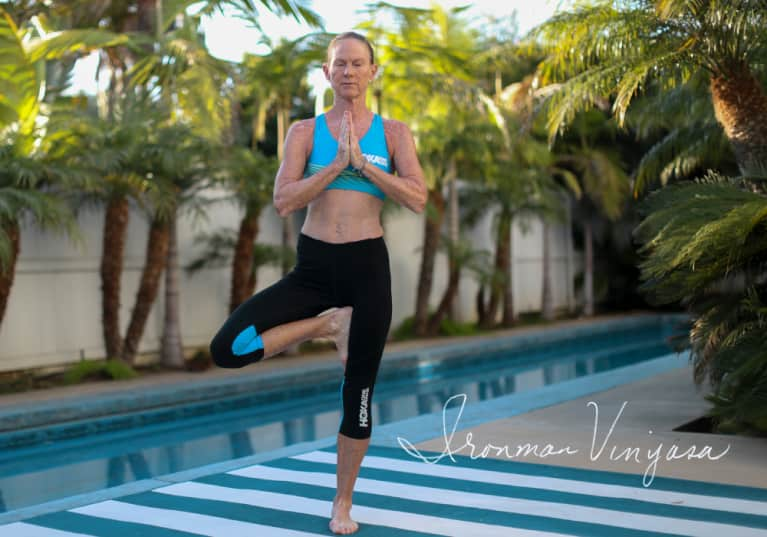 "As a triathlete, you don't have to be the best swimmer, cyclist, or runner," she says. "You just have to be the best person at connecting a swim to a bike to a run. The yoga practice has subtly ingrained the idea of flow into my life, not just into my triathlon training. It's that grace. Whether you're dealing with a difficult situation with another person or looking to find peace within yourself, that idea of taking a breath, taking a moment and centering yourself—that's been a huge part of my life."
Inspired by Julie's story? Read about the triathlete who completed her 60th ironman while pregnant.