Yoga Has Changed A LOT In The Last 5,000 Years. Here's How To Make It Work For You
mbg Class Instructor & Yoga Teacher
By Caley Alyssa
mbg Class Instructor & Yoga Teacher
Caley Alyssa is a internationally renowned Los Angeles–based yoga teacher. She is a Certified Holistic Health Coach by the American Association of Drugless Practitioners, and has completed multiple yoga trainings, including Yoga Works 200-hour Teacher Training, Dharma Mittra 500-hour Teacher Training, and Yoga Tree 200-hour Teacher Training, among others.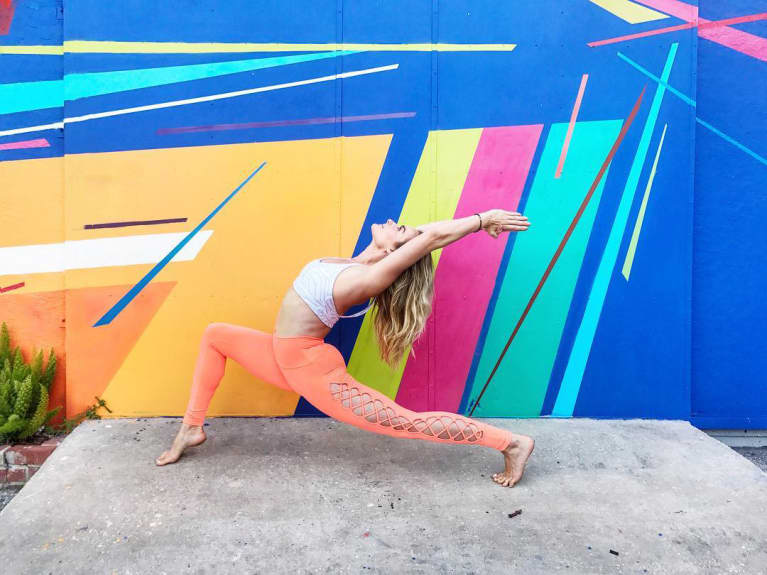 Our editors have independently chosen the products listed on this page. If you purchase something mentioned in this article, we may
earn a small commission
.
Internationally renowned yogi Caley Alyssa is an LA-based yoga teacher and the founder of Caley Yoga. She's passionate about helping others manifest the life of their dreams through yoga, and she's doing just that in mbg's newest online training, 100-Hour Yoga Training. Transform your life with the help of Caley Alyssa in this immersive training.

There's no doubt about it: Yoga has changed. Yoga was first created 5,000 years ago—or so we think—and at the time, it was mostly a mental practice. Renouncing all your belongings and meditating in the mountains was the ultimate yoga practice. Back then, spiritually austere gurus taught people how to meditate to attain enlightenment.
If you look back and read the classical yogic texts like Patanjalis Yoga Sutras, The Upanishads, the Goraksasataka, Hatha Yoga Pradipika, and others, you'll rarely—if ever—find asana (physical yoga) mentioned as a key feature of yoga. This is because physical health and fitness weren't the main focus back then, and for good reason. Imagine a human being living roughly 5,000 years ago, and picture what their typical day looked like. They rose with the sun, worked a physically demanding job building, growing food, or producing goods and materials. In other words, the need for physical movement and exercise was minimal if nonexistent in the early days of yoga. And so the practice of yoga became meditative—just what was needed during that time.
Now, let's take a look at yoga today. In the West, yoga began as a primarily physical practice. This is because a typical day in the life of a human being is much more stagnant now: We work behind a computer screen, desk, or drive a car all day long. We are much more in need of the physical asana practice, so that's what's we crave.
Now, with meditation on the rise, Westerners are realizing that we need both asana and meditation in order to work toward a more aware, more connected life. All that said, the general population is catching on to all the benefits of yoga, and this ancient, sacred practice is now going mainstream. Yoga is so popular that it is now an industry in and of itself. This can be controversial and challenging to navigate because it's a walking contradiction—an ancient spiritual practice that now generates celebrities instead of certified yoga teachers.
So, what can you do to make sure you get the most out of your practice in today's yoga culture?
1. Find a teacher who actually teaches.
In other words, don't just find someone who posts awesome pictures on social media and quotes other people's words! Maybe someone can do a fingertip handstand, but that doesn't make them a good yoga teacher.
2. Try out different styles of asana.
And try out different types of meditation, go to workshops, and do your research! Yoga is not one-size-fits-all—different things work for different people.
Ask your teacher how long they've been teaching and which trainings they've done. This isn't to say a new teacher can't be a good teacher, but experience is a good thing—and multiple trainings does mean your teacher is inspired to keep learning for themselves, which is a good thing as a student!
4. If something doesn't feel good or right, don't do it.
Trust your intuition—it will guide the way.
Yoga looks a lot different today than it did thousands of year ago, but its roots remain. Yoga is a practice that meets you where you are and gives you exactly what you need. So tune in, do your research, and create a practice that supports your life as it is today.
Loving Caley's advice? Read up on the beauty rituals that keep her balanced.