5 Lessons From Yoga To Help You Process Unthinkable Tragedy
Licensed Marriage and Family Therapist
By Linda Carroll, M.S., LMFT
Licensed Marriage and Family Therapist
Linda Carroll is a licensed marriage and family therapist and board-certified life coach currently living in Oregon. She received her master's degree in counseling from Oregon State University and has practiced psychotherapy since 1981.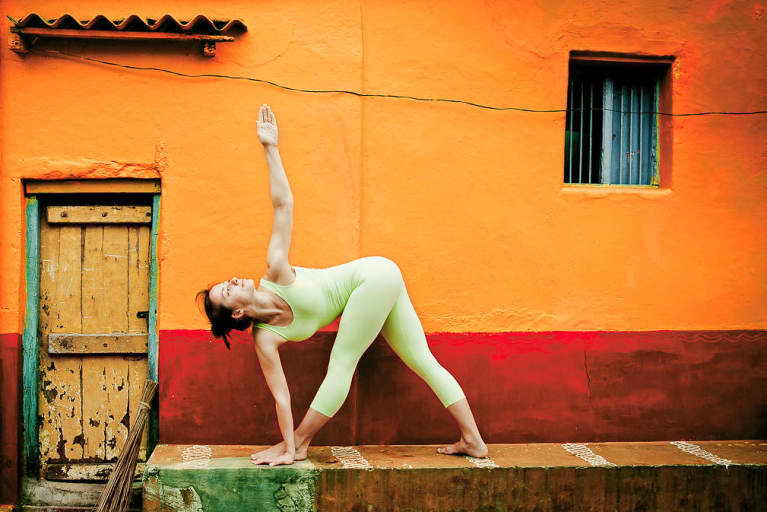 The massacre in Las Vegas is among the deadliest mass shootings in the history of our country. We see and sense tragedy everywhere. Over and over, we find ourselves asking, "How do we begin to absorb such horror—let alone manage it—when we, or those close to us, are directly involved?"
As I walked into my yoga class this morning, I passed a close friend sitting on her mat, rocking back and forth. Kneeling beside her, I saw that she was crying. When I reached out to her, she fell into my arms like a child. I suggested we leave; we went to the car, and she told me her story.
On Sunday, she'd finished a long hike at Bryce Canyon, driven into Las Vegas, and stopped at the Mandalay Bay Resort and Casino for lunch. She and her friend hung out at the hotel, mingling with the crowds attending the Harvest Country festival. Today, on her way to class, she heard the news about the Las Vegas shootings. They happened only two hours after she left.
In the face of tragedy, we try to speak because so often we rely on words to connect, to reach out, to make sense of the incomprehensible. In our own pain and distress, we use words to try to give meaning to things that feel meaningless.
My friend and I spoke for a long time. She said, "There is no way to process what has happened right now." I told her I would sit with her and listen to anything she wanted to say. I promised I would keep her company, even if she just wanted to sit in silence.
At some point, I noticed she was holding her breath. I reminded her of the first lesson of yoga: Keep breathing.
That moment triggered me to consider the lessons of yoga, and I realized that the practice offers great wisdom and solace to those who would seek it. Here are the yogic principles that I lean on when I feel completely overwhelmed:
1. Life begins and ends with breath.
When we receive a shock, our physiology tends to goes into fight (looking for someone to blame) or flight (trying to calm us with clichés like "everything happens for a reason," as if a simple aphorism could explain it all away) response. In these moments—like in yoga, when we feel the body resisting—is to breathe through it. We must become more present than usual.
By breathing into our discomfort, we empower ourselves to feel uncomfortable without panicking. Each new breath draws us more deeply into awareness and allows us to move on to the next breath, the next step. We feel sadness, horror, grief, compassion, acceptance, anger, relief, sorrow, and, just for a moment, awareness of it all. One breath at a time.
2. There is only right here, right now. There is nothing else.
Practicing yoga is all about staying present. As horrified as my friend was about the people who were injured or killed in this egregious tragedy, she was also shaken because she imagined how close she might've been to becoming a victim herself. These tragedies don't just shock and frighten us because of what has happened to other people; we are shocked and frightened by the implications for our own future.
While these feelings are valid, yoga reminds us that we only have this moment, right here. None of us can know the future. We can never know what the future will hold, but we can know that if we do ever face our fears, worrying will have meant we suffer twice.
Can you get through this one moment? That's all you need to think about. Survive one second at a time, and it will get easier eventually.
3. You come to the mat (and your life) from a different place every day. Wherever you are is OK.
Yesterday, Zion Park stunned my friend with its wonders. Not 24 hours later, the shock of being so close to the Harvest Festival Shootings left her horribly shaken.
One day last week, I felt like I was just shy of reaching nirvana. I bent and twisted as if I'd been doing yoga since the day I was born. The next day, I could barely do child's pose without aches and pains overwhelming me.
We are built to feel great joy, to rise to the challenges that we face, and to survive great tragedy. The mat is a metaphor for life. You have to honor what you can do and find grace in what you can't do.
4. It is wise to go outside your comfort zone—but not so far you can't find your way back.
We know when we've pushed too hard in yoga. Yoga teaches us to bend but not break—to find the balance between ease and effort. That's what we should aim for off the mat, as well. We need to exert ourselves to help others while also allowing ourselves to take the time to care for ourselves. We need to feel nourished and whole.
In moments of intense tragedy, painful emotions and continual news flashes of people dealing with unthinkable physical and emotional pain perpetuate and intensify our feelings of helplessness, rage, and fear. These emotions are normal—but it's only with proper self-care that we manage our reactions. This is how we avoid reaching emotional overload and shutting down. Too much stress and tension cloud perspective. Yoga asks us to constantly assess and reassess our feelings and our endurance; so does life.
5. Vulnerability is a good thing.
In yoga, we learn to treat our body with compassion. We accept it for what it is. We learn to be gentle and kind. Sometimes, especially in heart-opening poses, tears stream down our faces. In those moments, we connect to the tenderness of loving and the fragility of life.
We must be present in order to love. Sometimes love is our presence, and that's all we can give to one another. More than trying to make sense of what is senseless, more than clichés that try to explain the unexplainable, our commitment to being present is what soothes.
Only through the power of loving can we begin the work of repair, and this must start with balance, awareness, and our own breath.
Here's more on how we can help prevent future tragedies like this.