Yoga Can Seriously Work Wonders On Prison Inmates' Mental Health, Study Finds
Contributing Sex & Relationships Editor
By Kelly Gonsalves
Contributing Sex & Relationships Editor
Kelly Gonsalves is a sex writer and editor. She received her journalism degree from Northwestern University, and her writings on sex, relationships, identity, and wellness have appeared at The Washington Post, Vice, Teen Vogue, Cosmopolitan, and elsewhere.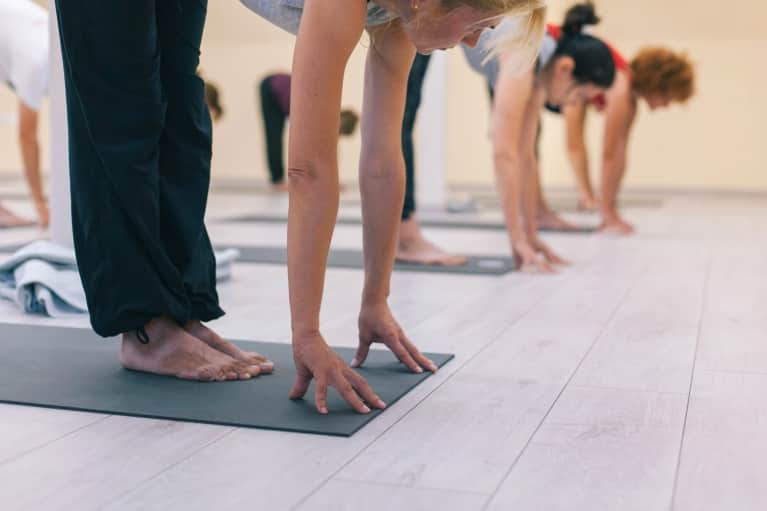 October 9, 2018 — 9:22 AM
Just envisioning a yoga class taking place in a correctional facility—or even in an individual jail cell—is a humbling, simple way to remember the human dignity and value of people who are currently incarcerated. The ancient art of yoga and its many physical and spiritual benefits are exclusive to no one; everyone deserves access to emotional well-being and inner peace. That's why organizations like the Prison Yoga Project and Liberation Prison Yoga offer programs in jails across America and train hundreds of yoga instructors every year to be able to sensitively lead trauma-conscious sessions for inmates.
And according to the latest research, these organizations' services are working wonders. A new study published in Forensic Psychiatry found yoga significantly and uniquely reduces psychological distress in inmates. Researchers examined how physical activity affected 152 male and female prisoners, half of whom participated in weekly 90-minute yoga sessions for 10 weeks while the other half did other types of weekly classes for that time period. Mental health improved for both groups—they all had fewer symptoms of depression, anxiety, and hostility. But the yogis also experienced some unique benefits: improved memory and concentration, less fear of losing their autonomy, less difficulty making decisions, less obsessive and destructive thoughts, less paranoia, and even less perception of bodily dysfunctions.
These results epitomize just how miraculous and game-changing yoga can be for its practitioners, perhaps particularly those suffering from serious hardships like incarceration, systematic oppression, and experience of violence.
"These effects of yoga, joined with those previously shown effects [like] increasing impulse control and attention, decreasing antisocial behavior, and improving emotional well-being, may be very important parts of treatment strategies for defined/specific groups of people," Nóra Kerekes, Ph.D., a University West neuroscience professor and one of the study authors, told PsyPost. "What is the role of yoga in the prevention of reoffending? Our study did not give answer to that question, which definitely [is] something that should be investigated in future studies."
Is yoga a panacea? Who knows. But its benefits clearly cannot be understated.
"I once worked with a woman who was coming to the mat for the first time and was convinced she was 'bad' at this," Ryan LeMere, a yoga instructor who teaches inmates, tells mbg. "As the group was moving into its first forward fold, she stood there, brows raised, hand on hip. 'Nah, I can't do that.' Thirty seconds later, I look over and her hands were on the floor, legs straight. Then, pop! She was back up. 'OMG, did you see that?' Yes, I saw that—the total flip of her own narrative. I saw the total rewiring of what she was capable of and a new sense of what is possible. Yes, I saw that."