Boats Of Badass Women Are Tackling Ocean Trash. This Is The Change-Maker Leading The Charge
Welcome to the new mbg! We've relaunched and realigned ourselves with an evolved mission. Our take on wellness can be summed up in three words: You. We. All. You: You, yourself, are the foundation of wellness. We: We grow our spirit by nurturing our connection to our families, friends, and neighbors. All: All creation on our planet is interwoven and interdependent. To achieve true wellness, we need to nourish ourselves, our communities, and our planet. The time is now—rise with us. You. We. All.
Emily Penn's career got off to an ironic start: The then-architect was working on an eco-friendly city design in Shanghai and wanted to visit the site from her European home but felt guilty about the environmental toll of flying there. From there, an epic journey featuring a train, camel, and horse ensued, and an obsession with slow travel was born.
"I loved all of the bits that you get to experience in between places—that subtle shift in culture, climate, landscape, and people along the way," she tells mbg. "After that, I was on a mission to travel slowly, and it led me to get on board a boat." After joining a ship on Earthrace, a boat that ran on biofuels to raise awareness about eco-travel, she was struck by the one thing that kept following her, wherever in the world she went: plastic trash.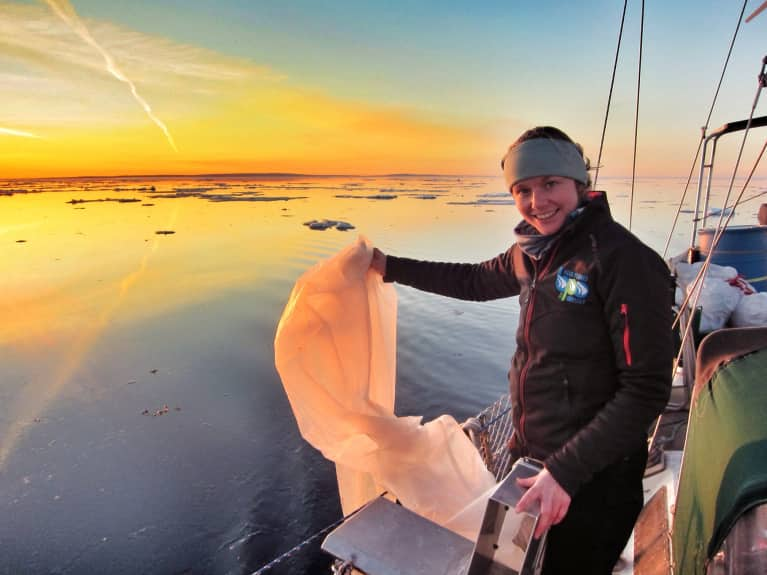 "One day I heard a sound coming from the hull when we were sleeping, and I came up on deck to find that there was all this plastic brushing up against the boat," Penn recalls. "For me, that was the moment. It didn't make any sense: We were over 1,000 miles from the nearest land mass, and yet there was this plastic waste."
The more Penn looked into the problem, the more disturbing it became. She set off to attack it from all angles, chasing ocean gyres (huge areas of plastic pollution that accumulated in the water) and organizing beach cleanups on remote islands. Along the way, she found that a key part of the solution was educating like-minded women and girls on the impacts of plastic, both on our environment and our bodies. "Many of them are endocrine disrupters that mess up our hormones—we really don't want these chemicals in our bodies."
From there, she galvanized a handful of women to head out to sea in search of solutions together. The first leg of eXXpedition—a voyage across the North Atlantic led by an all-female crew—set out in 2014. The team of scientists, artists, and activists on board collected data on the trash they came across and discussed how to bring their findings back to land in a meaningful way.
"Everyone on board always has some sort of other amazing skill, or superpower as I like to call it," Penn gushes of the crews she's had the pleasure of working alongside. "They can then merge that with this new knowledge of what's going on, and go back to their real lives and do something brilliant. It's about giving more people the opportunity to go out and see this problem for themselves, with the aim of growing this inspiring community of change makers. That is the most rewarding bit of all."
Over the past three years, she's watched 10 more voyages set sail. The more time Penn has spent collaborating at sea, the more she's come to realize that true solutions will need to start on land. Dozens of empowered women have left eXXpedition to share their newfound knowledge on plastic pollution in educational series, government meetings, and public events.
"It was both exhilarating and revealing," recounts Deborah Maw, a biochemist and environmental artist who joined the trip around the British Isles this summer. "The extent of plastic pollution was shocking. However, we raised so much awareness—politically and through the media—that I believe we have significantly contributed to changing policies and behavior."
Penn herself is now consulting with major brands like Corona and Adidas to help them implement more sustainable practices and products (these sneakers fashioned from ocean plastic are a great example).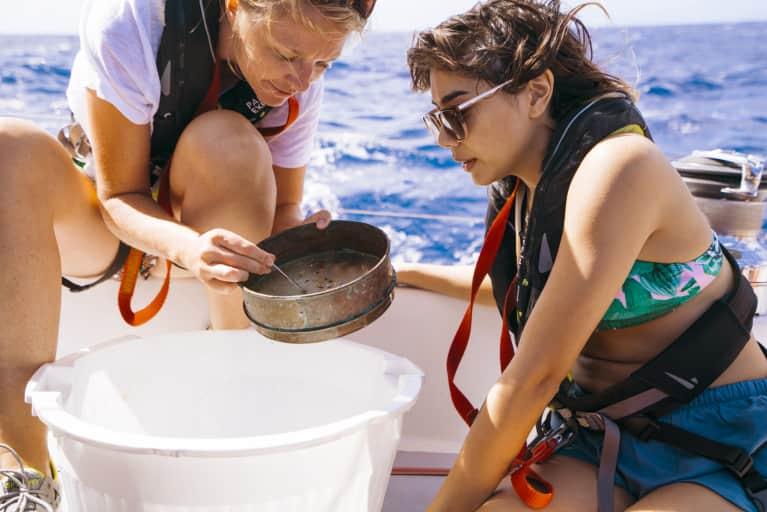 How to get involved (while staying dry).
Penn thinks that everyday citizens have a role to play by avoiding single-use plastics: "Sometimes we get overwhelmed when we hear about plastic pollution, because we look around to see that we're sitting on a plastic chair or working on a plastic laptop. But the best thing you can do is think about those single-use items you come into contact with in your daily life: water bottles, bags, takeout food containers, etc. We only rely on them for 10 minutes, then they're gone."
Beyond that, she has found that the lessons of the water can translate to anyone's life on land. "The ocean itself is a huge inspiration to me," she says. "There's no fixed path. You have to create your own. You have the elements—the wind, the waves, the tides—and you're constantly having to react to shifting environments. You're forced to always live in the moment, to shift your sails, shift your course. Often your life depends on that response. I often think on land, we have this amazing buffer around us where you don't have to do something now. You can put it off till tomorrow. Whereas at sea, you're really immersed in that moment."
Check out another environmentalist's account of what it will take to clean up our oceans here.